John Dodson rushes home for baby's birth just days out from UFC 191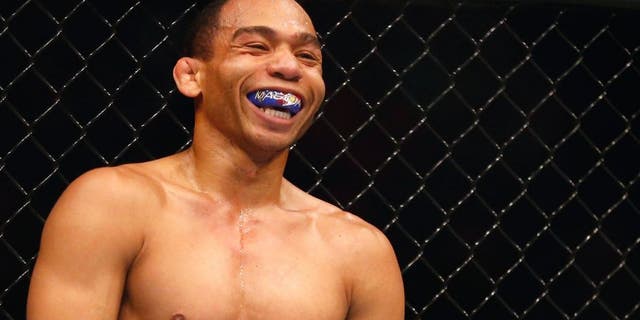 NEWYou can now listen to Fox News articles!
Fight week is already hectic for all the participants on a UFC card, not to mention the stress involved with being in a main-event title bout.
But flyweight contender John Dodson had to put his plans to annihilate Demetrious Johnson on hold late Monday night when he got a call that his girlfriend was going into labor, and he had a baby girl on the way.
Dodson was already in Las Vegas preparing for his showdown with Johnson in the main event for UFC 191, but when he found out his baby was being born, he made a mad rush to get back to Albuquerque in time.
Dodson's girlfriend wasn't due until after his fight, but the baby wasn't waiting, and she apparently wanted to meet her dad before his bout this weekend.
Dodson posted on Instagram late Monday night that he was running back to the airport to catch a flight to New Mexico to make it home for his baby's birth.
The quick trip from Las Vegas back to Albuquerque got Dodson home in time to get to the hospital before the baby was born and a few hours later he was holding his daughter Delilah in his arms.
From the look of things, Dodson will enjoy some time with his baby girl before heading back to Las Vegas to put the final touches on his preparation for Johnson this Saturday night.
Dodson will get his second crack at the flyweight title after first meeting Johnson in 2013. Since that time, Dodson has racked up three wins in a row to earn another shot at the crown, and now with his daughter waiting for him at home he's got even more motivation to win.