Joey Beltran is Happy to be The Mexicutioner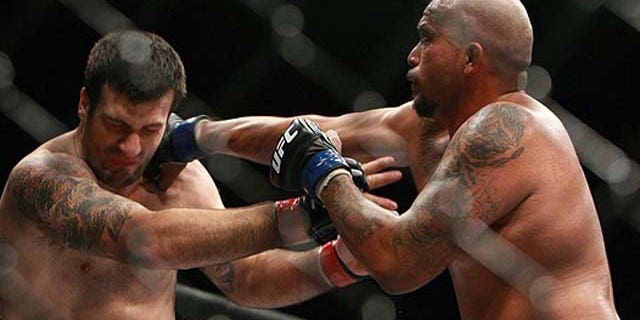 UFC Heavyweight Joey Beltrán has had a lot to celebrate recently.
He just got married, he just moved in to a new house and, in June, he won his fight in dramatic fashion to save his job with the Ultimate Fighting Championship and possibly save his MMA career.
The southern California fighter had lost his previous two matches, close ones, to quality opponents before he defeated Texas heavyweight Aaron Rosa.
"It felt great [to win the fight]. It felt like getting a huge weight off my shoulders," said Beltrán. "The pressure's always on to perform well but now I just have to fight and I don't have to think, 'Oh, geez, I'm fighting for my job.'"
While he wasn't directly told he'd have to win to justify his spot in the promotion, most were speculating he'd be released if he didn't.
Beltrán, 29, is one of the UFC's many up and coming Latino superstars of Mexican descent, along with some other big names such as Tito Ortiz, bantamweight champion Dominick Cruz, Diego Sánchez & heavyweight champion Cain Velásquez.
He understands that his Latino fan base is very important to Mixed Martial Arts and himself.
"I know I have a whole community of people to guide my back. And I just try to make them proud every time," said Beltrán. "When I go to various autograph signings and stuff like that... People are real proud of the work I'm doing and that makes me happy."
Beltrán is also known for his nickname, The Mexicutioner, which was brought into the sports pages recently when Kansas City Royals pitcher Joakim Soria, a native of Mexico, decided to drop the moniker because of all the recent cartel violence in Mexico.
Beltran sees the name situation differently.
"I feel I can be called 'The Mexicutioner' because I'm in a contact sport, unlike baseball," said Beltrán. "You know I honestly looked at is as something to represent and show a lot of pride in my Mexican heritage."
As for the cartel violence in Mexico, Beltrán is curious why something that has been happening for a while is suddenly an issue.
"It's just recently, for whatever the reason, I don't know why, that the United States media is covering it a lot more," said Beltrán.
And as for Soria, who made the nickname an issue by publicly denouncing it, Beltran doesn't really pay much attention to it.
"I don't know why he got upset about it. I don't know if he did," he said. "I heard that story... through the grapevine but I never read an article or anything so I can't speak too much on the specific subject."
For Beltrán, being "The Mexicutioner" is about sounding tough and letting people know he's of Mexican descent.
"You know, not many Mexicans are that big and a lot of the time, especially where I'm from, there's a big Polynesian community. So a lot of people used to think I was Samoan or Hawaiian or something like that," he said. "[I want people to know] I'm Mexican and I'm proud of
it."
Beltrán's next fight will be against touted Croatian newcomer Stipe Miocic in October. He looks forward to "welcoming" him to the Octagon.
And while Beltrán doesn't feel bad about continuing to be "The Mexicutioner," the soft spoken fighter from humble and blue collar beginnings wants others to understand there is a difference between the Joey Beltran in the cage and the Joey Beltran in everyday life.
"If you know me and talk to me and my normal day to day interaction. You know, I'm really nice. One of my favorites is teaching and coaching and interacting with kids," Beltran said. "That person that's in [the cage] for the 15 minutes is not the same someone who walks out. I really transform into another person so, having a cool nickname really complements that."
Victor García is an associate producer for Fox News Channel and a regular contributor to FoxNewsLatino.com.
Follow us on twitter.com/foxnewslatino
Like us at facebook.com/foxnewslatino