MMA Veteran Tito Ortiz Tries to Continue Career Resurgence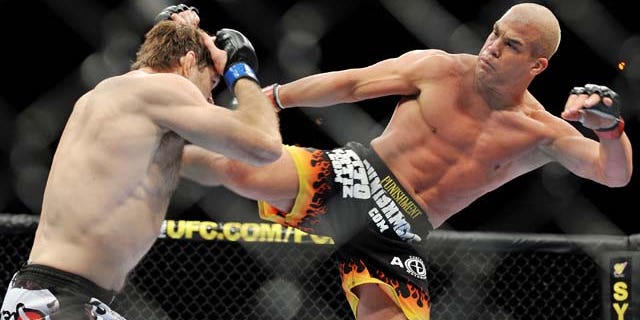 Just last month many thought Tito Ortiz – "The Huntington Beach Bad Boy," as the UFC legend is known – was at the end of his Mixed Martial Arts career. Of his last five fights, he was winless: one draw and four losses.
Ultimate Fighting Championship officials and friends reportedly urged the 36-year-old veteran to retire and maintain a little dignity.
"Of the few fights I did lose they were against the top three or four guys in the world, former world champions. They were close fights that I lost," said Ortiz.
What a difference a month makes.
In what many considered an upset, Ortiz did away with Ryan Bader in the first round of a match last month, in effect saving his UFC job.
He'll try to keep that resurgence going on Saturday, when he faces Rashad Evans at the UFC 133 in Philadelphia, Penn. With a win, he could get him back in the light heavyweight title picture.
"It's been probably the most exciting rollercoaster I've ever been on," said Ortiz. "I'm kind of like living a Cinderella story."
It hasn't been easy for Ortiz the last few years.
In 2008 he had major back surgery. Two years later, he was pulled from The Ultimate Fighter TV Series and from a third fight with UFC Hall of Famer Chuck Liddell with a neck injury.
To make matters worse his personal life became the focus of the tabloids after allegations of domestic violence surfaced with his partner Jenna Jameson, a former adult film actress and the mother of Ortiz's twin sons. At the time he accused her of drug addiction. Both later recanted their claims and have been working on their relationship.
"You know last year there were some lies that were told about me and it was on the press usually," he said. "We fixed a lot of things. Jenna's really stepped up as a mother and as a partner.
"Family's family, and we all go through problems, but you know mine's under a microscope," he added. "I wasn't that perception of the person people thought I was last year. I never was that guy and I've never been that type of guy."
Ortiz credits a new outlook for his recent success in life and inside the "Octagon."
"I surround myself with positive people and a positive environment," he said.
Just over a week after his win over Bader, UFC light heavyweight contender Rashad Evans was left without an opponent for this Saturday's main event after his opponent went down with an injury. With the UFC in a tough spot they turned to two people.
One was former champion Lyoto Machida. He initially took the fight but when they UFC called back to confirm, the Brazilian's management team asked for more money, prompting CEO Dana White to end negotiations.
The other was Ortiz, who initially turned down the fight.
"I wanted to take the year or summer off, enjoy my family, enjoy my business," said Ortiz, who owns a clothing line [Punishment Athletics], a training center and other ventures.
After sleeping on it, an older, more mature Ortiz, in contrast to his former volatile relationship with Dana White and the company, changed his mind and accepted the matchup.
"I've made some mistakes. I listened to people I shouldn't have listened to," he said. "I'm trying to build that bridge back.
"[The UFC has] given me so much to get me here today," he said. "I thought I owed them [by taking this fight]. I sacrifice myself for the company."
Now Tito Ortiz, a month ago at the end of his career, is back in the main event.
With a win over Evans this Saturday he becomes a title contender and possibly the No. 1 contender for the UFC light heavyweight championship, an achievement Ortiz knows he can't take lightly.
"This is a great opportunity, of course, getting to fight the No. 1 contender, Rashad Evans. The chance of me becoming world champion again," he said. "But on Saturday night I'm going to have to do my work to get my hand raised."
Victor García is an associate producer for Fox News Channel and a regular contributor to FoxNewsLatino.com.
Follow us on twitter.com/foxnewslatino
Like us at facebook.com/foxnewslatino