Joe Rogan reveals Nick Diaz turned down fight with Robbie Lawler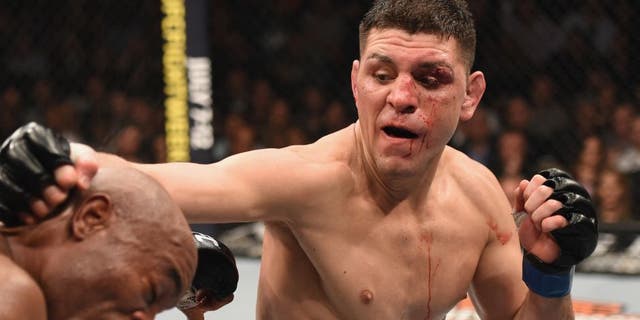 NEWYou can now listen to Fox News articles!
The UFC had plans to make a rematch between Nick Diaz and Robbie Lawler but it appears the Stockton, California native opted out of the matchup when the offer came from the promotion.
This is all according to UFC color commentator Joe Rogan, who revealed the news on his podcast this week while breaking down all the action from UFC 207.
"Apparently they offered Nick Diaz Robbie Lawler and Nick passed on it," Rogan said. "That's the word. That's the word behind the scenes. Maybe I'm not supposed to say that. I wanted to see that fight. I would love to see that rematch.
"But I think Nick wants a (expletive) title fight. I think Nick is like, look I want a big, big name or a title fight."
Sources close to the matchup confirmed to FOX Sports on Tuesday that the proposed Lawler vs. Diaz fight was in the works for UFC 209 in March, but the bout ultimately never came together.
Diaz hasn't fought since facing Anderson Silva in January 2015 in a fight he originally lost by unanimous decision prior to the result being overturned after both fighters failed drug tests surrounding the contest.
Diaz ended up facing an 18-month suspension as result of testing positive for marijuana in the state of Nevada for the third time. His suspension was lifted last year after Diaz paid the fine associated with his penalty but he still hasn't booked his return to action.
Diaz defeated Lawler all the way back at UFC 47 in 2004 via second-round knockout. From all accounts, it appears Lawler was on board with the rematch, but Diaz decided to opt for another fight instead.
Diaz remains one of the hottest commodities on the UFC roster with everyone from welterweight champion Tyron Woodley calling for a fight with him as well as middleweight champion Michael Bisping showing interest in that matchup as well.
Unfortunately, Diaz hasn't won a fight in the UFC since he defeated BJ Penn in 2011, so plugging him into a title bout ahead of contenders like Stephen "Wonderboy" Thompson or Demian Maia at welterweight would be a big stretch.
"Dana (White) and I were having this conversation and he's like, 'you can't have Nick Diaz. Nick Diaz hasn't won a fight since 2011. You can't have him step in and just go right up to the title and fight," Rogan said.
"I said, 'but I want to see it,' and he goes 'I want to see it too but you can't do that.'"
For now, it appears Diaz will continue to hold out for an even bigger opportunity before returning to the cage while Lawler awaits word on his next opponent in the UFC.