Jimmy Butler on Bulls as title contenders: 'I like our chances'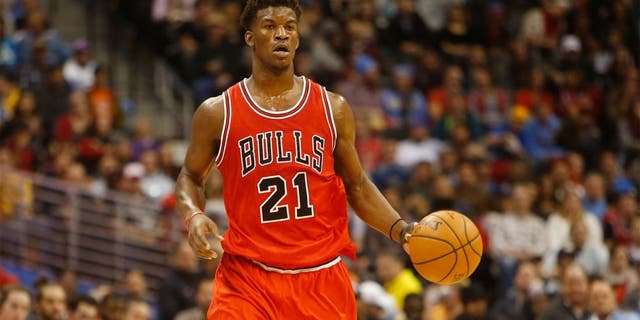 LAS VEGAS -- Every offseason features a flurry of free agent activity as teams look to bolster their lineups in advance of the upcoming season.
Some, however, feel just fine with what they've got.
The Bulls fall into the latter group, after finishing the year with a second round playoff loss to LeBron James and the Cleveland Cavaliers. They're bringing back everyone from a season ago, with the only change at all being the addition of rookie Bobby Portis, who was selected by Chicago with the 22nd overall pick in this summer's draft.
Other than a change at head coach, after the Bulls parted ways with the hard-nosed Tom Thibodeau in favor of Fred Hoiberg, Chicago is coming back exactly as the team had been previously constructed. Does that mean there's enough talent in place to contend for a title next season?
"I think so," Jimmy Butler told me, during an appearance at Jordan Brand's First to Fly event in Las Vegas this past weekend. "As I've said before though, I think we can't keep talking about what we're capable of doing. I think we have to definitely do it. We do have the exact same roster, except for the addition of Bobby Portis, who's our rookie. I think I like our chances."
This summer, it was the Spurs who probably made the splashiest upgrades by landing LaMarcus Aldridge and David West, while retaining all of the rest of the key pieces to the roster. Plenty of other teams also improved, of course, and some, like the Cavaliers and the Thunder, will simply be better by seeing the return of their own best players who were unavailable last year due to a variety of injuries.
The Bulls were very good a season ago, and gave Cleveland its toughest challenge during the Eastern Conference portion of the playoffs. Chicago took Game 1 on the road, and had a 2-1 lead in the series thanks to an incredible three-pointer from Derrick Rose in Game 3 which banked home as time expired.
LeBron returned the favor to even the series in Game 4, and despite the Bulls being without Pau Gasol for Game 5, Chicago was within a single possession with under a minute to play before the Cavaliers ultimately closed things out.
Butler is right to feel good about returning everyone from last season's campaign. While he's far from predicting a title, there's a lot to be said for continuity. And he's extremely pleased to be entering next season with the same crew that comprises a loaded Chicago Bulls roster.
"I don't think anybody in this league plays the game to lose, so I think we can win it," Butler said. "I'm going to tell you the truth. But until we win it, it's all talk. I like our chances, I can tell you that."