Jimmie Johnson offers surprising take on crew chief Chad Knaus' radio banter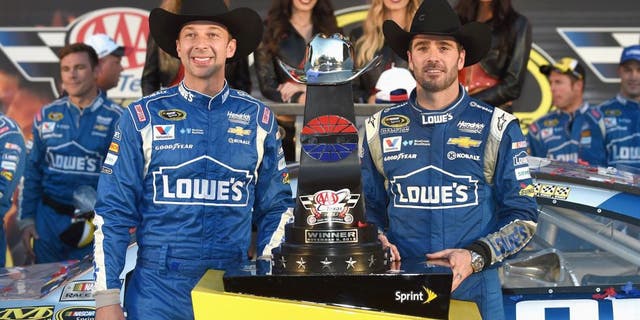 They've won six Sprint Cup Series championships and more than 70 races together.
They've celebrated together, passionately disagreed on occasion and become really good friends in the process.

But, apparently, Jimmie Johnson still has a little trouble taking Chad Knaus seriously when the veteran crew chief offers advice over the No. 48 team's in-car radio.
Johnson, speaking at a news conference after his win in last Sunday's AAA Texas 500 at Texas Motor Speedway, was asked if he found inspiration in a comment Knaus made just prior to Sunday's final restart about trying to scare the competition.
Johnson, who has the utmost respect for the man who's guided him to all six of his titles, gave a response that couldn't have been more surprising. Or comical.

"I've always told him he's a terrible cheerleader. He tries like hell," said Johnson, whose run with Knaus that dates back to 2002 represents the longest active driver/crew chief combination in the Sprint Cup Series.
"I've even yelled at him a few times telling him he sucks at it. He still today tells me to eat and drink in the car. Wouldn't you think if I was thirsty I would take a drink, or if I was hungry get something to eat? It's just a crew-chief thing. They go through it."
Terrible chearleader or not, the exhortation Knaus gave Johnson on Sunday clearly didn't hurt anything.
Just 14 laps after the restart, Johnson passed Brad Keselowski -- who had the race's dominant car -- and pulled away to win for the first time since May 31 at Dover.
Interestingly, this year marked the second consecutive summer that Johnson and the No. 48 Hendrick Motorsports team have struggled.
"The damn summer," said Knaus, smiling. "I'm just going to stay home next year. I don't know what the summer thing is. I wish, I wish, I wish I knew. We're not going to have it next year. How is that? We're going Voodoo, something. I don't know. We're going to figure it out."