Jets' GM Maccagnan goes from behind scenes to sudden celebrity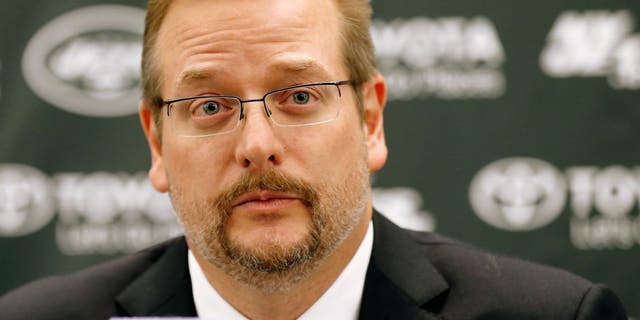 FLORHAM PARK, N.J. -- The shouts from the stands kind of caught Mike Maccagnan off-guard.
''Hey, what's up, Mike?'' one New York Jets fan yelled, excited to see his team's general manager standing just a few feet away.
''You're the man, Mike Mac!'' another exclaimed before several others in the crowd at training camp begged for an autograph from the Jets' newest Mr. Popularity, a reluctant celebrity after a career spent behind the scenes.
''I've never gone through that before,'' Maccagnan said in an interview with The Associated Press. ''I probably never really signed an autograph before I took this job, but it's very nice and I feel very honored.''
The 48-year-old Maccagnan is charged with returning the franchise to respectability after owner Woody Johnson made sweeping changes following a fourth straight season without making the playoffs. Maccagnan's moves to hire Todd Bowles as coach, bring back cornerback Darrelle Revis, trade for wide receiver Brandon Marshall and draft defensive lineman Leonard Williams scored him huge points from fans and the media.
However, he's well aware that he'll ultimately be judged on wins and losses.
''That's the joys of working with a professional sports team,'' Maccagnan said. ''You just control what you can control.''
Maccagnan has already dealt with a few crises in his short time as GM. Defensive lineman Sheldon Richardson was suspended four games for violating the league's substance abuse policy and faces charges of resisting arrest in Missouri. Quarterback Geno Smith had his jaw broken by a punch from a teammate in the locker room, rocking the franchise and sidelining him for the first several weeks of the season.
''There are things you can maybe prepare yourself for that could possibly happen, and then there are things where it doesn't matter how much you prepare, things are going to happen that are unexpected,'' Maccagnan said. ''Every team has adversity and we're going to be no different than any other team. But if we have a good team, together we'll weather the storm.''
When Maccagnan was being courted by the Jets in January, casual fans had no idea who he was. Heck, he didn't even have a Wikipedia page.
Saying his last name, well, that was another issue. The double-C's still trip up some.
''I tell people to take it three letters at a time: Mac-cag-nan,'' he said, laughing. ''That's one of those silly little things that you think of when you're about to do a press conference in front of a bunch of people and you're like, `I've never done this before.'''
Such as the day in January when he and Bowles were introduced by the Jets in a jam-packed auditorium. His wife Betty walked into the room with Maccagnan's sister, her kids, and his father, Vic, and she saw the hordes of media, team staff and former players sitting in the crowd.
''She told me afterward that she almost literally turned around and walked out, and it made me laugh,'' Maccagnan said. ''But I joked to her that I kind of felt like doing the same thing.''
Maccagnan, a New Jersey native, has always considered himself a bit reserved. Shy, he says, would be too strong a word. After all, he built his career on meeting people, evaluating players and building relationships.
That was the case from the time he was a scouting intern for Washington in 1990 to stops in the front offices of the World League of American Football, a couple of Canadian Football League teams, the Redskins again, and then the Texans for 15 years, including the last four as director of college scouting.
To the media and most fans, he toiled in anonymity, routinely taking long car rides to scout players, his lone companion an ever-growing library of general history and military history audio books.
''I stay awake easier that way,'' he said. ''Well, that, and drinking a lot of coffee.''
Maccagnan always seems to be armed with a cup o' joe, and it's rare he's not photographed with one in his hand. His wife would like him to cut down, and he swears he is.
His fourth cup of the day -- a latte with an extra cup of vanilla -- at around 1 p.m. was sitting in front of him while meeting with a reporter, and he figured he would have only one or two more.
''It's just something I do,'' he said, shrugging his shoulders. ''I don't want it to become kind of a gimmick.''
But everything is noticed these days, the result of stepping out of his comfort zone to take his dream job.
Simple things are topics of conversation now, such as his love for the HBO series ''Game of Thrones,'' or his favorite television channels, which include History, Military History and Discovery Channel.
''Hey, I'm always like, `If I'm going to do something, I want to learn something,''' he said, adding he gets that from his father, a former high school history teacher.
His favorite band is The Replacements, and he rocked out to the grunge of Nirvana, Pearl Jam and Alice in Chains in the early `90s. Temple of the Dog's ''Hunger Strike'' is one of his favorite tunes.
When preparing for this step in his football career, Maccagnan decided the most important thing was to be himself -- humble yet confident, even-keeled and transparent, with some well-placed humor to break up the monotony -- in front of the people who work for and with him, and the media that cover his every move.
''You become more of a known entity, and that's the different thing when you become a GM or coach,'' Maccagnan said. ''The good thing with this is I'm in a very small media market, so it should all be a very easy transition.''
He let out a big laugh.
''Yeah, right,'' he said, rolling his eyes. ''Just kidding.''