Jets aren't clowning around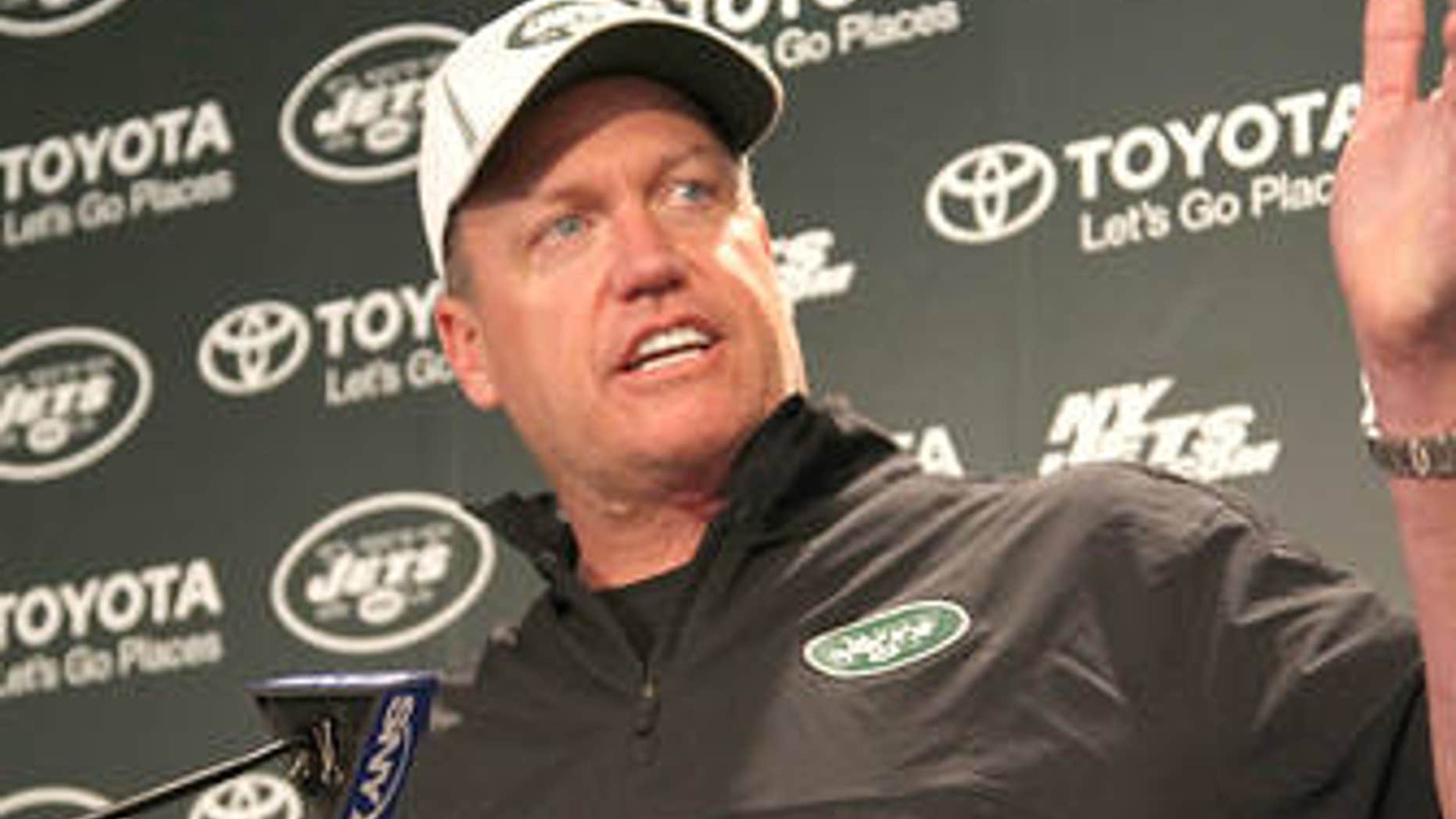 FLORHAM PARK, N.J. – In 2012, the word "circus" was often used to describe the New York Jets. The Tim Tebow introductory press conference, the ESPN studio show set up in Cortland for a week during training camp, that Mark Sanchez Thanksgiving-night fumble that was given a now-infamous nickname -- it was one oddity after another.
Though they're certainly something, the 2013 New York Jets are by no means a circus.
It starts with the head coach and it's as if the ringmaster has turned in his keys to the carnival in exchange for a suit, a tie and a cubicle. Long gone is the Rex Ryan of old. Gone are the bold Super Bowl guarantees, gone is the take-on-all-comers bravado, and sadly, long, long gone are the money quotes from previous years.
During his Q&A session with reporters following Monday's practice, Ryan tip-toed around Mark Sanchez's injury status, didn't reveal any further information on who the Week 1 starting quarterback will be, and danced around a rather straightforward question about what the acquisition of Brady Quinn means for Sanchez's future.
It was almost Belichick-ian.
Asked about his gradual transition from tabloid back-page superhero/villain to tight-lipped company man, Ryan explained, "There's no directive from above saying this, that or the other. There's not. I think sometimes through experiences, before, I know I've said, 'Oh, this guy will play,' and all of a sudden he doesn't play. 'Oops.'
"Something else, being my fifth year, maybe there are some things that maybe I've learned. The timing of things might be better, not making assumptions and things like that. I've probably learned a little bit from that through the years maybe."
Just six days away from the team's season opener against Tampa Bay, Ryan still hasn't named a starting quarterback. The extent of Sanchez's injury remains a mystery, as the entire organization remains tight-lipped on how the rehabilitation process is going. Ryan, Sanchez and rookie Geno Smith had nothing new to offer on just about anything.
Sanchez, who hasn't participated in a practice since suffering a shoulder injury in the team's third preseason game on August 24, stood in front of a crowd of reporters with a straight face.
"I can't really speak to that," the five-year veteran and onetime GQ cover athlete said of his status. "I'm just taking it day to day and doing everything I possibly can to get back on to the field."
On his expected timetable to return to practice, a measured Sanchez responded, "It's the same thing I'm telling you, day to day. I'm trying to get back every day. I guess I'll just say [the shoulder] is feeling better every day. Every day, with more and more time it gets better and better."
Uh-huh.
Monday's post-practice locker room session was more of a variety show than anything else. With the addition of Brady Quinn (and the subtraction of Greg McElroy and Graham Harrell), there are now four quarterbacks on the 53-man roster. Each one had his moment on Monday.
First out of the showers was Matt Simms, the wide-eyed son of two-time Super Bowl winner Phil Simms. Considered by some to be a longshot to make the team before the start of preseason, Simms earned his spot on the roster through steady play and a clutch performance against his father's former team, the New York Giants. Simms fielded questions from reporters with a smile, knowing his story is one of triumph, not disappointment.
Over Simms' shoulder was the new guy -- the former Cleveland Browns first-round pick-turned NFL journeyman, Brady Quinn. Signed earlier in the morning, Quinn was all smiles on Monday, too, hugging fellow former Browns first-round pick Kellen Winslow as he glided into the locker room. Asked about the opportunity to be the elder statesman in the Jets' quarterback room, Quinn answered, "I will embrace that role," and noted how excited he was to dig into offensive coordinator Marty Mornhinweg's playbook and scheme.
Then there was the rookie and likely Week 1 starter, Geno Smith. Though he hasn't been told whether he'll be the guy on Sunday, the second-round pick out of West Virginia sure was talking like he was.
"I've been preparing. Physically I think I've always been ready," Smith said. "I think I have some things that, which is the reason why they drafted me here, to bring some of that stuff to the table. But I think mentally I've grown a lot.
"My grasp of the offense is to the point where I know I can get out there and execute and be out there and leading this offense and leading this team. That's something that's going to continue to grow, as I stated. At this point I'm ready for it."
Four quarterbacks who are saying very little on the record, a quieter, calmer Rex Ryan who's toeing the company line, and a locker room that's seen so much player personnel turnover this summer that many lockers don't even have nameplates -- the Jets are not worthy of any three-ring monikers this season.
We'll see on Sunday if they're worthy of any talk about rings at all.