Jerry Jones: Cowboys won't add veteran QB thanks to Dak Prescott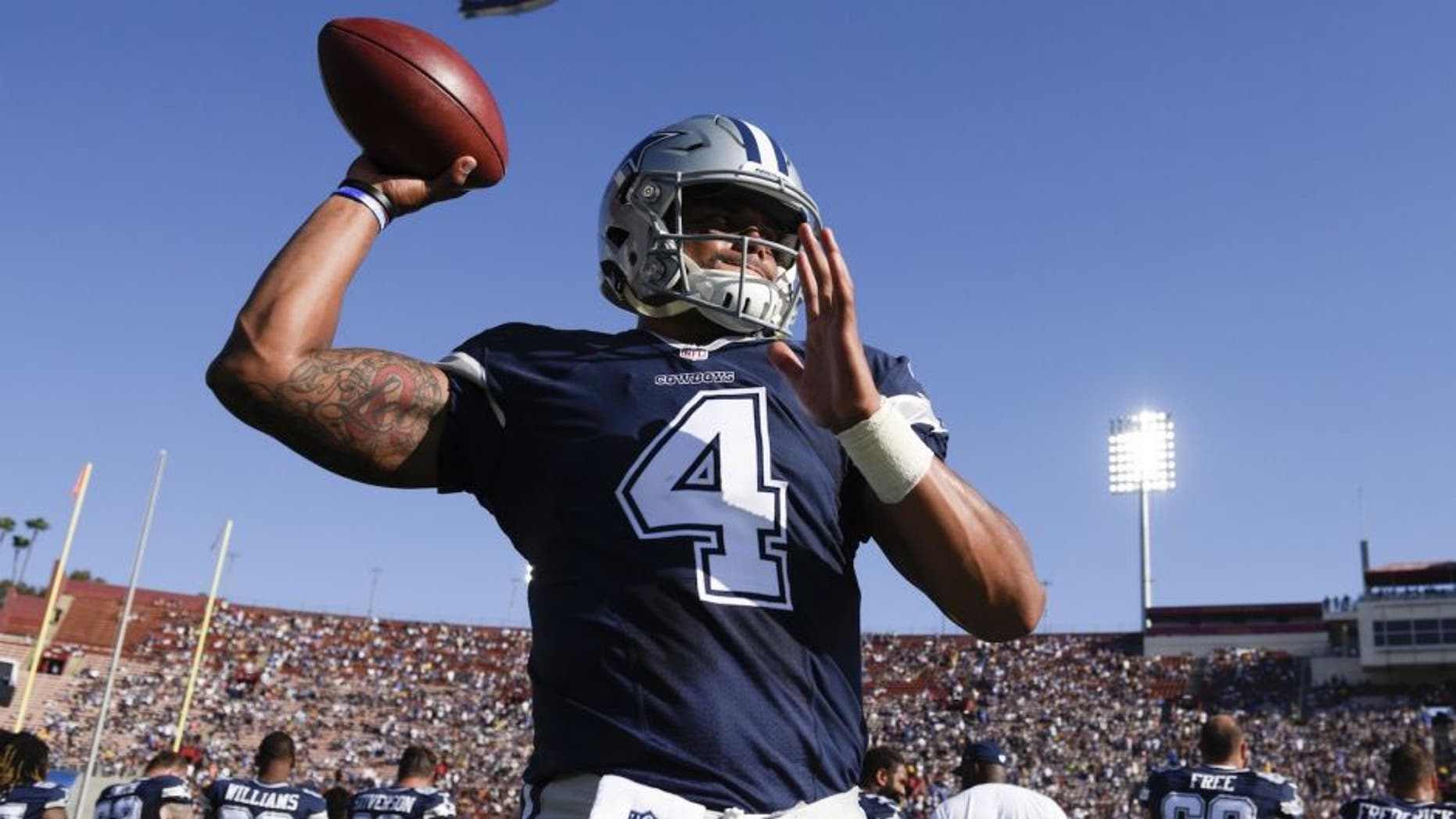 The Dallas Cowboys are coming off of a season in which Tony Romo played four games. The result was disastrous as Dallas limped to a 4-12 record, three of which were won with Romo under center.
Seeing how stagnant the Cowboys offense is when Romo isn't on the field, it would seem logical for Dallas to address the backup quarterback position in the offseason. They did so in the draft with Dak Prescott, but a veteran free agent was never added.
Now, it sounds like they may never sign one.
Prescott had himself a fantastic NFL debut in Dallas' preseason opener on Saturday. He completed 10-of-12 passes for 139 yards and two touchdowns, with both incompletions being dropped passes. His quarterback rating was 154.5, and very well could have been a perfect 158.3 without the drops.
His performance has eased concerns about Romo's backup to the point where Jerry Jones doesn't want to take snaps away from him.
"He is a long way from Canton, a long way from Canton," Jones told the Star-Telegram on Monday. "But it was certainly a great start. It was just good to see the coaching staff and everybody get behind the promise of what he might be able to be as a player. Certainly the way he and [Jameill] Showers played, I wouldn't consider a backup quarterback situation at all. I wouldn't want to, by any way, deter the progress and the excitement that he can bring to the building of the team and the future."
Tapping the brakes a bit is a must at this point, given that it was only half of a preseason game for Prescott. But there's no doubt he showed a great deal of potential. He looked extremely comfortable in the pocket, delivering passes under pressure in front of nearly 90,000 fans watching the Rams' first NFL game in Los Angeles in more than two decades.
Even head coach Jason Garrett was extremely impressed by Prescott's play.
"The thing that jumped out more than anything else are his poise and composure, how he handled the game, how he managed the huddle, the line of scrimmage, how he managed game situations, did a really good job," Garrett said. "And then he executed plays. Very few mistakes, and simply read the coverage, threw it to the right guy and delivered throws."
At this point, it appears likely that the Cowboys will go into the season with Prescott as the backup to Romo. Of course, things can change from now until Sept. 11, but he's the most viable candidate to hold the job when the season kicks off.