Jeremy Maclin was shocked after hearing about his Chiefs release by voicemail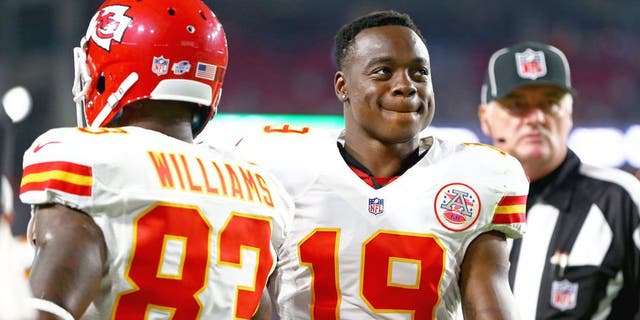 NEWYou can now listen to Fox News articles!
The Kansas City Chiefs werent exactly littered with talent at wide receiver entering the offseason. Their primary wideouts were Jeremy Maclin, Tyreek Hill and Chris Conley, which isnt exactly a unit stacked with Pro Bowlers.
Yet shockingly, they decided to part ways with Maclin by outright cutting him. It was a surprising move by all accounts, stripping Alex Smith of arguably his best receiver on the roster. Maclin, for one, was absolutely taken back by the news.
It didnt help that he learned about his release by a voicemail.
Through a voicemail, Maclin said during an appearance on PFT Live. [From G.M.]John Dorsey.I was upset, I was shocked. Apparently, they had been trying to trade me for two or three months. Which who knows if thats true or not? I would just think that a guy who is going into his ninth year would know if hes being shopped or not. It is what it is."
AP
Maclin said he doesnt have any hard feelings or bad blood with the Chiefs organization, he just wants to move on to his new team, the Baltimore Ravens.
I still have respect for Big Red, still have respect for the organization. Im not going to bad mouth anybody or talk any dirt on anybody. It was an unfortunate situation. They felt like they didnt want me as a player anymore, so it is what it is. Im happy with where I am right now, and I think that might be the last time I talk about what I call my former life. So I dont think I want to talk about that anymore.
When asked on a scale of 1 to 10 how shocked he was that the team cut him, Maclin said 11″. That just goes to show how unexpected his release was when it happened two weeks ago.
Additionally, Maclin said he was never offered the opportunity to take a pay cut despite reports suggesting his contract was a main reason for his release.
There was not a discussion with me or my team, Maclin said. Ive heard a lot of rumors coming out of there. Ive heard they thought I lost a step, my price tag was too high. Whatever the case may be, Im ready to play some football. That flame that burns inside of a competitor, that thing got a lot brighter.
Steve Mitchell-USA TODAY Sports | Steve Mitchell