Jeff Fisher: Case Keenum has backup QB job 'locked up'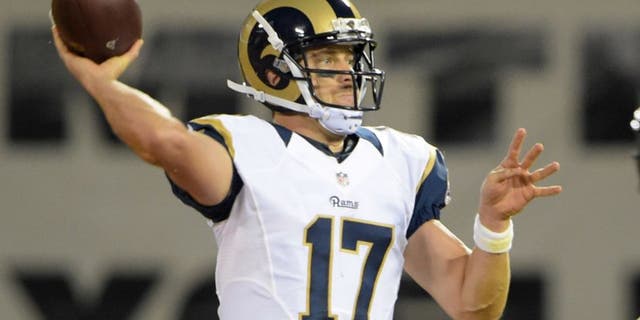 NEWYou can now listen to Fox News articles!
Austin Davis filled in admirably under center last season, starting eight games and tossing more than 2,000 yards, to go along with 12 touchdowns.
However, the coaching staff may go a different route for the backup quarterback job in 2015.
Head coach Jeff Fisher acknowledged that Case Keenum has performed well through the preseason and has the advantage of now.
"I think Case has done a good enough job at this point right now that he's got No. 2 locked up," Fisher said, via the team website.
Keenum spent time on the Rams practice squad last season before being traded to the Houston Texans. He was then re-acquired in a trade in March.
Over 10 starts in his career, Keenum has thrown for 2,195 yards, 10 touchdowns and eight interceptions.
But his experience playing in the Rams system prior has served him well.
"He just has a good feel for our offense and timing and release and is a natural athlete," Fisher said, via the team website. "Since the trade, he's been able to sit here and really grasp the offense, so he's a got a good feel for what we're doing."
(h/t StLouisRams.com)