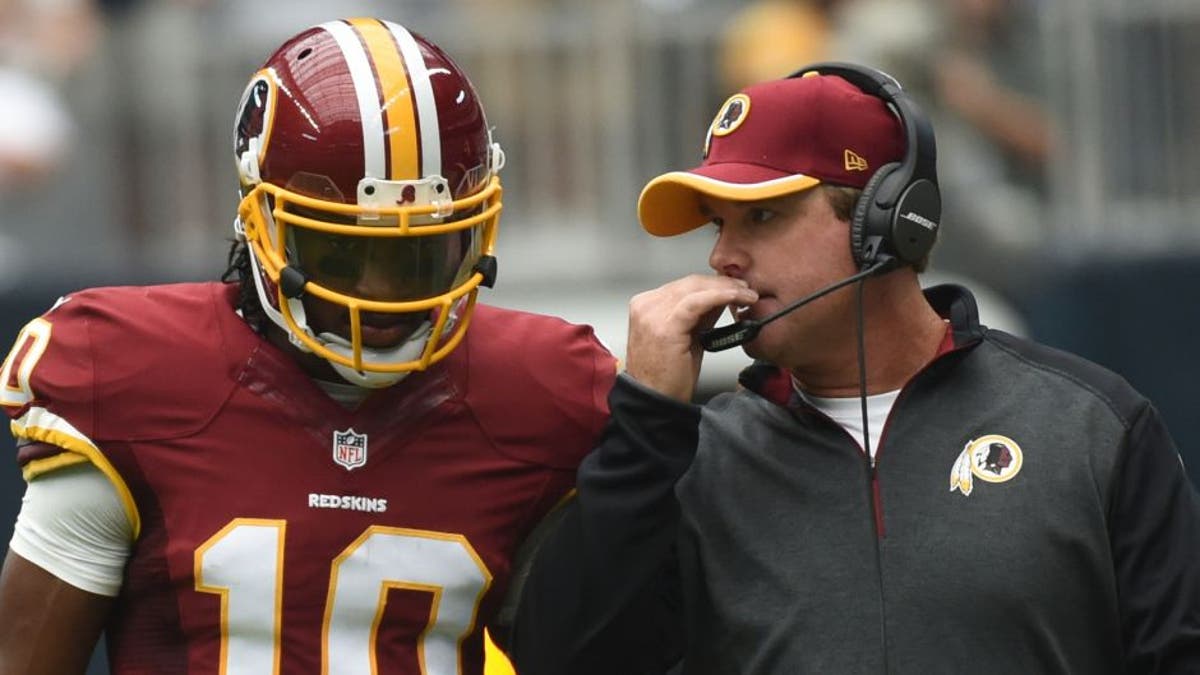 Washington Redskins head coach Jay Gruden stood up for his quarterback on Saturday, touting the "progress" he sees in Robert Griffin III's game this summer.
Those looking at RG3's stat line from Thursday's game against Cleveland might not be impressed. He completed half his passes (4 of 8) for 36 yards, earning a passer rating of 62.5 - mediocrity at its finest. However, those stats don't tell the whole story, as Gruden was quick to point out to reporters on Saturday, noting the "progress" he sees with his quarterback.
"I see some negative articles here and there on our quarterbacks, but Robert was (4-for-8) with a 60-yard touchdown that was dropped," Gruden said, per The Washington Post. "He had a big third-down conversion. He missed the fade route to Pierre (Garcon). He threw it out of bounds -- was a little bit adrenaline-rushed. And, of course, he missed the (third-and-5) throw to (Evan) Spencer, whose route was a little bit short. But overall I think managing the game, the position, getting the plays out; we didn't have one penalty on offense, which was exciting."
It's easy to imagine Griffin's final numbers would have looked significantly different if Garcon hadn't dropped that sure-fire touchdown bomb. We're not passer rating gurus, but it's likely his rating would have been well over 100 if that catch had been hauled in.
"Pierre will make that play 99 times out of 100," Gruden said. "[Griffin] threw [eight] balls, so we still have a long way to go to grade him but we're happy with his progress."
The bigger concern for Washington is the continuation of a bad trend we've seen so often in the past as it concerns pass protection. If Griffin continues to get hit repeatedly, his career won't ever move past the "potential" phase.
Another big concern has to be the loss of the team's top two tight ends. Both Niles Paul and Logan Paulsen suffered season-ending injuries within days of one another. Tight ends are a young quarterback's security blanket, and RG3 has lost two good ones.
However, Washington still has Jordan Reed, who has shown outstanding potential when healthy. And, the team's receiving corps is highly talented, featuring Garcon, speedy DeSean Jackson, Andre Roberts and exciting rookie Jamison Crowder, who is on track to return in Week 3 after suffering a minor hamstring injury.
Gruden has never been one to hand out compliments to his quarterbacks without cause. He was not exactly Griffin's staunchest ally last season, so if he is saying he likes what he sees, then we need to take him at his word. And, if RG3 can play to his potential and stay upright in the pocket, then Washington will have a good opportunity to win more than four games in 2015.
More from Sportsnaut: