Jarvis Landry has most catches through two seasons in NFL history ... for now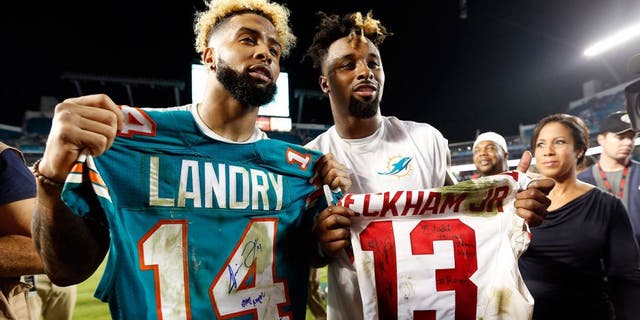 While the Miami Dolphins have struggled mightily in recent years, they have a promising young receiver who's made history in the NFL already. Not only is he the first Dolphins player ever to catch 100 passes in a season, but he's also just the ninth to reach 1,000 receiving yards in one year.
With just one game remaining in his second season in the league, Landry has a shot to put his name in the record books once again. According to Field Yates, Landry's 188 catches are the most all-time through a player's first two seasons in the league.
There's just one problem: His buddy Odell Beckham is just six receptions behind him and could conceivably take the top spot. Both players have one game left on the schedule, so it'll take a big game from Beckham to catch Landry. Regardless, the two young wideouts have already broken the old record, it's just a matter of who will set the new one.
In two seasons, Landry and Beckham have combined to catch 370 passes for 4,544 yards and 34 touchdowns with Beckham holding the big advantage in the latter two categories. Some of that has to do with the difference in talent between Eli Manning and Ryan Tannehill, but it's also a result of Landry being a possession receiver rather than a big-play one like Beckham.