Jared Goff's college coach tells Rams fans why they got a truly 'special' QB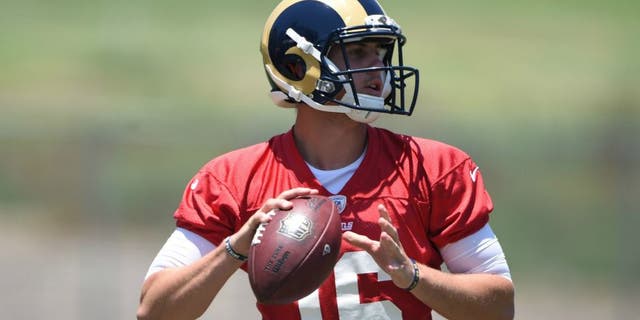 NEWYou can now listen to Fox News articles!
The Los Angeles Rams are the new kids on the block on the LA sports scene, and it appears as though they've decided the best way to endear themselves to their new city is to bring along a new star with them as well. That player is of course Jared Goff, who was the first overall pick in the 2016 NFL Draft and then immediately became the face of the franchise (along with Todd Gurley).
That's a big role to fill for anyone, let alone a 21-year-old only three years removed from high school. At Pac-12 Media Days on Thursday, we asked Goff's former teammates and coach at Cal what Rams fans can expect from their new quarterback.
We started with offensive lineman Stephen Moore, who, umm, didn't necessarily give the most ringing endorsement.
"He's a great guy -- he's social," Moore said. "He can throw the ball really far."
Hmm, not exactly what Rams' fans were hoping to hear. Moore was just joking, though. Moore -- who roomed with Goff for two years -- knows the new Rams quarterback about as well as anyone and shared insight into how passionate Goff is and what kind of work ethic he'll bring to the Rams' locker room from Day 1.
"I'm confident that he's going to step in and do great," Moore said. "He's a hard worker.
"I lived with him for two years, and it'd be like middle of the night watching film. He'd be like, 'Hey, look at this play?' and I'm like 'Dude, come on, relax.'"
No one was more complimentary of Goff's work ethic than his former coach at Cal, Sonny Dykes. Dykes didn't recruit Goff to Cal but instead was lucky enough to inherit him from former head coach Jeff Tedford. Goff was everything he could have asked for.
"He's a consummate professional," Dykes said. "He's 21 years old, but he was a professional for us at 18. What I mean by that is his approach, just his maturity and his approach. And you know, he's going to give it everything he has every day."
Rams' fans certainly hope that professionalism translates quickly, as Goff will have the weight of an entire franchise on his shoulders. Unfortunately for him, it won't be enough to "just" be a quarterback in LA. Instead, he's got to be the face of the franchise. He's got to be a star. He's got to be a glamour player, at a glamour position, in a glamour city.
Fortunately, Dykes believes he's suited to do just that. When asked what makes Goff so special from an X's and O's perspective, the coach raved about his abilities.
"He can make the throws," Dykes said. "He's got a very unique skill set. He maneuvers in the pocket and creates throwing lanes better than any quarterback I've ever seen, really at any level. He's very unique in that regard. I think that's why he was the first pick in the draft is because of that skill set."
But with Goff, it isn't just the raw football skills but also his intangibles that stood out to his former teammates and coaches. He's a leader, a catalyst and a guy who everyone will eventually rally around.
It will take time to adjust to a locker room in which some of Goff's new teammates are over a decade older than him, Dykes says, but he believes Goff will be embraced because of the kind of leader he is. Cal defensive end DeVante Wilson shared an example to support that point.
"Jared was very vocal. He was a great leader," Wilson said. "There would be times he would come to the defensive side and come pick us up as well if we were struggling. I think that will carry on to the NFL."
If Goff indeed carries that leadership to the NFL, along with the skillset Dykes mentioned, it should bring the Rams plenty of wins in years to come and deliver them the star they're hoping for.
"His ceiling is very, very high," Dykes said. "And the fact that he's 21 years old, he hasn't gotten close to reaching his ceiling yet. I think the Rams got them a special player and somebody they can build around for many years to come."
Everyone in LA certainly hopes Dykes is correct.
Aaron Torres covers college football for FOXSports.com. Follow him on Twitter @Aaron_Torres or Facebook. E-mail him at ATorres00@gmail.com.