Jamie McMurray's good luck primary sponsor returns for Bristol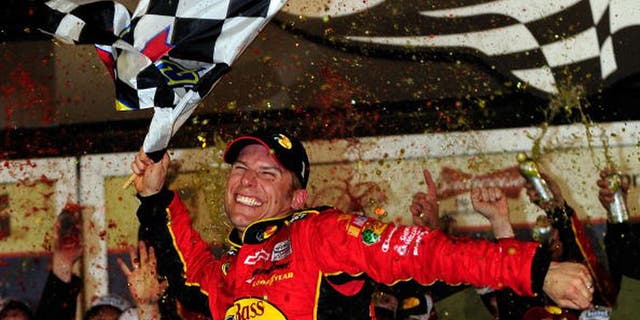 NEWYou can now listen to Fox News articles!
Jamie McMurray has seven career Monster Energy NASCAR Cup Series wins in his career with his best season coming in 2010 when he won the Daytona 500, Brickyard 400, and Bank of America 500 at Charlotte.
His sponsor for all of those races? Bass Pro Shops.
It was announced this week that Bass Pro Shops, along with the National Wild Turkey Federation, will sponsor McMurray's No. 1 Chip Ganassi Racing Chevrolet this weekend for the Food City 500 at Bristol Motor Speedway.
While a sponsor certainly doesn't guarantee a win for McMurray, the speed and performance he's shown so far in 2017 matched with a bit of good luck could be enough to put him over the edge for his first victory since 2013.
Especially at a track that McMurray has finished 14th or better in each of the last five races.
Bass Pro Shops founder/CEO Johnny Morris said he's excited about the opportunity to be back on McMurray's car along withdonating space to the NWTF, which is a national nonprofit organization dedicated to the conservation of the wild turkey and the preservation of our hunting heritage.
"We are very proud to partner with our good friends at Chip Ganassi Racing in this tribute to the National Wild Turkey Federationone of our all-time great national conservation partners, said Johnny Morris. All of us at Bass Pro Shops are honored to donate this special paint scheme as a tribute to this organizations ongoing commitment to conservation and education, and their thousands of grassroots volunteers who are also NASCAR fans."
McMurray brings back Bass Pro Shops as his primary sponsor for both Bristol races this season.
Bristol is such a fun track and I cant think of a better place for Bass Pro Shops to have the NWTF car, said McMurray. There are a lot of passionate race fans and outdoorsmen in that area. Bass Pro Shops is also the sponsor of the Bristol Night Race in August, so both Bristol races this season are going to be really special.
Check out McMurray's paint scheme for this weekend.