Jake Arrieta explains why he isn't worried 'at all' about the Cubs' chances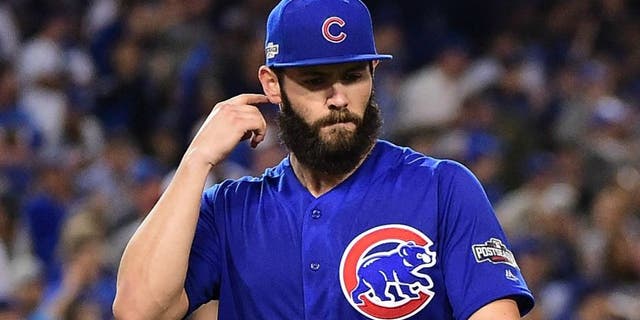 The Cubs are playing from behind for the first time all season after losing Game 3 of the NLCS to the Dodgers on Tuesday night. But they aren't lacking in confidence, according to the right-hander Jake Arrieta, who suffered the Game 3 loss.
Arrieta allowed four earned runs on six hits (two homers) over five innings, striking out five. But he fully expects to get another shot at the Dodgers.
"I'll pitch again," Arrieta said, per the Chicago Sun-Times. "If I'm needed, if a game is on the line, I'll be available. Tomorrow, the next day, whenever."
And he didn't stop there, telling reporters he's "not at all worried" about the Cubs' predicament. To Arrieta, it's simple math, really. A team that won an MLB-best 103 games during the regular season knows exactly what it has to do.
"We've got to win three before they win two. That's it," Arrieta said.
It would be silly to count out the Cubs, but they can't win if they don't score -- and they haven't scored since the eighth inning of Game 1.