Jaguars WR Allen Hurns is allergic to grass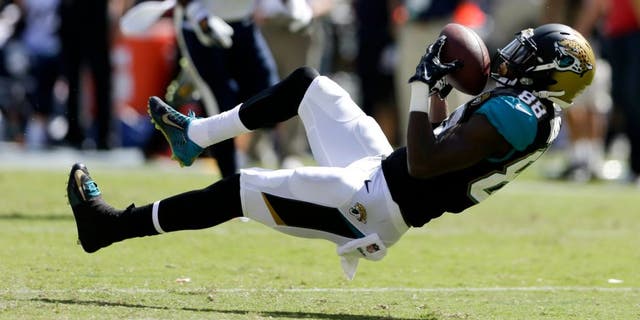 NEWYou can now listen to Fox News articles!
Allergies are something millions of people have to deal with on a daily basis. Whether it's food allergies or ones caused by the changing seasons, they're a nuisance to people every single day. Jacksonville Jaguars receiver Allen Hurns understands their pain. That's because he's allergic to grass -- the surface he runs, dives and competes on for hours each day.
It's not the best allergy an NFL player can have, to say the least, but Hurns is not going to let some leaves of grass keep him from a day's work. How? By covering his skin with layers of clothing. Playing in Jacksonville, where it's consistently above 90 degrees, makes it difficult for Hurns to protect himself, but it's a necessary measure he takes with sleeves and tights.
"It has its moments," Hurns told Mike DiRocco of ESPN. "Sometimes I break out. Sometimes I don't. At times it gets pretty aggravating, but for the most part it's been holding up good."
Fortunately, it doesn't appear as though Hurns' grass allergy, which has hindered him since high school, is a constant source of aggravation. That's not to say it's easy to deal with, though. ESPN reports breathing problems aren't a part of the allergy -- it's more about skin rash breakouts, which is why Hurns wears long sleeves and tights to cover his body.
Though Hurns has turned this pain into gain and overcome this issue in a big way. After going undrafted in 2014, the 24-year-old broke out (figuratively) with the Jaguars in 2015 and just inked a four-year, $40 million extension with the team. Which can only mean more field time for one of the top young receivers in the game today.