Jaguars receiver Ace Sanders could see heavy workload in return from 4-game suspension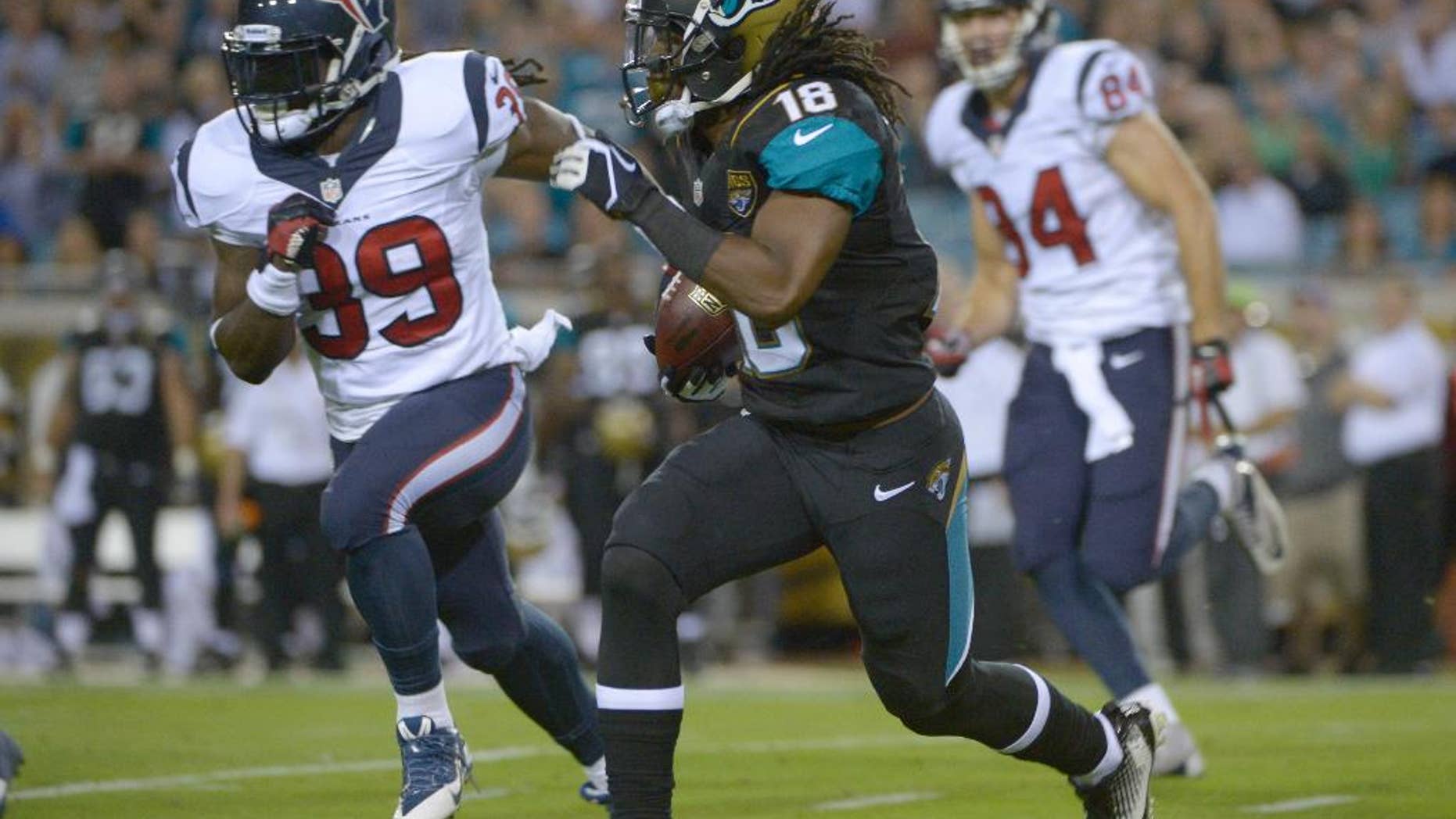 JACKSONVILLE, Fla. – Jacksonville Jaguars receiver Ace Sanders won't get to ease back into football.
With rookie Marqise Lee (hamstring) ruled out against Pittsburgh and fellow receiver Cecil Shorts III (hamstring) doubtful to play Sunday, Sanders likely will see a heavy workload in his return from a four-game suspension.
"I don't know what to expect," Sanders said Wednesday. "I'm just going in, whatever they ask me to do, I'll do it. If it turns out, I'll be ready for it."
Sanders missed the first quarter of the season for violating the NFL's substance-abuse policy. He practiced Wednesday for the first time since Aug. 26. It was his fourth time on the field with the Jaguars (0-4) since organized team activities ended in June.
Sanders took a 31-day leave of absence in late July, missing all of training camp and most of the preseason. He returned Aug. 24, practiced for three days and played in the preseason finale against Atlanta.
He has been in meetings since, but unable to practice or attend games with the team.
"It could be tough at times, but at the end of the day, it's only yourself that you can blame for the reason you were out," said Sanders, who also was the team's primary punt returner in 2013. "You couldn't harp on it too much. Just have to look at some of the positive stuff. You actually get a chance to sit down and be a spectator and actually take what you see watching the game and remember that stuff when you get back to play. That's really what I did."
Sanders announced July 22 that he was leaving the team and seeking treatment. The NFL suspended him the next day without pay. Sanders said "personal issues" caused his misstep and added that he was dealing with "a lot of stuff, just with life and family and a lot of issues going on."
He said Wednesday he's "in a better place."
Being back on the field made him feel even better.
"I think he's in a really good place right now," coach Gus Bradley said. "I know these last couple of weeks were tough on him, but it went fast for him and now he's got a chance. I think he's truly just looking forward where he's at."
A fourth-round draft pick in 2013 from South Carolina, Sanders caught 51 passes for 484 yards and a touchdown last season. He became one of 42 rookies over the last 20 years to catch at least 50 passes in their initial season.
He was at his best down the stretch, with 35 receptions for 302 yards and a score in the final seven games. The Jaguars are hoping he can pick up where he left off.
"There will be some natural rust," offensive coordinator Jedd Fisch said. "Not just the rust, but you have to feel the game a little bit. ... He missed four games and the preseason. This is his first game back. There will be some rust. We're going to have to look at that and see what we can do to help him get going early."
Quarterback Blake Bortles, who will make his second start against the Steelers (2-2), hopes to develop a quick rapport with Sanders — especially with Lee out and Shorts likely to join him on the sideline Sunday.
"Having Ace back is a huge help and we're excited for him, excited to have him back out there practicing," Bortles said. "I look forward to seeing what he can do. ... From watching him run routes last year on film, he does a great job running routes, getting open, he's smart. I look forward to throwing him the football."
___
AP NFL website: www.pro32.ap.org and www.twitter.com/AP_NFL