Jaguars' Denard Robinson drives into pond after falling asleep at the wheel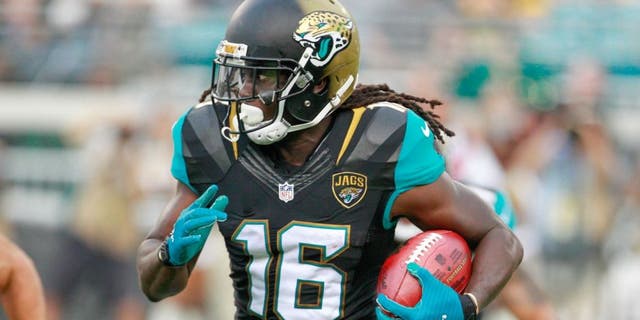 NEWYou can now listen to Fox News articles!
Jaguars running back Denard Robinson had a wet Fourth of July weekend.
A Jacksonville police officer responded to a call early on Sunday to find the running back had driven a Chevy Impala into a retention pond, submerging the driver's side of the car, the Florida Times-Union reported.
Robinson and his female passenger were both asleep in the vehicle when the officer approached, according to the police report.
Robinson then "opened his eyes and then went back to sleep" when the officer attempted to wake them. When the officer continued to knock on the window, the passenger awoke and said, "What's up."
The report went on to say that an officer determined at the scene that Robinson was not impaired and should not be charged with DUI.
"I just wanted to let everyone know that I was involved in a single-car accident on Saturday night, and thankfully, everyone was safe and remained unharmed," Robinson tweeted on Tuesday.
"I should not have been driving that late or when I was that tired."
"The team is aware that running back Denard Robinson was involved in a single-car accident over the weekend and is thankful that nobody was injured," the Jaguars said in a statement.
Fifth-round draft pick Robinson, 25, has amassed 914 rushing yards and five touchdowns in his three years with the Jaguars.