Jackson's Big Plays Lift Eagles Over Cowboys, 30-27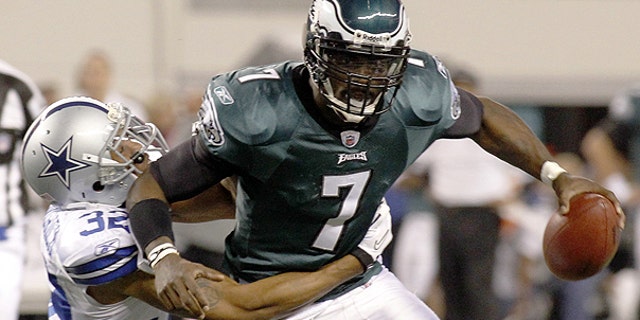 ARLINGTON, Texas -- DeSean Jackson stopped at the edge of the goal line, turned to face the defense and tipped over backward into the end zone.
No, he wasn't worn out from running 91 yards. He just wanted to add a finishing splash to this game-changing play.
Jackson's go-ahead touchdown early in the fourth quarter was among many big plays for him and the Philadelphia Eagles, sending them to a 30-27 victory over the Dallas Cowboys on Sunday night.
Philadelphia (9-4) ended a three-game losing skid to its NFC East rival and moved a half-game ahead of the New York Giants in the division race. The Eagles will take a streak of five wins in six games to New York on Sunday for a showdown with the Giants.
Dallas (4-9) fell behind in the opening minutes, yet kept it close and even led 20-14. But Philadelphia was relentless, dropping the Cowboys to 3-2 under interim coach Jason Garrett. They are guaranteed their first losing season since 2004.
"We fought hard throughout this ballgame, it just wasn't good enough at the end," Garrett said.
Jackson caught a 60-yard pass on the opening play of the game and kept biting off huge chunks of yards. On only four catches, he gained 210 yards, third-most in franchise history.
His breakaway catch came with the game tied at 20 and the Eagles starting a drive from their 9-yard line after a penalty on a punt return.
Michael Vick zipped the ball to the left sideline, past cornerback Michael Jenkins and right to Jackson. He sped past one safety, made another safety fall and outran a diving cornerback at the 10. His showboat move at the end drew a flag, then he went to the bench for some oxygen.
"When he gets the ball in his hands, you better make sure you tackle him and tackle him with more than one guy," Garrett said. "They threw to him eight times; he caught four and was awfully productive when he did."
Jackson's performance helped mask an otherwise rocky outing by Vick -- two interceptions, matching his season total, and trouble converting on third downs. Dallas sacked him twice and blasted him with hard hits all night, including one that drew a penalty for a helmet-to-helmet hit.
Vick went 16 of 26 for 270 yards. Take out Jackson's numbers, though, and his other 12 completions produced 60 yards. He also ran for a touchdown.
LeSean McCoy ran 16 times for 149 yards, including a 56-yarder.
Jon Kitna was 24 of 35 for 242 yards for the Cowboys, also with two touchdowns and two interceptions.
Philadelphia came out smoking, hitting the deep ball to Jackson, converting a fourth-and-1 and getting an easy 1-yard touchdown jog by Vick for a quick 7-0 lead. But Dallas answered with a long touchdown drive, kept alive by a facemask penalty and boosted by a 26-yard run by Miles Austin on a double-reverse.
The Eagles went ahead 14-7 in the second quarter on a 1-yard touchdown toss to tackle-eligible Todd Herremans. Then the Cowboys picked off Vick for the first time and got a field goal. They got another field goal at the start of the third quarter, then turned another interception into a 3-yard touchdown run by Felix Jones for a 20-14 lead.
McCoy's long burst -- right up the middle -- started Philadelphia's surge back in front. That drive and the next ended in field goals, tying the game at 20. Jackson's 91-yard touchdown made it 27-20 and another field goal stretched the lead.
Dallas got within 30-27 on a touchdown pass to Jason Witten with 4:22 left, but Philadelphia never gave the ball back.
The Eagles lost middle linebacker Stewart Bradley to a dislocated right elbow in the second quarter. The already were without injured starters safety Asante Samuel and right tackle Winston Justice, neither of whom even made the trip.
Before kickoff, the Cowboys showed a video tribute to former star quarterback Don Meredith, who died last Sunday. It was followed by a moment of silence.