'It's Miami. Enough said': Heat stars haven't talked about summer, locked in on Finals instead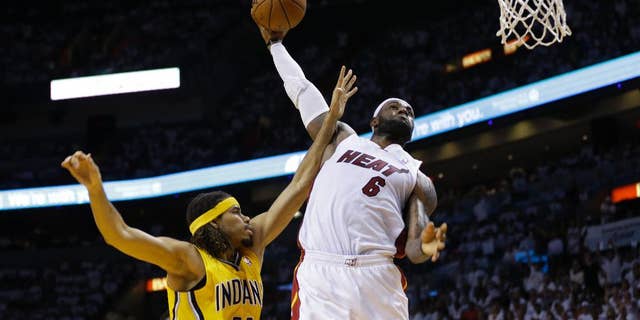 MIAMI – For the Miami Heat, it's all about June.
July can wait.
Four years ago, when LeBron James uttered that now-infamous phrase — "not two, not three, not four, not five ..." — about how many championships he hoped to win with the Heat, it was almost immediately turned into a punch line. It rings prophetic in some ways now, with the Heat back in the NBA Finals for a fourth consecutive season.
How the Heat fare against in their NBA Finals rematch with the San Antonio Spurs might dictate what happens in July, when James, Chris Bosh and Dwyane Wade can become free agents if they choose. A looming offseason of decisions has been a taboo subject for the Heat "Big 3" this season, and Wade insisted Monday that Miami's stars have not said a word to each other about what may or may not happen.
"I'm not lying," Wade said.
Still, as long as Miami keeps winning, it seems logical the "Big 3" will stay together.
"I want to come back. That's OK to say, I think," Bosh said Monday after the Heat finished their first workout in preparation for the NBA Finals, which begin Thursday in San Antonio. "I can't speak for anything else and I don't want to take away from the subject at hand, but I like it here. It's Miami. Enough said. People are dying to get here."
Regardless of the outcome of this Heat-Spurs series, there will be changes to the Heat, which is an annual rite for just about every team. James, Wade and Bosh can all opt out of their current deals. Shane Battier is retiring, Ray Allen may think about doing the same, while Mario Chalmers, James Jones and Rashard Lewis are notable free-agents-in-waiting.
It's not just the "Big 3" who aren't thinking too far ahead, yet.
Allen said no one in the room is looking past anything but this series — especially with the Spurs' Tim Duncan saying San Antonio will get it done this year after falling short against the Heat last season. But as James noted, both teams have their own motivation.
"That's the great thing about having veterans," Allen said. "Nobody worries about what's not here yet."
Winning a third straight title could make some of those stay-or-go decisions pretty simple. And Wade believes Miami's legacy has been secured.
"Whenever it's all said and done, the legacy of this team, it's going to be a great team," Wade said. "It's going to go down in history as an unbelievable team not only in South Florida but in NBA history."
Given that, it's easy to see why so much attention gets paid to how long this team can stay together.
Bosh, Wade and James all made it very clear in September that they were not going to let the summer of 2014 turn into the circus that the summer of 2010 was, when all three became free agents and decided to bring their talents together.
Entering the season, James said that his teammates "understand where I stand" regarding the future. And on Monday, James said he wasn't going to let himself be distracted by thinking about what impact the result of these NBA Finals will have on the legacy the Heat have created over the last four seasons.
"No, because I live in the moment," James said. "It's almost the same with my individual accomplishments. I never really understand them. The only time I'll be able to appreciate it is when I'm done playing the game. I'm in the moment. I don't even think about it."
Bosh was the last player off the practice floor Monday. And when the conversation turned to what happens after these finals, he was reluctant, he said, to think about anything beyond Game 1 on Thursday night.
"It's difficult enough concentrating on trying to get back to this point, let alone trying to win it," Bosh said. "We've done that before. All of us made a lot of mistakes in 2010, which is going to happen because that was our first time being in it. But now, not only are we vets in the league, with playoff experience, we know what to expect."
What decisions to expect this summer, that's another story.
"We still don't know," Battier said. "It's hard to explain with our group. We have a bunch of guys that sort of go with the flow. I think when the Big 3 signed here there was talk of legacy and there was talk of history. That's all academic at that point. Once you put the uniform on it's about competing your tail off and putting yourself in position to win, which we have."