Is the Spurs' Kawhi Leonard 'the quiet Michael Jordan or Kobe Bryant?'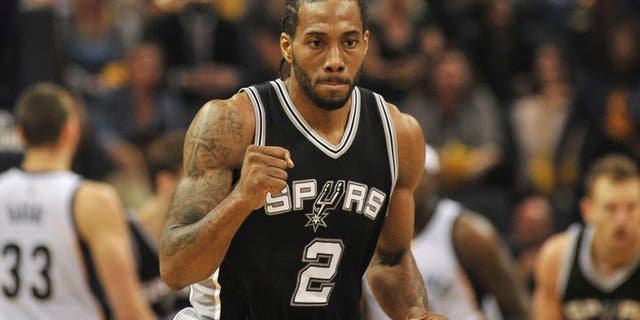 Russell Westbrook and James Harden have dominated the MVP discussion for most of the 2016-17 season, and though the Oklahoma City triple-double machine Westbrook will be watching the rest of the playoffs from afar after Tuesdays season-ending loss to Hardens Rockets, the NBAs top scorers are still thought to be in a two-man race for the prize thanks to their impressive individual accomplishments on the offensive end of the floor.
As a result, Kawhi Leonards career season has gone largely overlooked, at least in the context of the expected MVP tally. Despite being the NBAs pre-eminent perimeter defender and arguably the leagues best two-way player, the San Antonio star, who is averaging 31.6 points and holding opponents to 29.4 percent shooting on jumpers longer than 15 feet through Game 5 of the Spurs first-round series against the Memphis Grizzlies, figures to be on the outside looking in when the winner is announced June 26.
Fortunately, the 25-year-old Leonard is accustomed to being glossed over. Slighted in high school and underappreciated by the masses in college, the San Antonio cornerstone has spent most of his six-year pro career gradually filling out his game amid little fanfare, a trademark of the franchise he represents. But those who know the two-time defending defensive player of the year best are confident that his time in the spotlight is coming, even if basketballs next big star would just as soon remain in the shadows.
Show me a better player, Leonards high school coach, Tim Sweeney, challenged me Wednesday by phone from Leonards alma mater, Martin Luther King High School in Riverside, Calif. Its not to take away from Harden or Westbrook or LeBron (James), because theyre unbelievable. But to me and this is not because Im his high school coach the best player in the NBA is Kawhi Leonard, all around. He plays defense and offense at a level that nobody else in the NBA is doing.
Hes just amazing, Sweeney continued of Leonard, who spent two seasons playing for Sweeney at King. He continues to amaze me every day with the way that he continues to grow. And hes only 25. I think youre just seeing the tip of the iceberg with the level of greatness this kid is beginning to show. Is he possibly the quiet Michael Jordan or Kobe Bryant? Is that what were looking at? We cant answer that right now, but it certainly looks like hes headed that way.
One of the most accomplished coaches in the Inland Empire, Sweeney is the son of a Hall of Fame high school coach and says he knew immediately that he had someone special when Leonard transferred to King from Canyon Springs High School in nearby Moreno Valley, going so far as to describe Leonard as a future NBA All-Star in conversations not long after he arrived on campus.
That debut season, as a junior, Leonard led the Wolves on a deep playoff run, despite losing his father in a shooting in January 2008, less than two months before the teams loss to Compton powerhouse Dominguez in the SoCal regional championship. By then the previously unheralded Leonard was already firmly on the recruiting radar at San Diego State, the first to offer Leonard a scholarship, but the assumption was that other larger programs would soon follow in droves.
Jake Roth/Jake Roth-USA TODAY Sports
You watched him play and he was long-armed, and had the biggest hands of any player Ive recruited or seen since Chris Webber huge hands, and every ball that came to his area, he got, former Aztecs coach Steve Fisher told FOX Sports this week. And he had the ability to get balls out of his area, you noticed that immediately.
He was also a guy that could finish off the bounce, Fisher continued. Youd get in traffic, and he had a knack for scoring the ball. He was an OK perimeter shooter not a great perimeter shooter but he just did things so effortlessly and instinctively that you said, Hes a player, and we felt that way from the moment we saw him.
Leonard had his sights set on UCLA, and Sweeney says he had Leonard signed, sealed and delivered to then-Bruins coach Ben Howland. However, Sweeney claims that jealousy over Leonards success during a brief AAU stint with L.A. Dream Team in the summer of 2008 ultimately led to Leonard falling out of favor with some of the areas more high-profile universities.
Kawhi outshined Renardo Sidney and everyone on the team, Sweeney said, referencing the troubled former McDonalds All-American, who was coached by his father, Renardo Sr., and later played at Mississippi State before going undrafted in 2012. The Sidney group all of a sudden was badmouthing him around everybody, OK? Everybody kind of bought in it, and all these big-time schools which were probably about eight or 10 of them dropped off. They literally dropped off the face of the map.
Calls to a Las Vegas number listed for Sidney were not immediately returned, but Fisher and San Diego State assistant Justin Hutson, Leonards lead recruiter, each said they were not aware of any mudslinging by players or coaches from L.A. Dream Team.
Absolutely not, no, said Fisher, who retired earlier this month after 18 seasons and eight NCAA tournament appearances at SDSU. I dont think that played a role in it at all.
He was recruited by high, high majors in the power-five leagues, but he wasnt really, really recruited, and theres a difference, Fisher continued. They would say, Well, I dont know if hes big enough to be an inside player and I dont know if hes quite skilled enough to be a perimeter player, and we just hoped that they would continue to think that.
The truth is that he started out with a really good program called Team Eleate and I remember watching him playing in the spring going into his senior year, and he was really good, added Hutson, who returned to the San Diego State bench in 2013 after two years at UNLV. We had already turned up the heat at that time, and then he moved over to a little bit more of a national program and he was playing really good for that program also, in front of everybody. It was just a matter of we wanted him and he wanted us.
To be sure, San Diego States early commitment to Leonard played a huge role in his eventual decision to sign with the Aztecs. In 2009, Leonards mother, Kim Robertson, spoke with the San Diego Union-Tribune and recalled a conversation in which Leonard told her that once he decided on SDSU, it was too late for bigger schools to woo him away, adding, We never talked about it again.
We did our due diligence and we worked him hard, hard, hard, recalled Fisher, who previously recruited Webber and the rest of the Fab Five to Michigan during his nine-year stint in Ann Arbor in the 1990s. We use the analogy that they wanted to go on a date but werent ready to get married to him. We wanted him. We were ready for the marriage to happen.
And his mother was a huge piece to the commitment to us, Fisher added of Robertson. She trusted us, she believed in us, and Kawhi was even more shy then than he is now, and hes just starting to come out with a willingness to accept some of the spotlight.
Once on campus at Montezuma Mesa, Leonard quickly developed into the star the program always expected him to be, leading the Mountain West in rebounding while leading the Aztecs to the NCAA tournament for the first time in four years as a freshman. The following season, Leonards last with the program, the Aztecs earned a No. 2 seed in the dance the best in program history before ultimately falling to the eventual champs, Connecticut, in the Sweet 16.
He didnt say very much, but he didnt have to, Fisher said of Leonards impact on the program during his time in San Diego. He showed up every day ready to go to work. He loved being in the gym, he practiced the way he wanted to play. You didnt have to worry about his motor, taking a day off, not being engaged. He was a guy who everybody knew, when practice was over, hed find his way into a gym to get extra practice in on his own. He was a leader by example.
A 2011 draft day trade to San Antonio, however, took Leonard out of the spotlight which Sweeney says was actually exactly what Leonard needed as he settled into the NBA.
I was just ecstatic, Sweeney said of the deal, in which the Indiana Pacers acquired George Hill. Because to be with Coach (Gregg) Popovich, to be able to grow under Tim Duncan and Manu Ginobili and Tony Parker, that was the best thing that could have happened to that kid. It allowed him to learn from three Hall of Famers, allowed him to be able to grow at a pace that was going to be good for him.
He chose the right place to come in high school, he chose the right place at San Diego and hes been very blessed to be able to get to the Spurs, Sweeney continued. Because its allowed him to develop into this monster on the court.
Wesley Hitt
But whereas Westbrook, Harden, James and other NBA superstars seem to embrace their superstar status, Leonard shies away from the notion, and just this week brushed aside praise from Shaquille ONeal and Charles Barkley, who described Leonard as the second-best player in the world. Although with the benefit of hindsight, the problem may be that Shaq and Chuck undersold him.
Hes family to me, so of course, Id pick Kawhi over anybody, Hutson added. Obviously there are some really good players out there, and theres going to be a handful that you cant go wrong with. But Im going to put my money on Kawhi every time.
Regardless, Leonard wont be able to remain in the shadows for long. As Leonards offensive skillset has caught up to his defense, many have come around on Leonard as the model for future pros to emulate. And with time, the awards the new face of the Spurs is currently being snubbed for will follow, too whether the notoriously modest Leonard wants it.
When you play for an organization like San Antonio, at times youre understated a little bit, nationally, because theyve been so good for so long, Fisher said. But I think if you do your part, as an individual, and do it again and again and again, everybody takes notice. Would we love to see him become league MVP? Absolutely. Will he this year? Probably not. But will he in time? Probably.
You can follow Sam Gardner on Twitter or email him at samgardnerfox@gmail.com.
Garrett Ellwood | NBAE/Getty Images