Irsay turns game into Peyton Place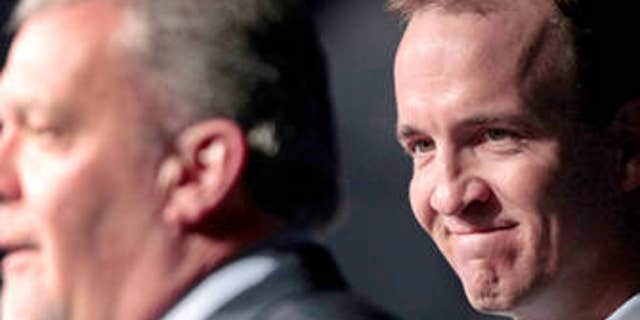 Contrary to widespread reports, Jim Irsay is not a loose-lipped buffoon. He knows the facts when it comes to Peyton Manning, even if they upset John Fox, Papa John's and everybody in Colorado.
And boy, have they.
"Jim Irsay takes classless shot at Peyton Manning," read the Denver Post headline Wednesday.
"I hope Manning steps on their throat and doesn't let up, especially after that idiot . . . spouting off his mouth," Colorado Rockies icon Todd Helton told the paper.
"A cheap shot," Denver head coach Fox told NFL Sirius radio.
Irsay's crime? Admitting the Manning Era left him frustrated. It should be easy enough to see why.
"You make the playoffs 11 times, and you're out in the first round seven out of 11 times," Irsay told USA Today. "You love to have the Star Wars numbers from Peyton and Marvin (Harrison) and Reggie (Wayne). Mostly, you love this."
He reportedly pointed to the Super Bowl ring on his finger. The Colts owner thinks there should be more bling on his right hand.
He said the same thing before this season and nobody seemed to care. It's just that now America is in the middle of a Peyton Party. We're enraptured by his greatness, and anyone who questions it risks being cast as Darth Vader.
Darth Irsay's comments weren't even directed specifically at his former quarterback. He was talking about the post-Peyton business model.
"You have to understand, there's no way this occurs if he's in Indy," Irsay said. "It's just impossible where our salary cap was."
Manning is devouring opposoing defenses at a record pace in 2013, but also eating up $17.5 million of Denver's cap. Andrew Luck's cap number is $5.5 million.
The difference was spent on signing players who have helped the current Colts revival.
In that context, Irsay's words don't exactly qualify as a cheap shot. But even if he'd said, "Peyton needed a Heimlich at the site of Tom Brady," he'd have a good argument.
We've all heard it a few hundred times. Manning's playoff record is 9-11. He's quarterbacked eight separate one-and-done failures.
Yes, Manning played great at times. His 88.4 playoff passer rating is barely behind Brady's.
Peyton, with 12 Pro Bowl berths and six All-Pro first team honors on his resume, was stuck on some mediocre teams. A lot of the playoff losses were close. There were missed field goals, dropped passes -- plus cold, rainy and mucky field conditions.
And Manning's dog ate his playbook before that 4-INT playoff game in New England back in 2004.
Fox and friends say it's not fair that Manning is held to a higher standard. Come on. He's Peyton Freakin' Manning. He should be held to a higher standard.
If Brady or any other high-standard QB had the same record, he'd get the same treatment.
Tony Romo is, and he's not even in Manning's class. Regardless of class, bad things seem to happen at the worst times with some guys.
With Manning, it was Super Bowl XLIV in February, 2010. The Colts were driving for a tying score in the final three minutes, but Tracy Porter returned an interception 76 yards to give New Orleans a 31-17 win.
Then there was last winter AFC Divisional Playoff game, when Manning threw a crushing pick in overtime to set up Baltimore's winning field goal. Longtime Manningologists were hardly shocked.
They trace such things as far back as his near-miss college days in 1996. Tennessee had a showdown with Florida, and the Heisman hopeful Manning fired four interceptions in the first half.
After flirting with turning pro, he returned to Gainesville for another playoff-atmosphere game in 1997. The winner would be favored to get to the Sugar Bowl. The loser would be destined for the usual SEC runner-up spot in the Citrus Bowl.
Hello, Orlando. Manning threw an critical interception that was returned 89 yards for a touchdown in the first half. The Volunteers never recovered, though Steve Spurrier certainly did.
"I know why Peyton came back for his senior year," the Gators' coach cackled afterward. "He wanted to be a three-time star of the Citrus Bowl."
So is Manning a choke artist?
Whatever you think, there are enough career calamities to make it a fair question. Not that anyone wants to hear it right now.
Irsay spent Wednesday trying to put out the fire. He tweeted sweet nothings about Peyton and said all the critics just have negative agendas.
Speaking of which, Peyton's former Colts coach Tony Dungy suspects Irsay may have a hidden one. Manning is making his big return to Indianapolis on Sunday. Dungy told ESPN that Irsay is trying to provoke his old QB into making it feel like -- dare we say it -- a playoff game.
"I think that's what he's trying to do," Dungy said. "Have him make it such a big game he doesn't perform well."
Now why would Irsay think such a plan would work?
One look at his right hand should answer that.
The original article can be found at FOXSports.com: Irsay turns game into Peyton Place.