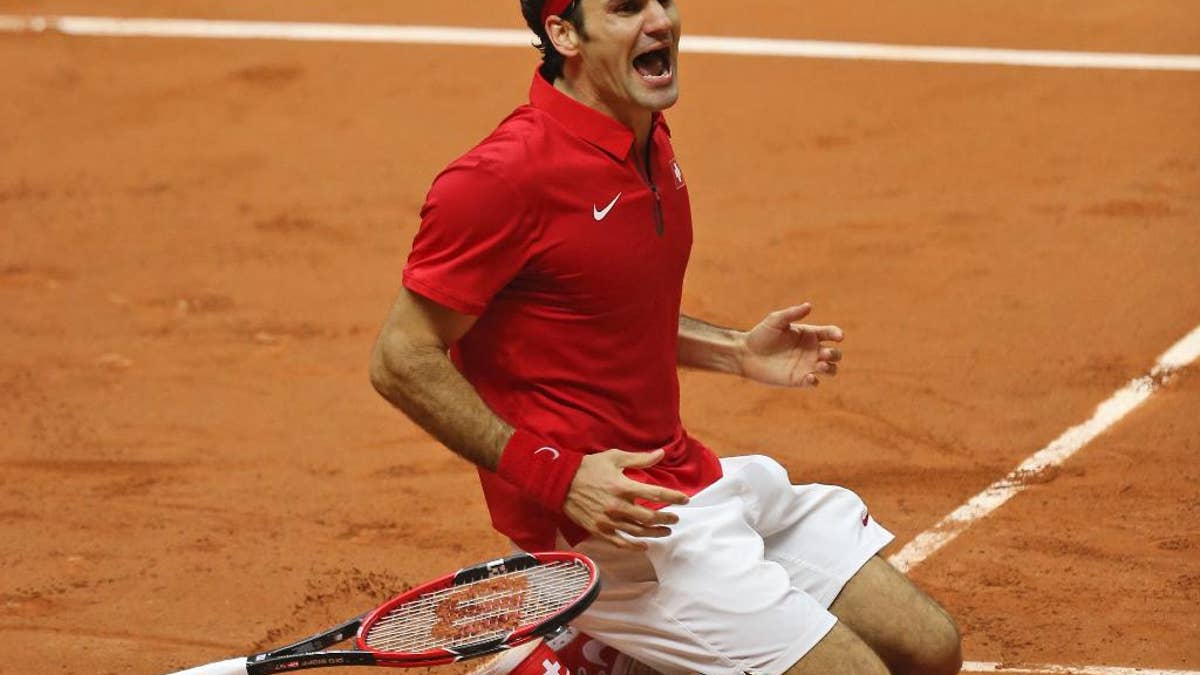 There's no rest for Roger. Back near the top of the rankings, and fresh from his long-awaited Davis Cup triumph with Switzerland, Roger Federer is getting ready for the International Premier Tennis League that gets under way on Friday.
Joining Federer in the franchise-based, short-format competition will be the top-ranked players in men's and women's tennis, with Novak Djokovic and Serena Williams also signed up to play.
The IPTL will launch with a tournament at Manila this week. Singapore, New Delhi and Dubai are the other stops for the $ 1 million event that runs till Dec. 13.
Andre Agassi and Pete Sampras are among the retired greats who'll feature in the tournament that will be contested by four teams — the Manila Mavericks, Singapore Slammers, Indian Aces and United Arab Emirates Royals.
"It is a revolutionary team tennis event breaking through the boundaries of traditional tennis formats," IPTL founder and former doubles star Mahesh Bhupathi said ahead of the tournament, which he hopes to convert to an eight-team league by 2020. "But we need to be sustainable and we don't want to be too aggressive — we want to make sure that along the lines other people also see it as a viable business model."
The format includes men's and women's singles, men's doubles, mixed doubles and legends singles matches. Essentially, it's an exhibition with a competitive streak.
Each fixture will consist of five one-set matches, which could be decided by a four-minute shootout at 5-5 rather than a traditional tiebreaker. There will be no advantage scores and the outcome will be decided by aggregating games won from all five matches rather than the match results.
There will also be 'power points' which will give players a chance to double up on a point in each match by nominated it before receiving serve. Other additions include time-outs.
Williams, who won the season-ending WTA title in Singapore last month, said "I'm looking forward to coming back to Singapore and playing for the Singapore Slammers. I hope you'll ... enjoy a new format of tennis."
No. 9-ranked Marin Cilic said playing in Asia was part of the appeal.
"When I'm in Asia, I always have good experiences and I always feel welcome," Cilic said. "Asian fans are very faithful and I appreciate that a lot."
Federer is an advocate of shorter formats in the game. He'll also be playing former No. 1 Lleyton Hewitt in another shortened, faster form of the game in Sydney ahead of the Australian Open.
Players fought long and hard for more time off to rest and recuperate between seasons, and the official off-season now extends for more than a month on the men's and women's tours. So participation of the star players in the IPTL has raised some questions about scheduling and fatigue management.
The 33-year-old Federer helped Switzerland clinch its first Davis Cup title last weekend in France, and the 17-time major winner will start his 2015 at the Brisbane International on Jan. 5, a key warm-up tournament to the Australian Open.
ATP president Chris Kermode last month described the IPTL as "just a series of glorified exhibitions."
"I actually don't have a problem with it," he told reporters in Shanghai. "It isn't the ATP's business what the players did in the off-season, even if they criticize the duration of the tour and then jet away to play exhibition events when the curtain falls on the calendar."
The IPTL is another addition to a growing list of franchise-based leagues run out of India following the massive success of cricket's Twenty20 Indian Premier League.
There is an Indian Soccer League involving players such as Nicolas Anelka, Alessandro Del Piero, Robert Pires and Luis Garcia, as well as similar competitions in field hockey and kabaddi.
______________________
Top players in the IPTL:
Manila Mavericks: Andy Murray, Jo-Wilfried Tsonga, Maria Sharapova, Carlos Moya.
Singapore Slammers: Serena Williams, Tomas Berdych, Lleyton Hewitt, Patrick Rafter.
Indian Aces: Roger Federer, Ana Ivanovic, Pete Sampras, Sania Mirza.
UAE Royals: Novak Djokovic, Marin Cilic, Caroline Wozniaki, Goran Ivanisevic.