IndyCar: Title contender Graham Rahal caught up in crash at Pocono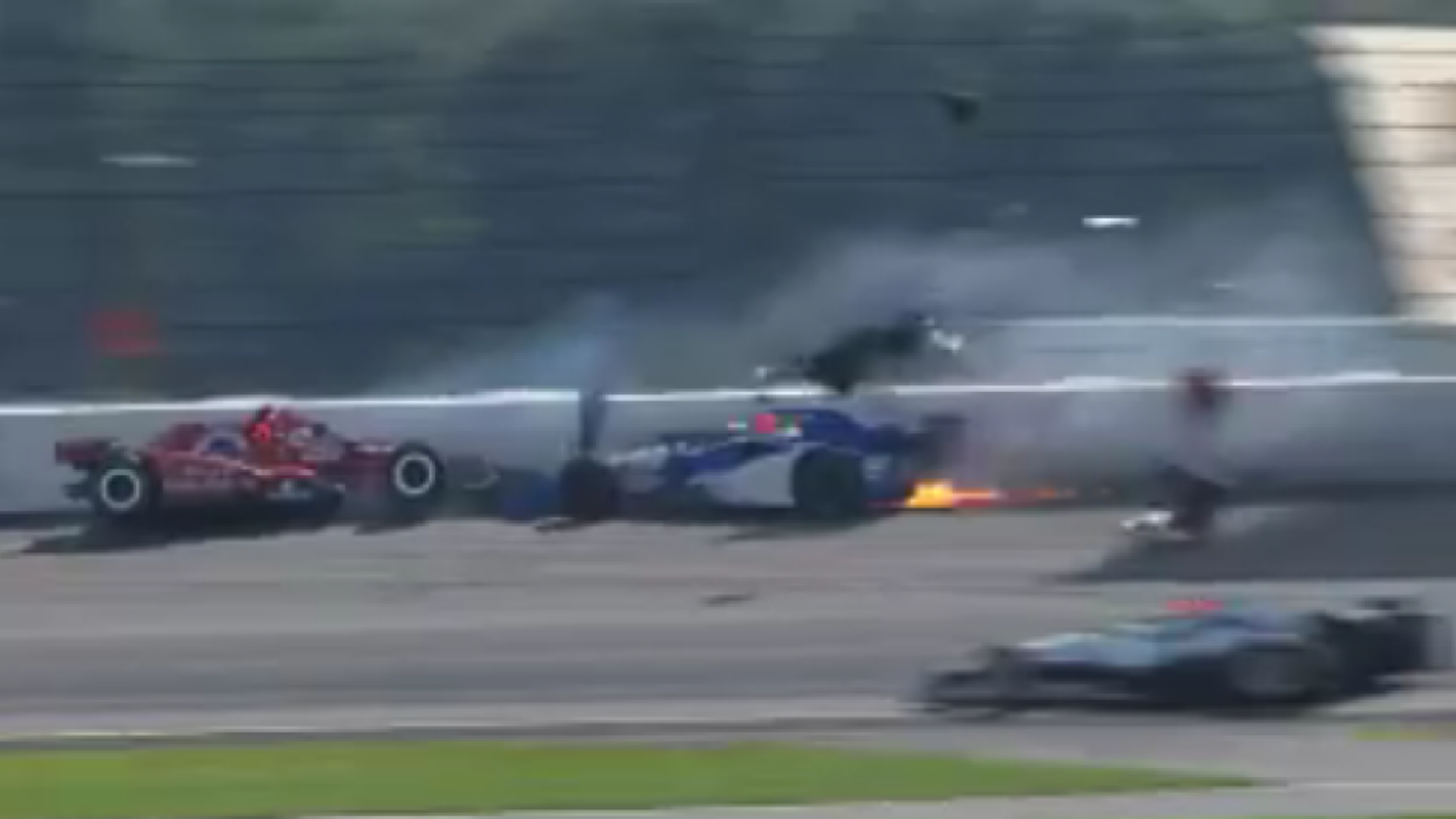 LONG POND, Pennsylvania -- Graham Rahal's bid for the 2015 Verizon IndyCar Series championship isn't over but after crashing out of Sunday's ABC Supply 500 at Pocono Raceway on Lap 103 it just got a lot more difficult.
Rahal entered Sunday's contest just nine points behind Team Penske driver Juan Pablo Montoya in the battle for the title but his crash doomed him to a 20th-place finish.
Rahal was entering Turn 3 when Tristan Vautier's Honda went to the inside at the apex of the turn. Another Honda driven by Justin Wilson was alongside Rahal to the outside and Rahal's Honda touched Vautier's car. The result was both cars slamming into the wall and the 26-year-old Rahal slamming Vautier afterwards.
"Unfortunately I was driving against a guy there who wasn't using his head," Rahal said. "He is a part-timer trying to prove himself again even though he made mistakes like this the first year and lost his ride. It's a hard thing because obviously I think Tristan is a talented guy. But in a position like that you don't do that.
"Earlier in the race Scott Dixon could have gone two-wide earlier in the race and he decided to wait because it's 500 miles. With Tristan, nope -- let's shove it in there and take this guy out just took me out even though we were already two-wide. It was quite an impact -- a pretty good one."
Vautier is a part-time Verizon IndyCar Series driver from France who won the 2012 Indy Lights championship. He has had previous incidents with Rahal earlier in his career.
"I was on the inside all the way up there and found myself with nowhere to go at the apex," Vautier said of his role in the crash. "I feel bad because Graham was in championship contention and you are the bad guy when this happens. At the same time I was there and cannot disappear in a few feet. I did everything I could afterwards and went all the way to the grass but it was too late. I'm really upset about the whole thing and upset for Honda about the title.
"Graham is ticked. We had a couple run-ins my rookie season so we are not best friends. I had my race to do as well and I cannot disappear that quickly. It was really a racing thing and not a reckless move."
Rahal thought he was still in a good spot with 97 laps to go in the race although he had dropped back in the field after starting fifth. A pit stop mistake and a car with too much downforce but it a difficult car for Rahal to drive but he was still in contention to improve in the race.
"The real shame of it is it was another Honda that took us out because he probably just ruined Honda's shot at winning the championship," Rahal said. "We were watching the Verizon App here, which is pretty cool, but we are 28 points behind as it runs now and who knows how it will end up happening with Montoya by the end of this race.
"At Sonoma, Montoya is going to be on top of his game so we have some work to do."
Rahal is down but not out but it just got much harder to win the 2015 championship.
"It got a lot tougher and that is frustrating because this year being this close was a great opportunity for us," Rahal said. "Up until our pit miscue we were ahead of Montoya by a few points and that is all we needed. I just wanted to stay close and if I could stay close I feel good about Sonoma.
"Now, we're not going to close. Now, we're going to have quite an uphill battle and that is going to be frustrating."
Next week's season-finale at Sonoma Raceway will be a double-points race and that could make a difference for Rahal.
"In this case it does because if it had been a normal points race it would have been virtually impossible to come back from 30 down," Rahal said. "The real shame is as I looked at this weekend I knew I would have to have some bad luck for third, fourth and fifth to catch up. Well, now they have caught up."
Rahal said his car was "dog slow" earlier in the race by starting the race with too much downforce and drag.
"We worked hard as a team all year and started Texas too low on downforce and here we were too high but we were taking it out every pit stop," Rahal said. "I didn't feel bad about that.
"I'm obviously ticked off right now."
**
Be sure to catch Bruce Martin's Honda IndyCar Report on RACEDAY on FOX Sports Radio every Sunday from 6-8 a.m. ET