Hungary aiming for 4th straight water polo gold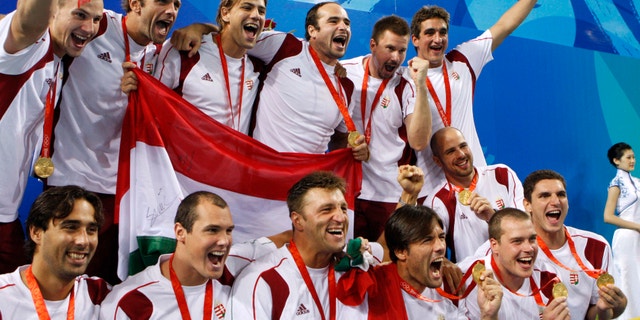 BUDAPEST, Hungary – Although Hungary no longer boasts the best men's water polo team in the world, the three-time defending champions are still the team to beat at the London Olympics
It has been more than a decade since the Hungarians lost an Olympic match, dropping a preliminary round game at the 2000 Sydney Games. The Hungarians went on to win gold in Australia, as well as in Athens in 2004 and Beijing four years later, running up an unbeaten streak of 17 matches along the way.
In London, they'll have a shot at an unprecedented fourth straight gold.
"The Russian or Soviet ice hockey team won four consecutive Olympic gold medals," Hungary goalkeeper Zoltan Szecsi said. "This is a kind of pressure, but many said that a third consecutive gold medal was impossible and we achieved that, so a fourth is just as achievable."
But even for Hungary, the winners of nine Olympic water polo titles and the traditional powerhouse in the sport, standing atop the podium for a fourth consecutive games would be a towering achievement.
Hungary coach Denes Kemeny, who has been in charge since taking over the national team in 1997, has an aging core of players at his disposal this year -- Szecsi, Gergely Kiss, Peter Biros, Tamas Kasas -- along with some younger talent like Balazs Harai.
Despite the potential to make history in London, Kemeny said the pressure for a fourth consecutive gold pales in comparison to what it would feel like if Hungary hadn't snapped its longest Olympic title drought -- 24 years -- with the win in Sydney.
"It would be a larger burden if we had not won any gold medals at the three previous Olympics," Kemeny said. "But that's not what happened."
It certainly isn't.
Instead, Hungary bounced back from two preliminary round losses to beat Russia for the gold at the 2000 Sydney Olympics. Four years later in Athens, they ran the table, eventually taking down Serbia and Montenegro 8-7 in the final. Then in Beijing, Hungary again swept through the competition without dropping a game, topping the United States 14-10 for the gold.
Since then, however, Kemeny's squad has been far from impressive. They finished fifth at the 2009 World Championships, and fourth two years later. Their only medal finish at a major international tournament in that time was a bronze at the 2012 European Championships.
Kemeny dismissed concerns over the string of sub-par finishes, saying that at some events during the four-year cycles between Olympics he choses to field weaker teams in order to focus on the ultimate objective.
"We have learned well the differences between what we could call an average international tournament and the Olympics," Kemeny said. "I hope we still have this advantage over the other teams, but we'll find out in London."
Biros, the team captain who scored three goals in the 2008 Olympic final, said the players know what it takes to win when the Olympics roll around.
"Everyone knows more or less what they have to do to be in top form at the Olympics during the two weeks we will be in London," he said.
The biggest obstacle standing in Hungary's way in its quest for a gold in London is Serbia.
Since Beijing, a Serbian squad brimming with talent -- including 2010 world player of the year Vanja Udovicic and 2011 player of the year Filip Filipovic -- has been impressive, winning the 2009 World Championships and the 2012 European Championships and finishing second at the 2011 worlds.
That has many in the water polo world tapping them as the favorites in London.
"Serbia has certainly been the most consistent team over the last three years -- they've won the world championships, they've won the World Cup, they've been really the top team and I think they have the most balanced team right now," United States coach Terry Schroeder said.
But that doesn't mean anybody is overlooking the Hungarians.
"You definitely can't count Hungary out," Schroeder said. "They've won the last three Olympic gold medals and I'm sure they're going to be right there."
For his part, Kemeny is unconcerned.
"We've never been to a world-class competition or an Olympics where only the Hungarian team was expected to win," he said. "No one would list several teams among the favorites without including Hungary.
"An Olympic title can only be won at the Olympics."
That's something Hungary has shown it knows how to do.