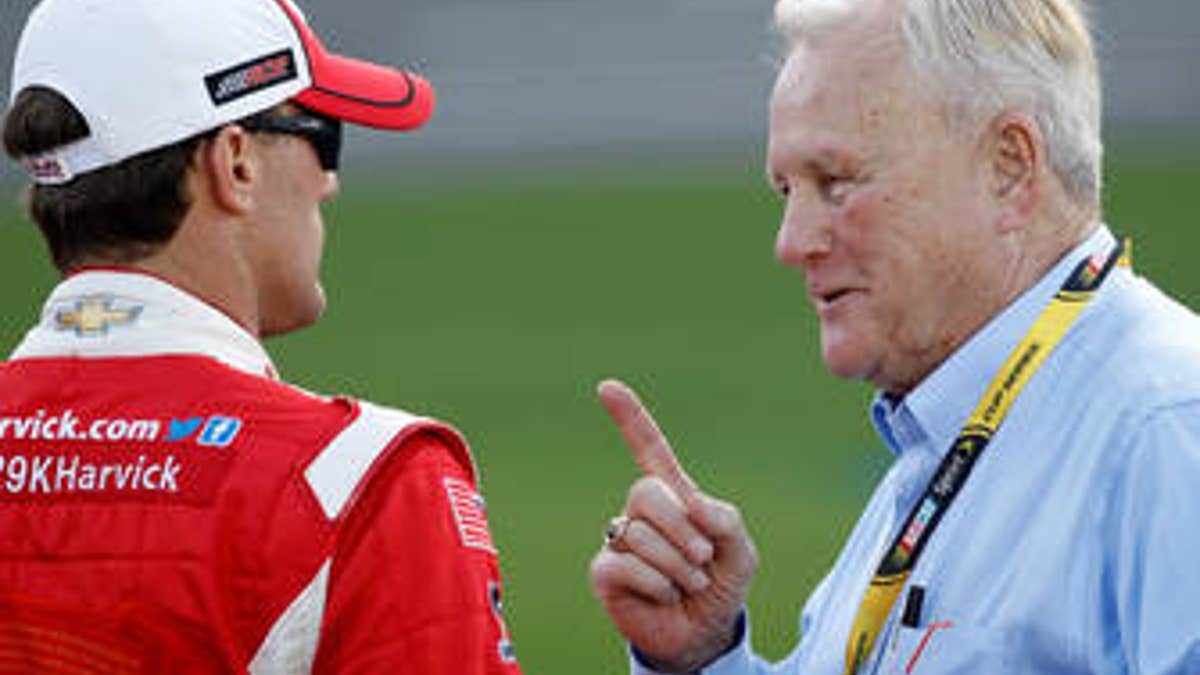 For decades, the name H.A. 'Humpy' Wheeler was synonymous with Charlotte Motor Speedway. The longtime track president kept busy finding new and unique ways to promote his events and develop elaborate pre-race spectacles.
Since 2008, however, Wheeler has been living life behind the scenes away from the speedway he helped grow and mold.
By no means has Wheeler retired, nor has he stopped coming up with elaborate ideas and plans geared toward racers of all walks of life.
Earlier this week, together with his son Trip, Humpy announced his latest project, Speedway Benefits. The organization will attempt to organize the 1,200-plus short tracks across the U.S. in an effort to find more significant advertising dollars and provide a buying collective to lower overall cost of operation.
While his latest project is geared toward the local short tracks that does not mean Wheeler has stopped thinking of NASCAR.
The new television contract, still suffering attendance numbers, on-track competition, nothing was off base for Wheeler as he spoke with media members following his announcement.
Wheeler called the new television contract signed earlier this season a "five-run home run if there ever was one."
"I've got to salute Brian France for bringing that one home," Wheeler said. "That was totally unexpected, frankly, to me and everyone else that the dollars would increase that much. I thought it might increase 10 (percent) at the most, but it really cements things home."
With the severe decline in attendance over the past decade, Wheeler says the new television contract will go a long way in filling the financial gap in NASCAR.
Although he admits the television deal was a home run, Wheeler knows NASCAR is still concerned about the decline in attendance over the past few seasons.
"They still have to look at the old pie and see that huge revenue that was there for ticket sales," Wheeler said. "That revenue has to come back, by one way or another. In order to do that, changes are going to have to be made."
One of the changes Wheeler proposes is shortening the length of races and running more 400-mile events.
"Here I am, I ran 34 (Coca-Cola) 600s," he said with a laugh.
"What's wrong with running four heat races to qualify?" Wheeler asked. "If you lower the cost of cars, you'll have 60 cars there, at least. You qualify, you run heat races, you run a B-Main for the final lineup for the main event, maybe the main event is 150 miles, and then it's still three-and-a-half hours of racing."
In the same breath, however, Wheeler admits it would be a tough sell to broadcast partners, who are looking for definitive time slots for their racing programs.
While serving as president of Charlotte Motor Speedway, Wheeler was an integral part of the boom tracks experienced in the 1990s and early 2000s. As a result of increased crowds, many speedways expanded their seating capacity.
A no-brainer at the time, the growth has produced an eyesore for the sport as crowds dwindled and empty seats have become commonplace.
"It'd be the hardest thing in the world to take out seats after I put so many of them in," he said. "That's part of the problem. We probably overdid it. I think taking out seats would be like pulling teeth without Novocain - just really hard to do."
Spending the majority of his time traveling the country visiting short tracks as part of his latest venture, Wheeler occasionally makes it back to NASCAR from time to time. However, the longtime advocate of the sport was less than impressed with what he saw earlier this year at Darlington Raceway.
"That wasn't a particularly good race," he said. "They just kind of went round and round, and it was kind of boring. The whole NASCAR problem is the dreaded aero push. I know NASCAR is working on that."
His outlook for the sport is not dire, nor is it negative. He understands the sanctioning body is working on ways to reduce the aero push, he acknowledges the television package as a major success, and is optimistic of the sport's future.
Although his focus has now shifted to helping the short tracks of America, it would be a shame if Wheeler's advice and ideas fell on deaf ears in NASCAR.