Huge game between No. 14 USC and No. 13 Stanford headlines Week 2 in Pac-12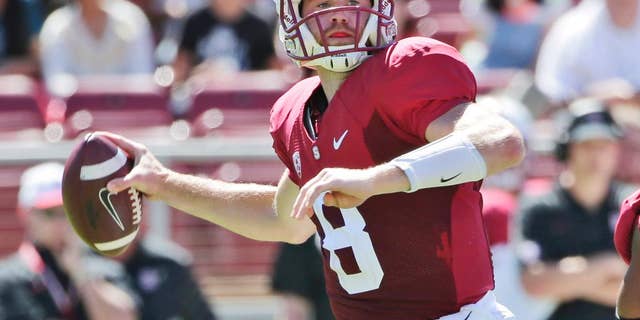 Things to watch in Week 2 of Pac-12 play, including the first conference game:
GAME OF THE WEEK: No. 14 Southern California at No. 13 Stanford. There will be no easing into the conference season for the Trojans and Cardinal. The games between cross-division rivals are almost always tight and usually have national implications. Three of the past four games between USC and Stanford were either decided by last-second field goals or in triple overtime. The Trojans derailed the Cardinal's national-title hopes with a victory last season and Stanford took down USC when it was ranked No. 2 in 2012. The Cardinal are the two-time Pac-12 champions and USC appears to be back to its high-octane offensive form under new coach Steve Sarkisian. Should be a good one.
BEST MATCHUP: Oregon's offense against Michigan State's defense. The third-ranked Ducks have become the standard bearers for up-tempo offenses, running teams ragged while piling up yards and points. They'll face one of the nation's stingiest defenses against the seventh-ranked Spartans in a game that will be a head-to-head battle of strengths. One of the nation's best non-conference games, one that could have playoff implications, and it comes in the second week of the season.
INSIDE THE NUMBERS: The Pac-12 went 10-2 in the opening week, outscoring opponents by a combined score of 478-213. Six Pac-12 teams scored at least 45 points in their opener. ... The Pac-12 had three of the top 10 offensive performances of Week 1. Arizona led the nation with a school-record 787 total yards against UNLV, USC was fourth with 701 against Fresno State and Oregon was No. 7 with 673 against South Dakota. ... The conference had plenty of new faces in Week 1, with 75 freshmen seeing action. USC had the most with 11, followed by the 10 each who played for Oregon and Utah.
LONG SHOT: New Mexico against No. 17 Arizona State. The Lobos have one of the nation's best running games and a hard-to-defend triple option, but their defense is not on the same level as the offense. That doesn't bode well against an explosive offensive team like the Sun Devils, who are 25-point favorites.
IMPACT PLAYER: Connor Halliday, Washington State. The Cougars' quarterback got his season off to a rousing start, throwing for 532 yards — second-best nationally — and five TDs, though his team lost to Rutgers. This week's game against Nevada could be another offensive show.
___
Compiled by AP College Football Writer John Marshall.