Howard signs two-year deal with Red Wings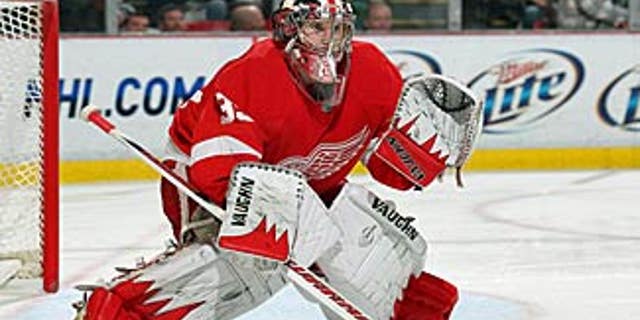 Amidst the mayhem that is the NHL trade deadline, Detroit Red Wings General Manager Ken Holland decided to lock up his goalie of the future on Monday.
Jimmy Howard, who last year finished runner-up in the Calder Trophy voting as the League's rookie of the year, was re-signed to a two-year, $4.5 million contract.
The move also was important when you take into account Holland has several other contracts he'll need to consider at the end of the season -- most notably Mike Modano, Kris Draper, Jonathan Ericsson, Patrick Eaves, Drew Miller and Chris Osgood.
In Holland's eyes, it was important to get Howard's deal taken care of prior to the team's stretch run. Howard was scheduled to become an unrestricted free agent July 1.
"Last thing we wanted to do with a young goaltender was to negotiate right up until playoff time," Holland told the Red Wings' website Monday. "Yesterday we finalized this and now there are no distractions, and for us it's good for planning. We have a guy in goal going into the 2011-12 season. We know what we've got. We like what we've got. And it's a workable cap number for us, because we want to keep our pieces together."
The 26-year-old Howard, a native of Syracuse, N.Y., went 5-7 with a 2.75 goals-against average and .915 save percentage in 12 playoff games last year and, barring injury will hold down the job again this spring.
He currently leads the NHL in wins this season (30) and also sports an impressive 2.79 GAA and .908 save percentage.
"I think he had a great season going this year until the middle of December, until the wheels started to fall off with all of the injuries," he said. "We haven't played as well defensively, and I think Jimmy's stats reflect that. But he's a guy who wins games."
Howard finished 37-15-10 with a 2.26 GAA and .924 save percentage last season to become only the fourth Red Wings rookie to win at least 30 games, joining Terry Sawchuk, Roger Crozier and Glenn Hall. Howard lost to Buffalo defenseman Tyler Myers in the Calder voting.
"He's a workhorse," Holland said of Howard. "He had a tremendous year last year. He's really just coming into his prime. We've developed him and watched him grow since he was 19 years old, and we like him, and he has the ability to grow even more as a goaltender."
The move puts an end to any speculation that the Red Wings are unsure of their goalie of the future, as Howard will retain the role as the team's starter. Chris Osgood, who underwent sports hernia surgery Jan. 1 and is expected back sometime in March, is 5-3-2 with a 2.77 GAA and .903 save percentage in 11 games this season.
Osgood is an unrestricted free agent at the end of the season.
"In the case of some of the older guys, I'm not really going to worry about until the end of the season," Holland said.
Holland said he's satisfied with the makeup of his team heading into the stretch run.
"I think it's highly unlikely that we'll do something, for a number of reasons," Holland said. "First off, the team has played at a high level. We have the third-most points in the League and the first- or second-best road record in the League. We're starting to get people healthy, but we made a plan last summer that we were going to spend much of our cap space and hope that the team would play at a high level and that we wouldn't have to be active at the trade deadline."
Pending unrestricted free agent goalie Joey MacDonald, who has been serving as Howard's backup in Osgood's absence, is 3-3-1 with a 2.39 GAA and .914 save percentage in nine games.
Follow Mike Morreale on Twitter at: @mike_morreale