How they voted: Badgers in 2016 AP football poll (Week 11)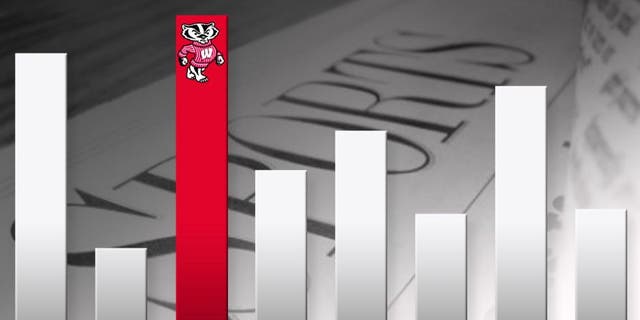 I've been tracking the ballots of Associated Press top-25 voters for many, many years, and I can't recall a time when I've seen such a near-unanimity when it comes to the Wisconsin Badgers.
After beating Northwestern last Saturday, the Badgers came in at No. 7 in the latest AP top-25 poll. And for good reason. All but seven voters had Wisconsin at No. 7 on their ballot.
Of the seven who did not have UW at No. 7, four had the Badgers ranked higher:
- Josh Kendall kept Wisconsin at No. 5 -- this is the highest vote for the Badgers -- and has Louisville 6, Penn State 7 and Ohio State 8. Needless to say, it's an interesting ballot.
- Jon Wilner has UW at No. 6, with Auburn at 7 and Louisville 8.
- Both Pete DiPrimo and Sam McKewon have Wisconsin 6th and Louisville 7th.
Then there are the three people who have Wisconsin lower than No. 7:
- Both Graham Watson and Joe Dubin have Wisconsin at No. 8, the same spot as last week, and both have Auburn No. 7.
- Then there's Mike Barber, who moved the Badgers down one spot to No. 10. He has Auburn 7, West Virginia 8 and Penn State 9.
Here's all the ballots from Week 11 with a comparison to the previous three votes:
| | | | | |
| --- | --- | --- | --- | --- |
| Voter | Week 11 | Week 10 | Week 9 | Week 8 |
| Josh Kendall, The State | 5 | 5 | 5 | 6 |
| Jon Wilner, San Jose Mercury News | 6 | 5 | 6 | 7 |
| Pete DiPrimio, Fort Wayne News-Sentinel | 6 | 7 | 9 | 10 |
| Sam McKewon, Omaha World-Herald | 6 | 6 | 10 | 10 |
| Adam Jude, Seattle Times | 7 | 8 | 10 | 10 |
| Adam Zucker, CBS Sports Network | 7 | 8 | 11 | 8 |
| Andy Greder, St. Paul Pioneer Press | 7 | 7 | 7 | 8 |
| Bill Landis, Cleveland Plain Dealer | 7 | 8 | 8 | 8 |
| Bob Asmussen, Champaign News-Gazette | 7 | 7 | 8 | 10 |
| Brent Axe, Syracuse Post-Standard | 7 | 8 | 12 | 13 |
| Brett McMurphy, ESPN | 7 | 7 | 9 | 10 |
| Brian Howell, Daily Camera | 7 | 8 | 12 | 11 |
| Chris Murray, Reno Gazette-Journal | 7 | 8 | 10 | 10 |
| Chuck Carlton, Dallas Morning News | 7 | 8 | 11 | 10 |
| Dana Sulonen, Opelika-Auburn News | 7 | 8 | 10 | 10 |
| Dave Southern, Idaho Statesman | 7 | 7 | 10 | 9 |
| David Briggs, Toledo Blade | 7 | 8 | 8 | 8 |
| Ed Daigneault, Republican-American | 7 | 7 | 9 | 11 |
| Ed Johnson, Albuquerque Journal | 7 | 8 | 10 | 8 |
| Eric Hansen, South Bend Tribune | 7 | 7 | 7 | 8 |
| Ferd Lewis, Honolulu Star-Advertiser | 7 | 8 | 9 | 10 |
| Garland Gillen, WVUE-TV New Orleans | 7 | 8 | 11 | 12 |
| Garry Smits, Florida Times-Union | 7 | 7 | 12 | 16 |
| Gary Horowitz, Statesman Journal | 7 | 7 | 10 | 10 |
| Jason Galloway, Wisconsin State Journal | 7 | 8 | 8 | 8 |
| Jeff Miller, Orange County Register | 7 | 8 | 10 | 9 |
| Jerry DiPaola, Pittsburgh Tribune-Review | 7 | 8 | 11 | 15 |
| Jimmy Burch, Fort Worth Star-Telegram | 7 | 9 | 12 | 13 |
| Joe Walljasper, Columbia Tribune | 7 | 7 | 8 | 8 |
| Joey Knight, Tampa Bay Times | 7 | 7 | 7 | 11 |
| John Clay, Lexington Herald-Leader | 7 | 7 | 7 | 8 |
| John Shinn, The Norman (Okla.) Transcript | 7 | 8 | 11 | 10 |
| Jonny Miller, WBZ News Radio | 7 | 7 | 7 | 14 |
| Keith Sargeant, NJ.com | 7 | 7 | 10 | 11 |
| Kirk Bohls, Austin American-Statesman | 7 | 8 | 18 | 19 |
| Mandy Mitchell, WRAL-TV | 7 | 8 | 10 | 10 |
| Marc Weiszer, Athens Banner-Herald | 7 | 8 | 11 | 11 |
| Marq Burnett, SEC Country | 7 | 8 | 11 | 16 |
| Matt Charboneau, The Detroit News | 7 | 7 | 10 | 12 |
| Matt Galloway, Topkea Capital-Journal | 7 | 8 | 12 | 11 |
| Matt McCoy, WTVN-AM Columbus | 7 | 8 | 10 | 10 |
| Matt Porter, Palm Beach Post | 7 | 7 | 9 | 8 |
| Michael Bonner, Jackson Clarion-Ledger | 7 | 8 | 9 | 8 |
| Michael Lev, Arizona Daily Star | 7 | 8 | 10 | 10 |
| Mitch Vingle, Charleston Gazette-Mail | 7 | 7 | 9 | 10 |
| Nathan Deen, Savannah Morning News | 7 | 8 | 11 | 10 |
| Pat Caputo, Oakland Press | 7 | 7 | 10 | 10 |
| Patrick Brown, Chattanooga Times Free Press | 7 | 7 | 7 | 8 |
| Rob Long, WJFK-FM Washington, D.C. | 7 | 8 | 17 | 17 |
| Robert Cessna, Bryan-College Station Eagle | 7 | 8 | 10 | 9 |
| Robert Gagliardi, Wyoming Tribune Eagle | 7 | 7 | 12 | 17 |
| Ross Dellenger, The Advocate, Baton Rouge | 7 | 8 | 11 | 13 |
| Scott Hamilton, Winston-Salem Journal | 7 | 7 | 10 | 13 |
| Scott Wolf, Los Angeles Daily News | 7 | 8 | 8 | 8 |
| Steve Batterson, Quad City Times | 7 | 7 | 9 | 12 |
| Steve Wiseman, Durham Herald-Sun | 7 | 8 | 10 | 9 |
| Tom Murphy, Arkansas Democrat-Gazette | 7 | 8 | 12 | 17 |
| Tony Parks, KZNS | 7 | 12 | 14 | 15 |
| Graham Watson, Yahoo Sports | 8 | 8 | 9 | 8 |
| Joe Dubin, WSMV-TV | 8 | 8 | 10 | 9 |
| Mike Barber, Richmond Times-Dispatch | 10 | 9 | 12 | 11 |
Dave Heller is the author of the upcoming book Ken Williams: A Slugger in Ruth's Shadow as well as Facing Ted Williams Players From the Golden Age of Baseball Recall the Greatest Hitter Who Ever Lived and As Good As It Got: The 1944 St. Louis Browns