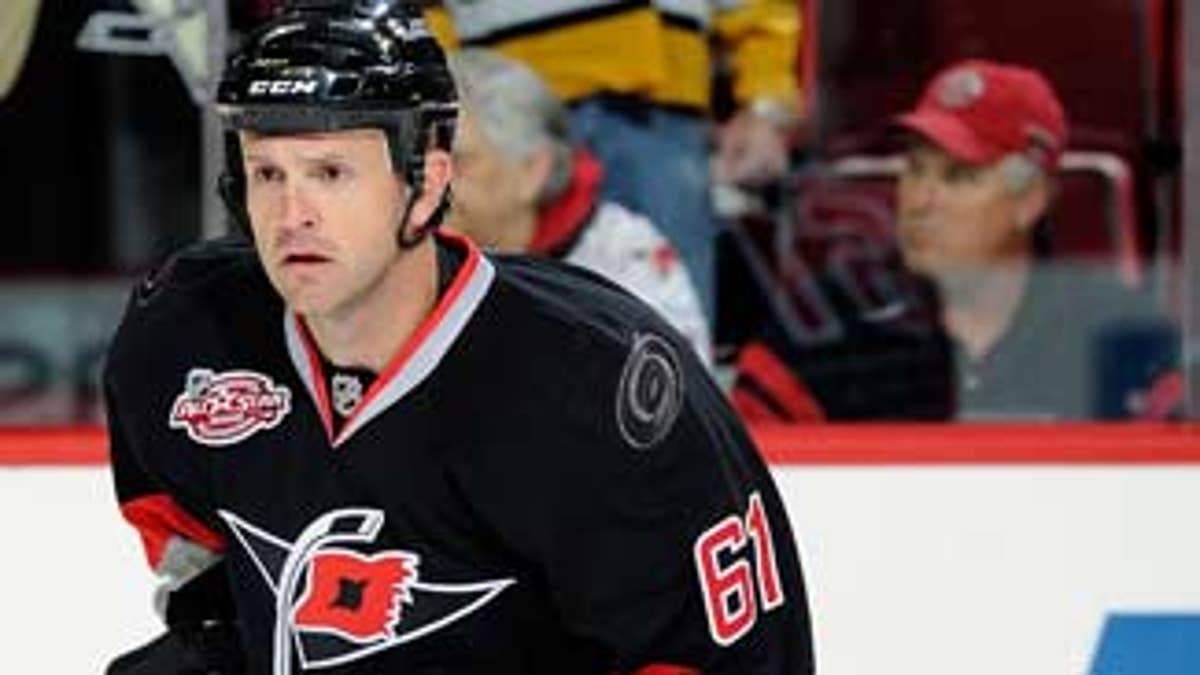 There must be something in Carolina pulled pork that agrees with Cory Stillman. It was with the Hurricanes that Stillman achieved what is almost certainly his proudest moment in hockey, winning a Stanley Cup in 2006, and after coming back in a trade from Florida on Feb. 24 it appears that Carolina mud suits him. Stillman started his second tour of duty with the 'Canes by scoring twice in his first three games and tallying four points in his first five outings.
Perhaps it just feels like home.
With a week gone since the Feb. 28 trade deadline, though, several other players are proving you don't need to return to old stomping grounds to find new life with a new zip code. For evidence look at Scottie Upshall, who scored in each of his first two games with Columbus, while one of the players he was dealt for, defenseman Rostislav Klesla, lit the lamp in his first night donning a Coyotes' sweater.
Those are just three of the players that switched teams during the frantic two weeks leading up to this year's deadline, and while deadline day itself was one of the quieter afternoons in recent memory, several players in new locations have had an early impact while others are still settling into different surroundings.
With a week gone since the 2011 NHL Trade Deadline, NHL.com takes a look at who has done what at their new address.
Immediate impact: Buffalo's hot streak has done quite a bit to change the franchise's fortunes, and while it may not necessarily end in a postseason berth, it inspired GM Darcy Regier to part with a second-round draft pick for former 40-goal scorer Brad Boyes, and while Boyes had struggled to find his scoring touch in St. Louis this season he has delivered on his promise so far with the Sabres, tallying two goals and two assists in his first four games.
Jason Arnott, one of the bigger pieces, literally and figuratively, to move on deadline day set up the game-winner in his first game as a Capital and netted the winner himself in game No. 2. Arnott didn't figure into the scoring Sunday night, but Washington came away with the win anyway -- and has done so each game since he's joined the team. Further up I-95, Bryan McCabe has boosted the blue line for a Rangers' team that has won two straight and scored 11 goals in the process. McCabe himself has chipped in two assists and is a plus-3 as a Blueshirt.
Kris Versteeg is on his third team in the past 12 months since the City of Brotherly Love acquired him from Toronto on Valentine's Day, and the Flyers have been rewarded with four goals in 10 games. The Maple Leafs haven't done too bad a job themselves, either, as Joe Colborne, who arrived from Boston in the Tomas Kaberle deal, has lit up the minors with five goals in nine games for the AHL's Toronto Marlies.
The gold standard of deadline acquisitions this season has to be Chris Stewart, however, whose remarkable start with St. Louis is helping Blues fans forget about Boyes. Stewart has an impressive seven goals and two assists in nine games since the trade.
The jury's still out: Kaberle might have been the biggest name to move in the month of February and while Boston has flourished since the move, winning its first six games with him on the roster, but Kaberle himself hasn't yet brought the offensive spark expected at the back end. Still, despite just having one point as a Bruins, he is a plus-3 in his first seven games.
If Kaberle was the biggest player to go before the deadline, Dustin Penner was the biggest to go on deadline day itself. While Penner did score in his second game with the Kings, those two games are the only opportunities he's had to wow the L.A. brass. Ditto for defenseman Dennis Wideman, who has only had three games in Washington, or Hawks' blueliner Chris Campoli, who notched two assists in his second of three games with Chicago.
Two defensemen who were traded for each other, Kevin Shattenkirk and Erik Johnson, have been productive in their new locales, but it's yet to be sustained. Johnson has four points in his first seven games with Colorado, while Shattenkirk tallied three points in his first four games with the Blues only to go pointless in the five games since.
Pleasant surprises: A simple change of scenery has been a boon for several players who were shipped in the past month. Alex Goligoski was sent to Dallas after it became clear who wouldn't be able to see adequate playing time on a crowded blue line in Pittsburgh, and as a member of the Stars he may finally be developing into a potent force, tallying four points in his first six games with his new club.
Two of the more noteworthy improvements have come from goaltenders. Dan Ellis, who had been an afterthought for much of this season has flourished in Anaheim in the stead of All-Star Jonas Hiller, who has been out with bouts of dizziness and vertigo. Ellis went 3-0-1 in his first four starts with the Ducks while amassing a 2.13 goals-against average. Those numbers got devalued Sunday night when Ellis gave up three goals on 16 shots against Vancouver, but his ability to keep the Ducks in games -- and by extension, the playoff race -- is difficult to ignore. Craig Anderson may have done him one better up in Ottawa, where Anderson has rebounded from a tough second season with the Avalanche to win four of his first seven starts while registering a 1.56 goals-against average. In his first start as a Senator, Anderson stopped 47 shots in regulation and overtime before picking up a win in the shootout.
A rude welcome: Many expected James Neal, the prime piece picked up by the Penguins when they dealt Goligoski, to feel right at home as a top-line winger in Pittsburgh, but without the benefit of the Penguins' top two centers -- Sidney Crosby is still out with a concussion and Evgeni Malkin is gone for the season -- Neal has struggled, picking up no points in six games while registering a minus-3.
Alex Kovalev has also had difficulties in Pittsburgh. While the Russian sniper was excited to return to the organization he had his best years with, the result has been just one goal in five games with a minus-3. Mike Fisher, who was also expected to have a large impact, has just one goal and three assists in 10 games with the Predators while posting a minus-4 rating.
The player who may be suffering the most in his new environs is Brian Elliott, who had been steady if unspectacular in Ottawa. Elliott had his lifetime hockey highlight south of the border, winning an NCAA National Championship with the University of Wisconsin in 2006, but returning to the U.S. hasn't brought that magic back. Since coming to Colorado on Feb. 18, Elliott is 0-3-1 with a 3.91 GAA.