Houston Texans let Romo and Cowboys escape with 20-17 overtime victory after comeback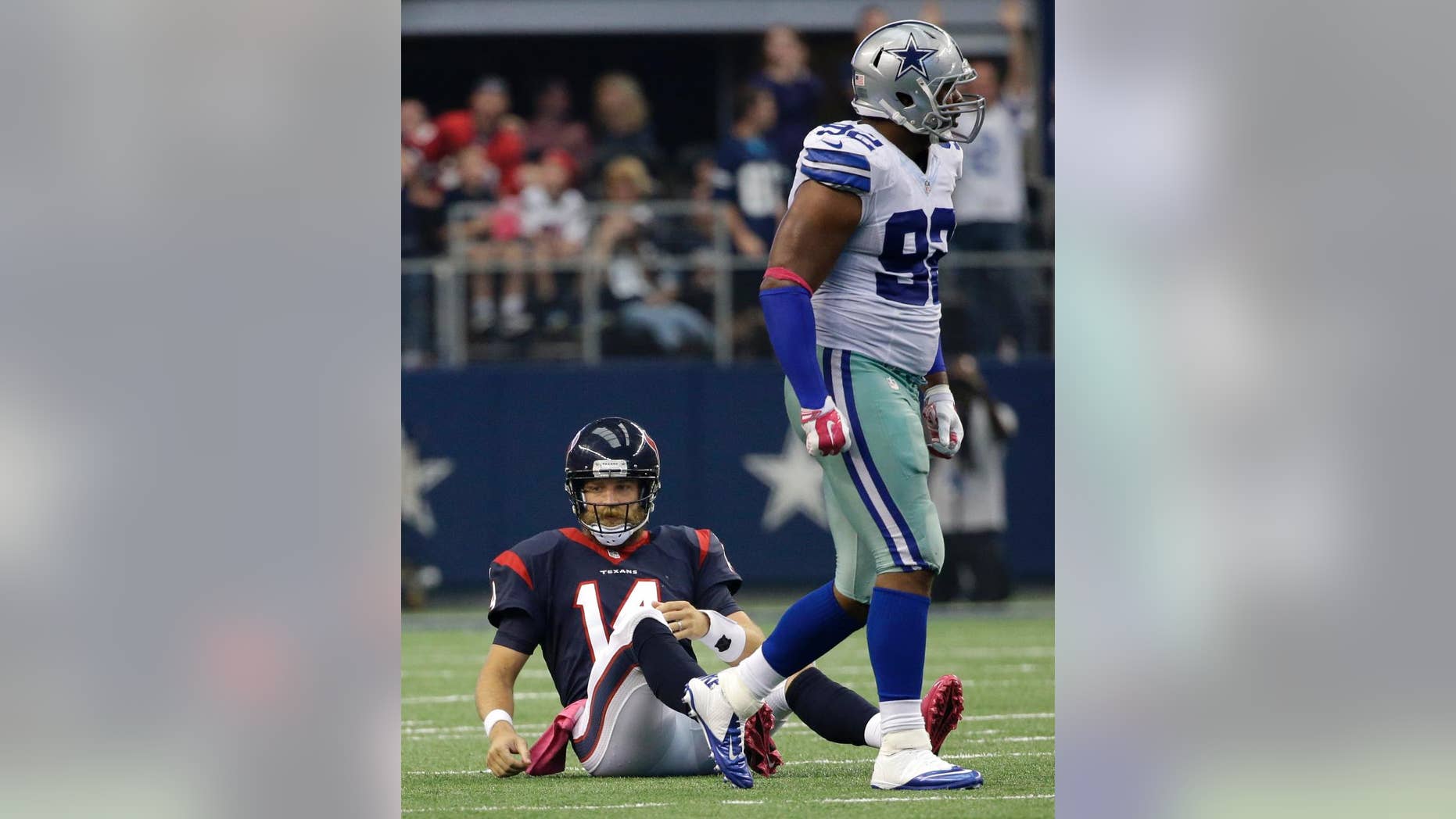 ARLINGTON, Texas – Houston defensive end J.J. Watt was in heavy pursuit of Tony Romo when the Dallas Cowboys quarterback suddenly twisted away from what seemed like a sure sack and threw a 43-yard touchdown pass.
"Those are the type that weigh on you," Watt said of that third-quarter play. "It's frustrating as a player who is supposed to make plays. I should have made that play and I didn't. To see it turn to points and obviously to see us on the long end of the game, it's something that weighs on you."
The Texans overcame a 10-point deficit in the final 2:27 of regulation to force overtime. But after they punted to start the extra period, Romo avoided another sack on third-and-8 by throwing off his back foot. Dez Bryant made a tremendous catch for 37 yards to give Dan Bailey a second chance at a game-winning kick.
Bailey's 49-yard field goal 7:15 into overtime gave Dallas a 20-17 victory.
"Every loss hurts," quarterback Ryan Fitzpatrick said. "But to be able to come back, and win the coin toss, and have the ball in overtime and really feel like the momentum was in our favor, and then not be able to covert that third down to stay on the field, it definitely hurts."
Dallas (4-1) won its fourth in a row for the first time since 2011 heading into a trip to Super Bowl champion Seattle, their only road game in a stretch of six games.
The Texans (3-2) rallied behind Arian Foster, who had 157 yards rushing and a tying 1-yard score with 41 seconds left in regulation.
"Football is a brutal game," Watt said. "It's brutal on your body. It's brutal on your emotions. To fight back the way we did, to show that resilience, it was good to see. But at the end of the day, we lost the game."
Houston now has a quick turnaround, with its first AFC South game Thursday night at home against Indianapolis.
"We have to fix the things that we can fix. These games come down to five, six, seven plays, and if you continue to make the same mistakes, you are not going to win," coach Bill O'Brien said. "Nobody is happy about this, but we have to turn the page quickly."
There were also missed opportunities.
Kendrick Lewis intercepted a pass inside deep in Texans territory, but Houston failed to get a first down early in the fourth quarter before Dwayne Harris returned a punt 38 yards to set up Romo's 2-yard TD pass to Bryant that made it 17-7.
They also went three-and-out in the second quarter after Alfred Blue recovered a fumbled punt return by Harris when the game was still scoreless. Fitzpatrick, who was 16 of 24 for 154 yards, threw a 2-yard pass and had two incompletions before Houston punted.
"The way we're getting the turnovers, you have to be able to capitalize on those. This game is so much about momentum. And getting those big plays and coming up empty ..." Fitzpatrick said, before sighing. "It is one thing to start a drive and go three-and-out, but to have such a momentum shift with a turnover, and go out there and not do anything with it, that's a real disappointing part of what we had today."
NFL rushing leader DeMarco Murray had 136 yards for Dallas, his fifth straight 100-yard game to start the season.
The Texans pulled even by converting a fourth down on a drive to Randy Bullock's 29-yard field, then got the ball back a half-minute later and went 45 yards in four plays to Foster's second touchdown with 41 seconds left.
After the Texans scored twice in the last 2:27 of regulation, Bailey's miss from 53 yards on the final play ended a franchise record streak of 30 straight made field goals.
NOTES: Texans WR Andre Johnson became the second-faster receiver to 950 catches by finishing with five for 954 after 159 games. He'll have to wait at least another week to be the second-fastest to 13,000 yards, finishing with 58 to fall 19 yards short. He has two more games to beat Harrison's mark of 162 games. Jerry Rice did it in 154. ... Murray set Dallas' franchise record with his fifth straight 100-yard game to start the season. Emmitt Smith had four in 1995.
___
Online:
AP NFL website: www.pro32.ap.org and http://twitter.com/AP_NFL