Houston Astros minor league team changes its name to the Fresno Tacos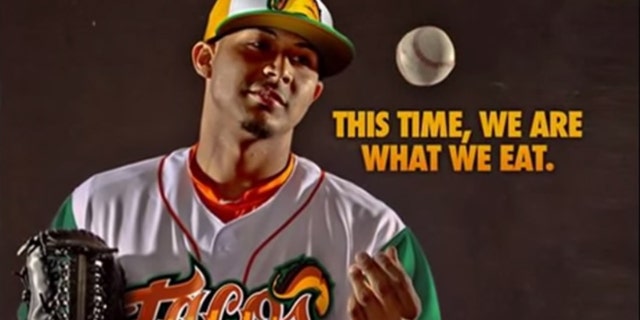 To baseball fans in the Fresno area, nothing beats an evening at the ballpark.
The crack of the bat, the roar of the fans when the home team scores a run, the first sip of a cold beer to wash down another taco.
Wait, taco? Isn't the hot dog the food of choice at the ballpark?
Not in Fresno, where The Grizzlies – a Triple-A affiliate for the Houston Astros – have fallen so hard for the traditional Mexican munchies that they have even renamed themselves the "Tacos," at least for a night, to honor the food.
In the great tradition of crazy minor league baseball promotions (see the Mahoning Valley Scrappers' free liposuction giveaway and the Charleston RiverDogs' intentional lockout), the Grizzlies, err Tacos, will don custom-designed jerseys and uniforms by Dorian Castro and Andy Inman that feature a cartoon taco on their caps.
The caps, designed by MLB sponsor New Era, have become so popular that the team has seen orders placed for them in all but nine states in the U.S. Due to high demand for the gear, the Grizzlies/Tacos say that it's going to take six to eight weeks for delivery for orders containing the Taco Logo.
And while tacos are a delicious delicacy enjoyed throughout the world for their mixture of spice, flavor and even portability, many are asking why a minor league baseball team would change its fierce sounding name to one that calls to mind a meat, cheese and vegetable filled tortilla.
The answer is that the team is celebrating its fifth annual Taco Truck Throwdown on Aug. 6, which celebrates one of the most widely consumed foods of California's Central Valley. The Fresno area is also rumored to be the birthplace of the famed taco truck, which has taken the nation by storm in recent years.
During last year's Taco Truck Throwdown, more than 27,000 tacos were eaten, according to Grizzlies/Tacos officials – a truly heft number for a minor league baseball team.
Whether you're a fan of the name change or not, the Tacos certainly give a whole new meaning on the phrase "putting some sauce on the curveball."