Houston Astros at Tampa Bay Rays game preview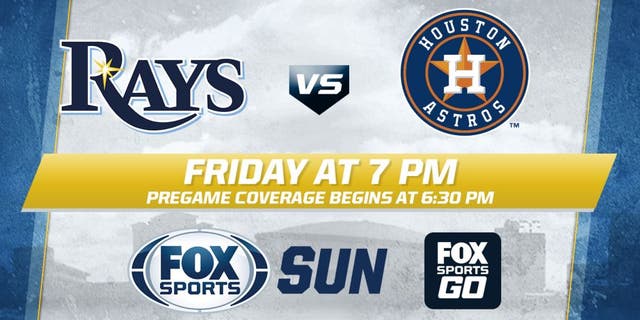 NEWYou can now listen to Fox News articles!
TV: FOX Sports Sun
TIME: Coverage begins at 6:30 p.m. ET
ST. PETERSBURG, Fla. -- The Tampa Bay Rays and Houston Astros, both four games under .500, meet at Tropicana Field for a three-game weekend series starting Friday, though they're headed in opposite directions in recent play.
Tampa Bay, which had lost four straight to open a 10-game road trip, closed that stretch by winning five of six games, so they return home with a healthy shot of momentum. The Astros, who had won eight of nine games before opening a series against the Texas Rangers, dropped three of four in that series to lose much of their momentum.
"That's something we want to maintain," Rays manager Kevin Cash said after Wednesday's win against the Diamondbacks. "The guys have kind of rallied around each other and it's been really fun to watch."
Many of the Rays' slumping bats from the first two months of the season returned to form, most recently outfielder Desmond Jennings, who went 5-for-11 in the Arizona series with two home runs, this after going 4-for-31 before the series. He raised his season average from .171 to .194 in the three-game series, helping offset the key losses of outfielders Kevin Kiermaier and Brandon Guyer to recent injuries.
"He broke out -- he carried us in a lot of ways this series for sure," Cash said of Jennings' play. "We saw that electric player we know is there."
The Astros nearly lost more than a series in Texas -- shortstop Carlos Correa landed awkwardly going into first base in the fifth inning Thursday and had to leave the game, though officially he's just day to day with a left ankle sprain, with the team optimistic he can avoid a trip to the disabled list.
Friday's opener at Tropicana Field will be a homecoming for Astros right-hander Lance McCullers, 22, who played at Tampa's Jesuit High School. He pitched once at the Trop last year, striking out 10 batters but giving up four runs in six innings to take the loss.
Houston, in the middle series of a 10-game road trip, must improve its offensive production after scoring exactly three runs in each of its last three games, losing two. There's more uncertainty in the Astros bullpen after late-inning struggles in the Rangers series, while the Rays have seen fill-in closer Alex Colome convert all 17 of his save opportunities without giving up a single run.
Will Harris could be stepping into a full-time role as the team's closer, though manager A.J. Hinch is hesitant to formally give him the title. The 31-year-old right-hander has a 0.33 ERA in 27 games this season and has the team's last two saves -- he's performing well whether he has a new role or not.
"Whether he's titled the closer or a set-up guy, he's Will Harris. He's got really good pitches and he can get anybody out in the league," Hinch told the Houston Chronicle on Thursday. "I'm sorry to disappoint those that want titles next to people's names. But I just want to get the 27 outs and have more runs than these guys."