Horton comes up big for Bruins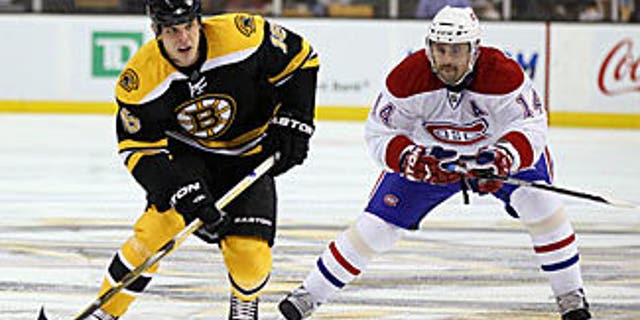 BOSTON – Since joining the NHL seven years ago, Bruins forward Nathan Horton has dreamed about the Stanley Cup Playoffs.
Five games into his first run, Horton has already achieved one of the highest highs of postseason hockey -- scoring an overtime winner.
For Horton, it was the deciding goal in Boston's 2-1 win against Montreal in double overtime of Game 5 on Saturday night at TD Garden.
"Since we were kids, we all dream about scoring the winning goal in overtime," said Milan Lucic, Horton's linemate. "He did it tonight."
Surely, Horton dreamed of prettier goals than the one he scored Saturday night, but he's not about to give it back.
On the play, in the 90th minute of the game, Horton went hard to the net – which he is paid to do on a nightly basis --and was in the perfect position to slam home one of the few rebounds given up by Carey Price, who made 49 saves.
"It was an exciting game for both teams, but in the end it felt good to get that," Horton said. "We knew it was going to be a greasy goal, and it sure was. It was a rebound, but they all count. It was a big goal for us."
Twenty minutes after the game, Horton could still close his eyes and vividly picture every frame of the goal-scoring sequence that will play as loop long after he closes his eyes in an attempt to fall asleep Sunday morning.
"I saw the rebound, we had control of the puck, and I saw the rebound come out," Horton said, smiling at the memory. "It was like it's in slow motion. It was just sitting there. I'll tell you, it felt good to put that in the net. Obviously winning the game, it was a pretty special moment."
It was a moment the Bruins desperately needed. They had lost the first two games of the series here at TD Garden to fall into a precarious hole. Now, after battling the series to a standstill after two huge wins in Montreal, both the game and the series were hanging in the balance in that second overtime.
Something had to happen. Somebody had to step and be a hero.
And, that's the thing about playoff hockey -- nobody ever knows who that somebody would be.
On this night, it was a playoff newbie with just one postseason goal and four playoff games to his credit. He was the man in the right place at the right time, the one that will be remembered for the deeds of 20 men on Saturday night.
"That was a huge goal for Horty," said Boston goalie Tim Thomas, who should at least be a co-headliner on this night after his 44-save performance, including an epic save on Brian Gionta mere minutes before Horton scored. "It's well deserved, it couldn't happen to a nicer guy and that was huge for the team and huge for him."
In its way, it was a validation of all the hard work the line – Lucic and Horton between center David Krejci – had done in this series to overcome a slow start that had the critics in a lather about breaking the unit up in favor of different combinations.
Lucic still doesn't have a goal in this series, but he is far more active than he was earlier. He had several great chances in Game 5 and set up the winning goal with a sweet pick-and-roll play out by the blue line, a play on which he shielded the puck expertly and used his strength to keep the defender at bay and open up a lane for Andrew Ference to get off the initial shot.
"Well I mean, we were chipping away all game long it seemed like," said Lucic, who had 8 shots and blocked 4 Montreal shots. "I don't know what it is, these last 15 games I just, for myself, whenever I get a scoring chance it seems like it's not going in. But tonight, for sure, definitely we didn't get frustrated and it was almost like when we had the opportunity in overtime we wanted to do whatever we could to step up and contribute to this team.
"It's obviously great that we were able to create that goal. And you definitely don't want to be satisfied. You want to keep pushing for more and contributing."
For Horton, it will be hard to push for more than Saturday night's heroics. But, he knows one more win in this series – perhaps as early as Tuesday's Game 6 – will deliver him to the second round and an even bigger playoff stage on which to perform.
That would be just fine with him.
"We've had opportunities to score, we've been playing well, but it hasn't been going in," Horton said. "But it's a team game and like you said, in the playoffs, it doesn't matter who scores, it matters who wins. In the end, that's all that matters."