Hope Solo is a 'gigantic fan' of Stephen 'Wonderboy' Thompson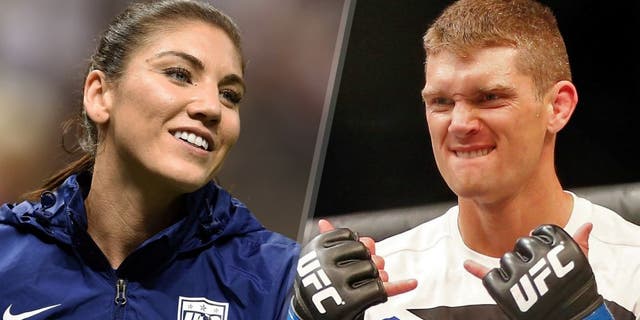 Stephen "Wonderboy" Thompson not only picked up the biggest win of his career last Saturday with a first-round finish over Johny Hendricks, but he also landed a one of the biggest soccer stars in the United States as a new fan.
U.S. Women's National Team goalie Hope Solo sent out a tweet on Saturday night following Thompson's dramatic win, showing her appreciation for his performance against a former welterweight champion.
Following a brief thank you from Thompson after his win, Solo responded on Tuesday with a video on Twitter telling the karate prodigy that she was a huge fan and hoped to catch one of his fights in person very soon.
"I am a gigantic fan of yours," Solo said. "I have mad respect for your skill set and I have mad respect for your sport. Hopefully, one day I'll be able to come and watch you fight in person, but in the meantime I will continue to tune into all of your fights and continue to cheer you on.
"So stay healthy, stay blessed and kick some ass! I wish you nothing but the best."
Solo, who is expected to play in the upcoming 2016 Olympic Games in Brazil this summer, might want to leave a date open for later this year because she might just get to see Thompson compete for a UFC title.
Following his win over Hendricks on Saturday, Thompson leapt to No. 3 in the official UFC welterweight rankings, ahead of previous title contender Carlos Condit. Thompson has been very vocal about receiving the next shot at champion Robbie Lawler.
If all goes well, by the end of 2016 both Solo and Thompson could be wearing gold.