Hoodwinked again: Denny Hamlin encounters familiar problem at WGI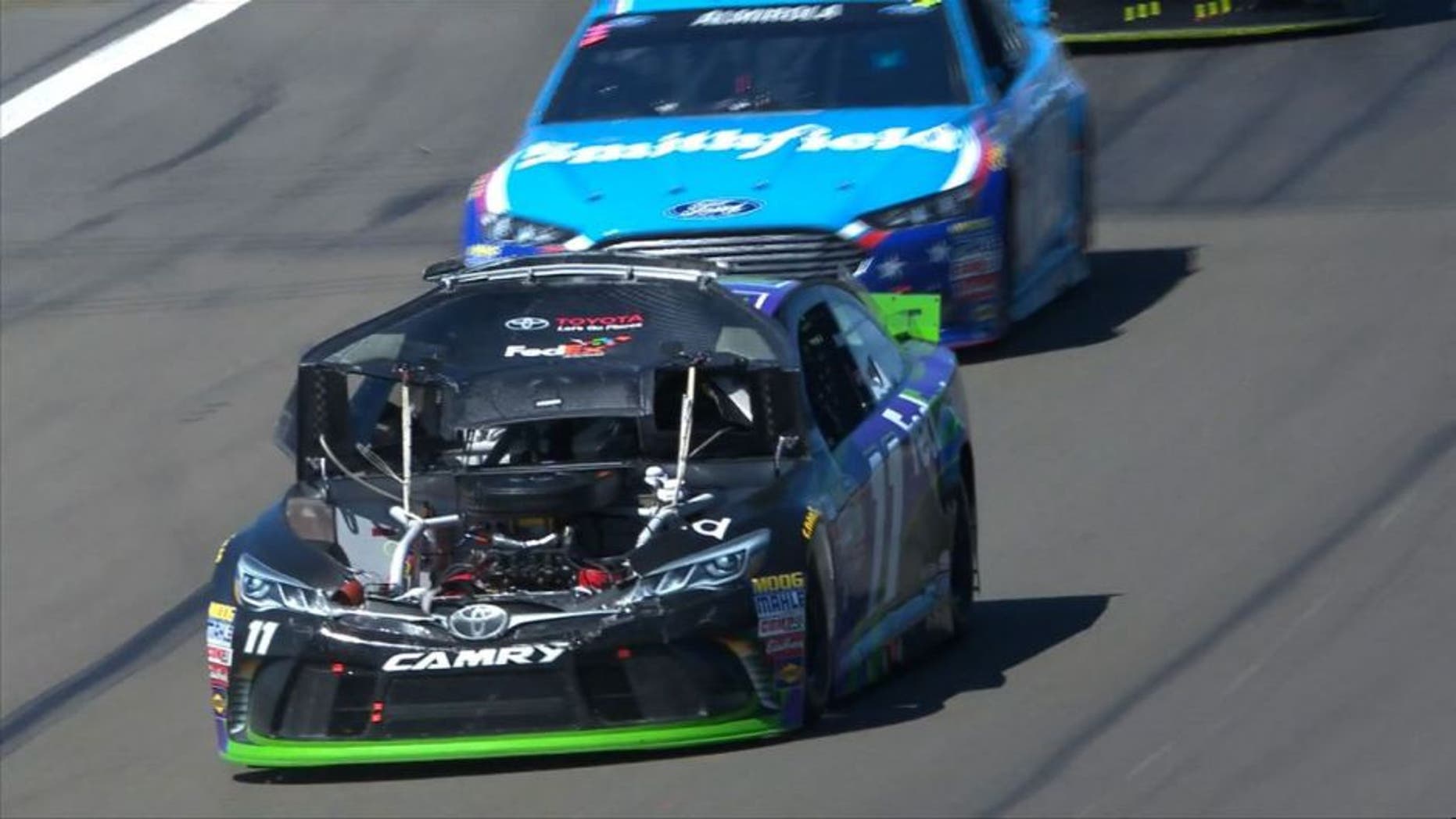 For the second time in three weeks, Denny Hamlin was forced to race around the track with his hood blown up in the windshield during Sunday's Cheez-It 355 at Watkins Glen International.
While the first incident was human error during practice at Indianapolis Motor Speedway, Sunday's incident at WGI took place during the actual event, causing serious problems for Hamlin's No. 11 Joe Gibbs Racing team.
After hit with a pit road speeding penalty under the first caution of the day, Hamlin was forced to restart in the back of the pack when the race went back to green on Lap 30 of 90 during the Cheez-It 355 at The Glen.
When the green flag flew to restart the race, the field stacked up and Hamlin drove hard into the back of David Gilliland's No. 38 Front Row Motorsports Ford. The contact broke the hood pins and braces and caused the hood to fly up into the windshield.
While Hamlin kept the car on track for the following lap, he was forced to bring the No. 11 JGR Toyota to pit road under green-flag conditions when he was black-flagged by NASCAR. The team led by crew chief Darian Grubb quickly went to work removing the hood before sending Hamlin back on track.
Back on track, the cowl flaps were still attached to the car and flapping wildly as Hamlin drove around the 2.45-mile road course. As he drove through the Esses, the left side cowl flap flew off and as he entered the inner loop the right side cowl flap flew off, bringing out the second caution of the day.
Under the caution, one of the JGR crew member ran back to the team's hauler, grabbed a replacement hood from the team's backup can and ran it back to pit road, where the team worked with NASCAR official David Green about the specifics of replacing the hood.
Despite the damage, Hamlin remained on the lead lap in the 37th spot.
Later, during the third caution period of the day, Hamlin's team was able to replace the hood on the No. 11 JGR Toyota.