Home run binge helps Nationals' Zimmerman reach 200 for his career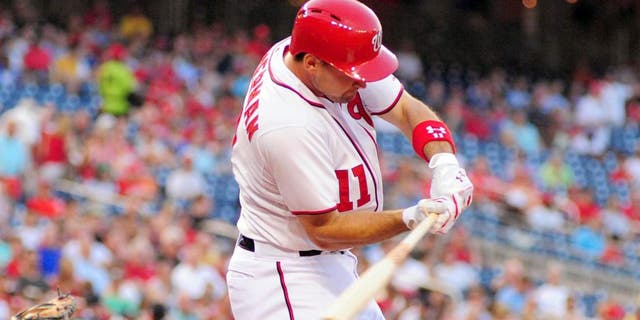 NEWYou can now listen to Fox News articles!
The Washington Nationals have faded over the past five weeks, but no one can point to Ryan Zimmerman as one of the reasons for their struggles.
Zimmerman has been on a torrid streak since missing nearly seven weeks due to plantar fasciitis. He single-handedly prevented the Nationals from a three-game sweep in St. Louis by homering twice - including No. 200 of his career - and driving in three runs in Wednesday's 4-3 victory.
In the 35 games since returning from injury, Zimmerman has 11 homers and 33 RBIs in 35 games. He has raised his game over the past nine games, blasting seven homers and collecting 18 RBIs to keep the Nationals within shouting distance of the first-place New York Mets in the National League East.
"There's nothing fazing him right now. He's locked in," Washington closer Jonathan Papelbon said of Zimmerman. "I've always said throughout my career, I'd rather face a great hitter than a hot hitter and he's as hot as they get right now."
Ironically, Zimmerman was in the midst of one of his worst seasons before going on the 15-day disabled list on June 10. He was batting a palty .209 and was mired in a 16-game homerless drought when the Nationals placed him on the shelf.
Zimmerman attempted to downplay the significance of hitting 200 homers - "I'm getting old" - but acknowledged it was humbling achievement for "a guy who was supposed to be a defensive specialist."
(h/t Washington Post)