Holly Holm shocks the world with head kick KO over Ronda Rousey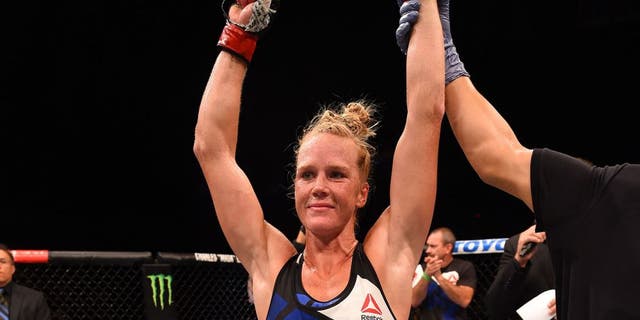 Holly Holm shocked the world on Saturday night as she landed a vicious second-round head kick knockout over Ronda Rousey to cap off UFC 193 in Melbourne, Australia.
Holm was touted as the toughest challenger to Rousey's title ever since she signed to the UFC, but she walked into the fight as much as a 20-to-1 underdog.
That all changed as soon as the fight started as Holm showed poise and a picture-perfect strategy used to dismantle Rousey in less than six minutes.
Holm set the pace throughout the first round with a stiff jab and a series of oblique kicks with shades of her teammate Jon Jones, who uses the exact same maneuver in many of his fights, as she punished Rousey's lead leg.
Every time Rousey engaged or tried to push forward, Holm circled away and refused to allow the former Olympian to bully her across the cage as she's done with so many opponents before her.
Holm's best weapon was her straight punch. She popped Rousey continuously, and as the former champ's nose and mouth started to bleed, it was clear this was a much different fight than she had ever been in before.
Rousey eventually scored a takedown with a headlock but Holm stayed patient and even slipped out of an armbar attempt from the submission specialist. Holm actually ended up taking Rousey down later in the round, but immediately backed out of her guard to get the fight back to the feet.
From there, Holm kept her composure as she popped the champion a few more times and as she went to the corner, the challenger looked confident after getting the fight to the second round for only the second time in Rousey's career.
Holm wasted no time setting the pace in the second round as she stunned Rousey right away during a scramble. Rousey started to get up off the mat and just as she lifted her hands and turned, Holm absolutely blasted her with a left high kick that sent the California native crashing back to the mat.
Holm followed up with a couple more strikes on the ground as referee Herb Dean swooped in to stop the fight before Rousey could take any more damage.
A stunned Melbourne crowd erupted as Rousey laid prone on the canvas and Holm celebrated her win with a blistering knockout just 59 seconds into the second round.
Holm prepared for the fight with coaches Greg Jackson and Mike Winkeljohn, who are well known as being two of the best strategists in the entire sport, and it seems like they picked apart every one of Rousey's tendencies and it paid off in the Octagon.
"I have to say that everything that we worked on presented itself in the fight. Every kind of grab that she tried to get and clinch on the cage. I have not spent this much time in the gym before any fight in my life," Holm said after the historic win.
"Everything we worked on happened tonight and that actually happened to be something we worked on to try and angle the clinch. I didn't want to kick her to the body because we didn't want her to grab onto us and it just was there."
Holm may have been the underdog going into the fight, but she fought like the 18-time boxing champion who ruled her sport for most of her career before moving to MMA full time. Holm paid homage to her team for helping to get her ready and it paid off huge as she put Rousey down in impressive fashion to win the UFC women's bantamweight title.
"I just felt like how could I not do this?" Holm said. "I have the best coaching from stand up to grappling to wrestling, look at this time right here, this right here is priceless."
This marks the first loss in Rousey's mixed martial arts career and after she was helped up to a stool following the knockout, she made her way out of the Octagon before speaking to UFC commentator Joe Rogan. Rousey was undoubtedly stunned not only from the knockout but watching Holm put together the most flawless performance of any opponent she's ever faced. According to a report from TMZ Sports, the former champ was transported to the hospital immediately after exiting the Octagon.