Holly Holm: I don't care why the UFC chose me to fight Ronda Rousey, I just want to win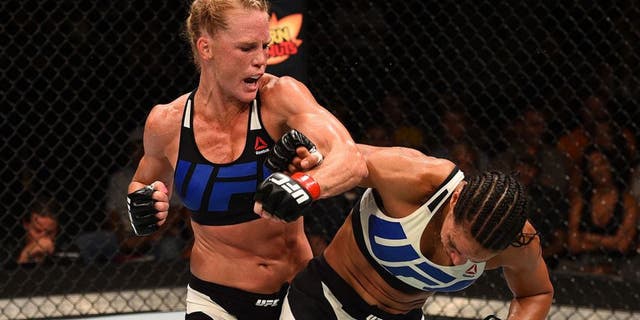 On Friday the MMA world was buzzing with discussion of the UFC and Ronda Rousey reversing course and choosing Holly Holm to replace Miesha Tate as the next bantamweight title challenger. After two, close, technical striking affairs in the UFC that certainly didn't have anyone (including the numble Holm or her team) clamoring for a UFC championship fight for the former boxing champion, "The Preacher's Daughter" will be Rousey's next foe.
Holm believes that Rousey is interested in continuing to prove that her stand-up striking is on the rise. Recently the champion has added standing KO's into her dominant mix of finishes.
As one of the best strikers of the past decade in combat sports, Holm knows that she presents different challenges to Rousey than the Rowdy has ever faced before. The outside world may be focused on the idea that Holm has to prove herself against Rousey, but the striker knows that she can show the champ angles that she's never before dealt with in a fight.
"I think she knows that in beating me that even says more about her stand up," Holm said during an interview with FOX Sports 1's America's Pregame.
"For a long time so many people were always just talking about her armbar. I think that she wanted to prove to them she has more than that, which she has done just that. So, this is a big opportunity for her to really show people what she's made of."
Ultimately, Holm doesn't know why the UFC decided to take Tate out of the Rousey fight and instead insert her. She can offer some guesses, but ultimately she's smart to simply not care.
"Maybe it is one of those things where they just want to test me out [and] kind of throw me out there," she said.
"Maybe it is because they really feel I'm ready. I don't really care too much of the why. I just want to make the best of the situation."