Hinch on Astros' power ahead of ALDS vs. Royals: 'It's part of what we do'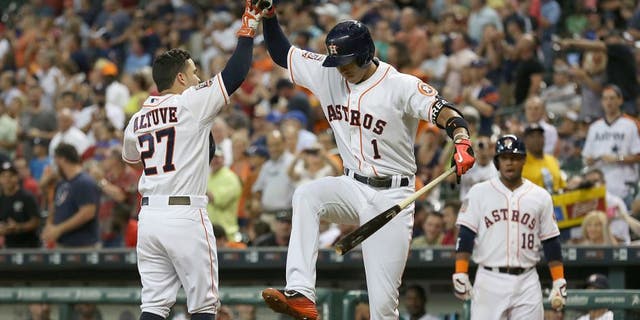 NEWYou can now listen to Fox News articles!
The Houston Astros slugged 230 home runs during the 2015 regular season, good for second in the league behind the Toronto Blue Jays and their 232 longballs.
A.J. Hinch's upstart Astros also connected on a pair of crucial homers during their Wild Card Game takedown of the New York Yankees, as Colby Rasmus and Carlos Gomez helped send the team to an ALDS matchup with the powerful Kansas City Royals.
On Wednesday, Hinch previewed the upcoming series during a media session and touched on the Astros' reliance on power-hitting as a means of scoring runs. Given that his team is now heading into a matchup with a Royals pitching staff that only allowed 121 homers on the year (good for 21st in the league), it might be a bit of a challenge for the Astros to rely on that power stroke in the upcoming ALDS.
Hinch admitted as much, though he also gave power-hitting its due in terms of how important it is for the team.
"It's our identity, it's part of what we do...we can steal bases, we can get a few extra base hits, but I think it's...it' s a tough matchup," Hinch said, adding, "You don't ever go into games trying to hit homers o thinking that's the only way you're going to score, so with our guys as we match up, I'll have to decide on a couple different occasions."
Here's expanded video of that media session courtesy of the Houston Chronicle:
In addition to the topic of home runs, Hinch also previewed the Game 1 matchup against flame-throwing right-hander Yordano Ventura and the challenge he presents to the Astros:
This is a very intriguing Division Series pitting two young and hungry clubs together. The Royals have 'unfinished business' after coming just short of an improbable World Series title a year ago, and the Astros have been proving people wrong all season. That could make for a great series, and it'll all begin on Thursday evening at Kauffman Stadium.