Hernandez's cousin may have key info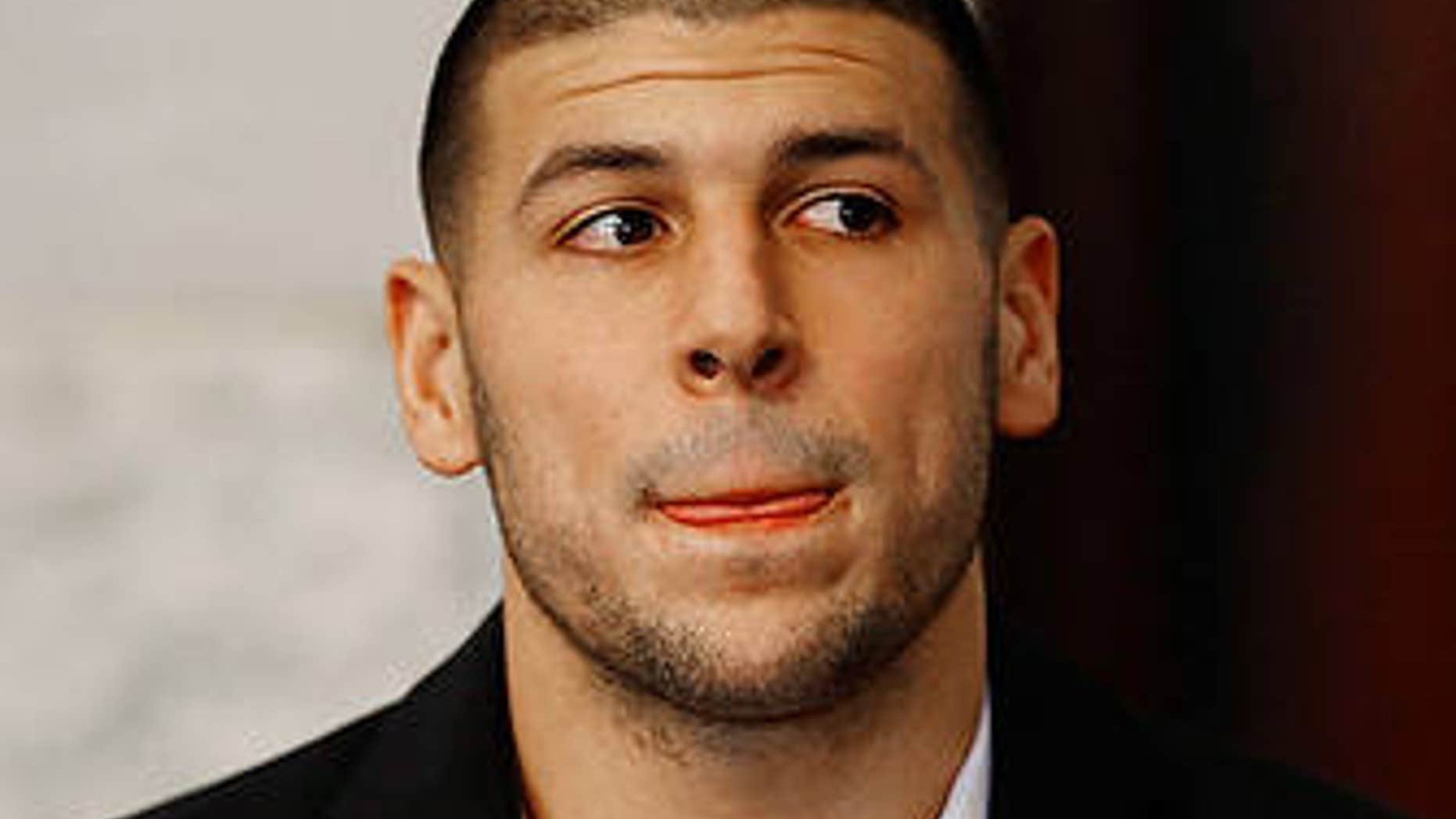 ATTLEBORO, Mass. – Prosecutors pursuing a murder case against former New England Patriots tight end Aaron Hernandez have good reason to want to talk to his now-jailed cousin - according to court documents, she may have been provided a first-hand account of the killing by a man believed to have been there.
So far, Tanya Singleton has chosen a jail cell over telling a grand jury what she knows.
Hernandez, 23, has been held without bail for two months, accused of shooting and killing Odin Lloyd in a secluded area used to store gravel and other building materials. Lloyd, 27, was a semi-pro football player, and a woman he was dating and Hernandez's fiancee are sisters.
Singleton, also known as Tanya Valderrama and Tanya Cummings, was offered immunity from prosecution in exchange for her testimony before a grand jury, but she refused to talk and was jailed Aug. 1. A grand jury subsequently indicted her on a contempt charge, and she is being held without bail.
Search and arrest warrant affidavits on file in Attleboro District Court make it clear that investigators believe she was provided a first-hand account of Lloyd's killing by one of two men alleged to have been present - and also may have information about a phone used by the other man, Ernest Wallace Jr., 41, after he fled New England.
"For prosecutors, it can be frustrating when you've got someone you know can provide significant information and/or evidence, and despite a court compulsion to do, so they don't," said Gerry Leone, a former district attorney in Middlesex, Mass., now in private practice in Boston with Nixon Peabody.
Much of the information about Singleton's interactions with the two accused accomplices was provided by one of the men, 27-year-old Carlos Ortiz, according to court documents.
Ortiz, facing a charge of possession of a gun by a previous offender, is scheduled to be in court Thursday.
According to court documents, Ortiz told investigators that he and Wallace were at Singleton's home at 114 Lake Ave. in Bristol, Conn., on the evening of June 16 when they were summoned to Hernandez's home in North Attleboro, Mass., a trip of about 115 miles. Surveillance cameras at Hernandez's home captured the two men arriving shortly after midnight, according to court documents.
Ortiz, according to an affidavit, "added that while in Mr. Hernandez's residence, he observed Mr. Hernandez walk down into the basement carrying a large handgun."
"Mr. Ortiz explained that he had a conversation with Mr. Hernandez and that Mr. Hernandez appeared to be upset and made a statement about not being able to trust anyone," according to the affidavit.
The three men allegedly left the home at 1:09 a.m. on June 17, drove approximately 40 miles to Boston and picked up Lloyd, then returned to North Attleboro and stopped in a secluded area in a wooded industrial park.
Ortiz told investigators that on the drive from Boston back to North Attleboro he heard Hernandez complain to Lloyd that he'd been "chilling" with people the football star had problems with, according to a separate affidavit on file in Florida, where Wallace was later arrested. But the two men seemed to smooth over the issue, Ortiz told investigators, and ended up "shaking hands," according to the affidavit.
Ortiz said that he fell asleep during the drive, awakening when the car pulled into the secluded area off John L. Dietsch Boulevard. He also said that Hernandez, Wallace and Lloyd got out of the car to urinate but that he stayed in the vehicle - and at that point he heard gunshots, according to court documents. Hernandez and Wallace got back into the car and they fled to the football star's home, about 1.2 miles away by road, Ortiz told investigators.
Surveillance camera footage placed the time of the shooting shortly before 3:30 a.m. on June 17.
The next afternoon, Wallace and Lloyd allegedly left Hernandez's home, stopped in North Attleboro for a time, and then made the drive back to Singleton's house in Bristol. Ortiz told investigators that he was dropped off by Wallace and "that he spoke to Tanya Singleton about the murder of Mr. Lloyd while at the 114 Lake Avenue residence," according to an affidavit.
At some point, according to the Florida affidavit, Wallace allegedly told Ortiz that Hernandez had admitted shooting Lloyd.
Wallace has been charged as an accessory in Lloyd's death.
Hernandez, charged with murder and five separate weapons violations, is scheduled to be arraigned on Sept. 6.
Both Ortiz and Wallace used Singleton's home address as their own. That and the statements that Ortiz allegedly made to her make Singleton a potentially valuable witness.
Prosecutors have also alleged that Singleton was the "subscribing and financial liable party" for Wallace's cell phone - which was allegedly used the morning of the killing and then turned off - and that a credit card in the name of one of her aliases was used to purchase him a bus ticket from Macon, Ga., to Miami. Investigators speculate in an affidavit that Wallace obtained another phone or other means of communicating with her, and that she may have helped him in other ways financially as he fled the Northeast after the killing.
At this stage of the investigation, investigators are trying to piece together facts - and part of that is corroborating stories they have been told, said Denver attorney Craig Silverman, a longtime prosecutor now in private practice with the firm Silverman & Olivas. Talking to Singleton could help investigators corroborate statements made by Ortiz.
"It's the job of investigators is to corroborate or disprove the credibility of the people who are talking," Silverman said.
Said Leone: "In a circumstantial case like this, where it certainly appears they're going to have to rely on cooperating witnesses, you need all the corroboration you can get."
Some of Ortiz's story has been corroborated, according to court documents. For instance, according to one affidavit he told investigators that on the drive from Hernandez's home to Boston the group stopped at a service station. Surveillance video showed just that at a station off an interstate highway shortly after 2 a.m. on June 17.
And Ortiz's account of the drive from North Attleboro back to Bristol the day after the killing matches electronic data captured by Wallace's cell phone.
"Mr. Wallace's phone location records confirm this information," according to the affidavit.