Here's why the Bills had no choice but to pay up for Tyrod Taylor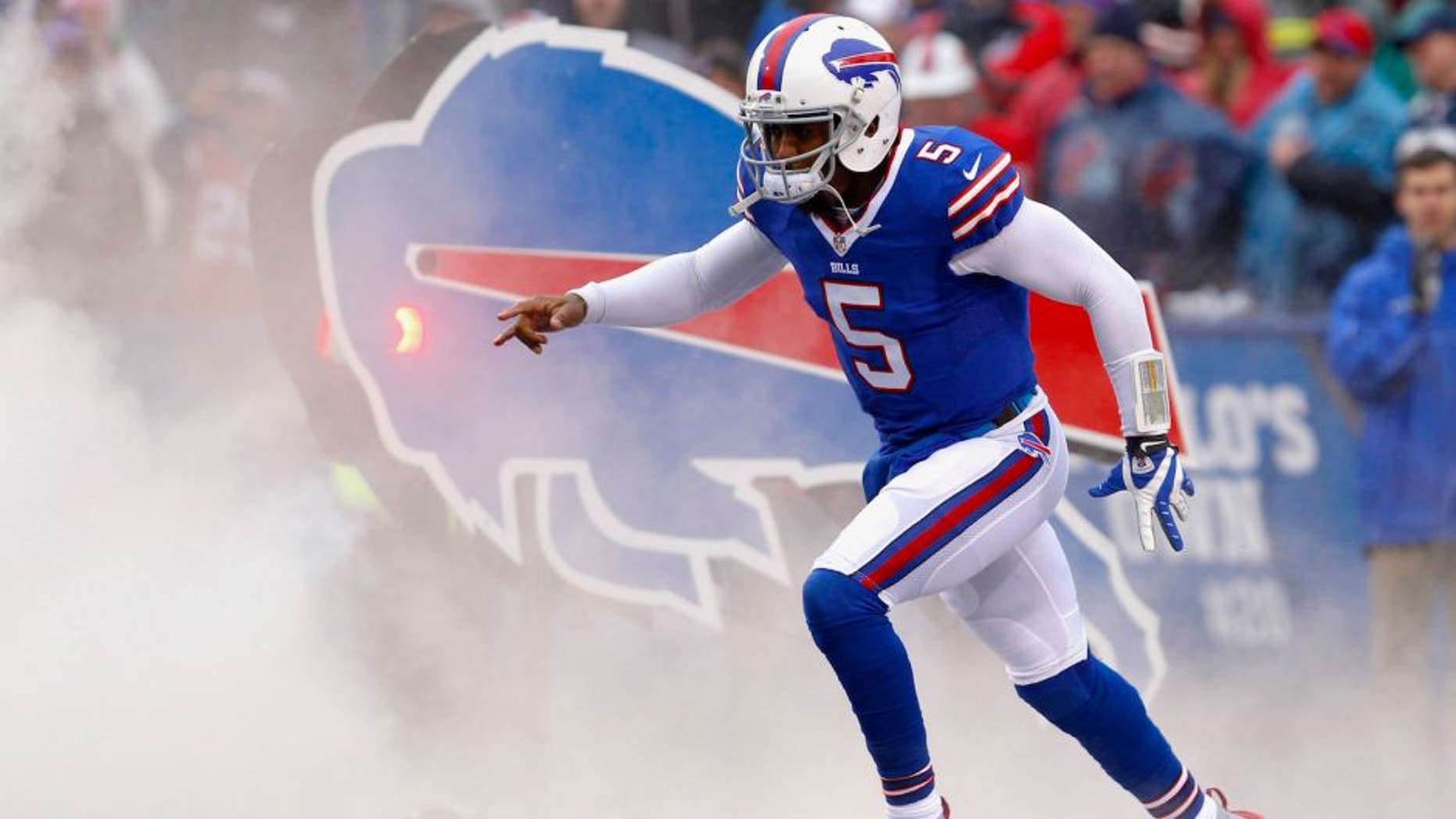 The Buffalo Bills have finally found a franchise quarterback. At least, they've stumbled upon one they're comfortable paying as such.
On Friday, the Bills announced that they've signed Tyrod Taylor to an extension worth a reported $90 million over six years, according to the Buffalo News.
After spending four years as Joe Flacco's backup, Taylor burst onto the scene for the Bills in 2015. He put together a spectacular 14-game slate in his first season as a starter, throwing for 3,035 yards and 20 touchdowns with just six interceptions. His passer rating was just shy of 100 (99.4), and he completed 63.7 percent of his passes.
Additionally, Taylor added 568 rushing yards with four more scores on the ground, showing off his best asset week in and week out. By all means, his numbers were impressive and would make just about every NFL head coach happy, but there was still some mystery surrounding his game.
Was 2015 just a fluke? Or is Taylor truly a franchise quarterback despite having just one year of starting experience under his belt? Those are questions the Bills certainly asked themselves, the answers led them to make the determination that Taylor is worth a long-term deal.
Only, Buffalo didn't have much of a choice with this contract.
The Bills didn't have the luxury of evaluating Taylor for four years like most teams do when drafting a quarterback. If they let him play out this season on his $2 million base salary -- which is a huge bargain -- and he put up huge numbers once again, his price would have skyrocketed next offseason.
Quarterback-needy teams like the Jets, 49ers or even the Browns would have lined up to sign Taylor. And when that happens, a bidding war occurs. Look at the Broncos' situation with Brock Osweiler during the offseason. He had a few decent games, and the Texans paid him $72 million over four years as a result.
If reports are accurate that Taylor's deal is worth $15 million a year, Buffalo is in good shape. And with the way these six-year deals work, it may wind up being just a three- or four-year stint depending on team options worked into the contract. So when it's all said and done, this very well could be a favorable deal for the Bills, considering the Texans are paying a less-experienced Osweiler $18 million a year after just seven starts.
Had Taylor hit free agency next offseason after a stellar 2016 campaign, he very well could have fetched north of $19 million per year, which is about what Ryan Tannehill and Colin Kaepernick are making.
That obviously wasn't a risk the Bills were willing to take, and they were smart to avoid that potentially happening.
However, there was also the possibility that Taylor would tank in his "prove-it" year this season and show that he's not truly a franchise quarterback. In that case, the Bills could have gotten him for cheaper than $15 million a year. But would they even want him at that point?
Outside of Cleveland, no team is as desperate for a top-flight quarterback as the Bills. They haven't had one since the days of Jim Kelly, and without Taylor, they'd be on the hunt once again. EJ Manuel's ship has sailed after failing as a first-round pick, and rookie Cardale Jones is far from a starting-caliber player in the NFL.
Remember, they have the longest playoff drought of any team in the four major North American sports. That's not something fans want to deal with any longer, and Taylor is the closest thing to a franchise quarterback Buffalo has had in more than a decade.
Sure, paying an inexperienced QB $90 million over six years is a risk, but the Bills didn't have a choice. They needed a star at the position and may have found one in Taylor.
He earned this deal with Buffalo.