Here are all the records UFC 205: Alvarez vs. McGregor shattered on Saturday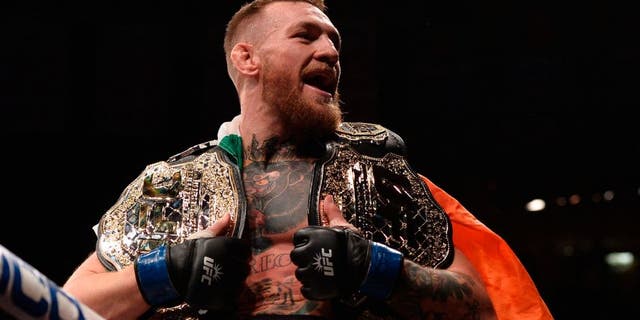 NEWYou can now listen to Fox News articles!
As soon as UFC 205 came to a close on Saturday night in New York, UFC president Dana White teased that the show shattered every record in company history.
Now some of those figures are being released after a historic night at Madison Square Garden.
Perhaps the biggest number that's still unknown at this time, however, are the total pay-per-view sales accumulated for the card headlined by Conor McGregor beating Eddie Alvarez to become the first ever simultaneous two division champion in UFC history.
White stated that UFC 205 broke the pay-per-view record, but those figures typically take weeks to count after sales are recouped from cable, satellite and online providers. UFC officials did note that UFC 205 was "one of the most viewed PPV events in UFC history" but they stopped short of saying it broke the all time record.
According to numerous reports, UFC 202: Diaz vs. McGregor 2 was the previous record holder for pay-per-view with 1.65 million sales.
That being said, the UFC is a privately held company and they don't typically release the full pay-per-view numbers regardless of the event, so it's no surprise that there's no actual reporting on this figure just days after the show ended.
As for the rest of the records broken at UFC 205, here's a full list of what unfolded (statistics provided by the UFC)
Live gate: $17.7 million -- new UFC record and new Madison Square Garden record. The previous record was UFC 129, which had a $12 million live gate with over 55,000 in attendance for Georges St-Pierre vs. Jake Shields in Toronto.
Attendance: 20,247 -- new domestic UFC record for the United States. Previous record was UFC 171 in Dallas, TX with a reported 19,324 in attendance.
Weigh-in Attendance: 15,480 -- new global UFC record
Social media: 14 billion impressions -- most in UFC history
Closed circuit (commercial pay-per-view) -- highest performing in UFC history in both locations and gross revenue. No figures reported.
FS1 prelims: Most viewed pay-per-view prelims in FS1 history for the 18-49 demographic.
FOX: 2.4 million viewers for "Fighting for History" special focused on UFC 205: Alvarez vs. McGregor. Most viewed preview show in UFC history.
Of course, there could be more records broken depending on what numbers the UFC opts to release.
It's hard to imagine McGregor didn't once again break his own record for the highest disclosed payout for a single fight considering he already held that mark for the $3 million he made against Nate Diaz back in August.
McGregor likely made more than the $3 million disclosed pay for UFC 205, but unfortunately the New York State Athletic Commission does not release salary figures for mixed martial arts.