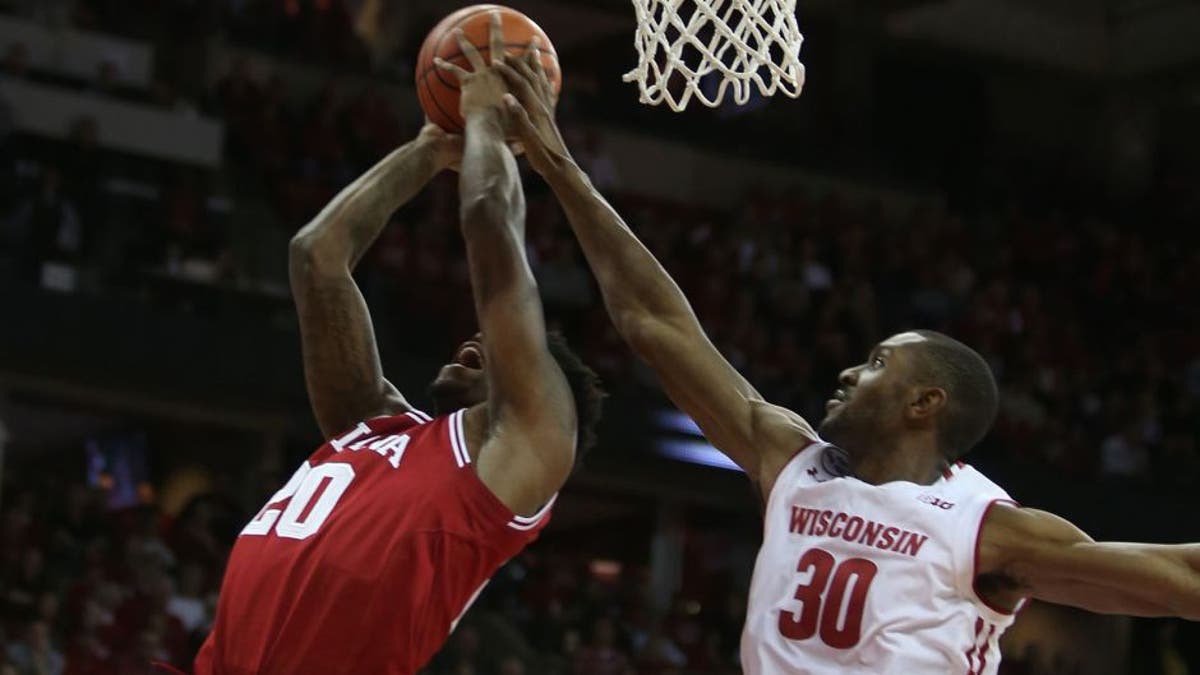 MADISON, Wis. -- Ethan Happ scored 20 points, Nigel Hayes added 15 and 10 rebounds, and No. 10 Wisconsin outmuscled Indiana to hold on for a 65-60 win on Sunday.
Happ was 8 of 10 from the field to help the Badgers (20-3, 9-1 Big Ten) win their seventh straight game. Maryland's loss to Purdue on Saturday allowed Wisconsin to take a one-game lead in the conference over the Terrapins.
The 6-foot-8 Hayes joined the 6-10 Happ to give Indiana problems in the paint. But the Badgers were plagued by mistakes or missed foul shots after building a 12-point lead midway through the first half.
Indiana (15-9, 5-6) stayed within a couple possessions of the lead for most of the rest of the way. Josh Newkirk's two foul shots with 28.6 seconds left got Indiana within 60-57, but Wisconsin went 5 of 6 from the foul line from that point to seal the win.
Newkirk led the Hoosiers with 22 points. Thomas Bryant tried to provide balance but was plagued by foul trouble. He scored nine of his 11 points in the first half.
On the other end, Happ provided gave Indiana fits all over the court.
The fluid big man had a steal and layup on the break with 3:33 left, then saved another possession about a minute later by calling timeout just before falling out of bounds after grabbing a defensive rebound.
BIG PICTURE
Indiana: Coach Tom Crean's club got off to a tough start, overwhelmed in the lane on both ends of the floor. Sloppy play by Wisconsin allowed the Hoosiers to stay close in the first half and get within 27-24 at halftime. Indiana was at its best when it could convert quickly to prevent Wisconsin from setting up its tough half-court defense. Still, it was a very respectable showing for a team without two key players in OG Anunoby (right knee) and leading scorer James Blackmon Jr. (lower left leg).
Wisconsin: The Badgers were most effective when the ball went through Happ in the post or Hayes in the lane. Sloppy ball-handling and a cold stretch from 3-point range helped Indiana get back in the game. Shooting 35 percent from 3-point range for the season entering the afternoon, Wisconsin was held to 24 percent (4 of 17) from behind the arc.
UP NEXT
Indiana: Starts two-game home stretch on Thursday with a visit from No. 23 Purdue.
Wisconsin: Visits Nebraska on Thursday.