Hawks-Knicks four-OT thriller produced a fantastic box score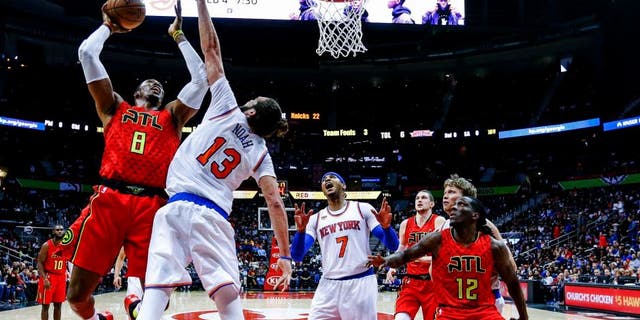 The Atlanta Hawks beat the New York Knicks 142-139 in quadruple overtime Sunday in Atlanta. Paul Millsap scored 37 points and played a career-high 60 minutes in the win.
Carmelo Anthony scored a season-high 45 points and was one of five players to foul out in the game.
It was the Knicks' first four-overtime game since Jan. 23, 1951 and Atlanta's first since March 25, 2012.
Millsap scored the go-ahead layup with 27 seconds remaining in the fourth overtime, but the finish was hardly as interesting as the final box score, which produced these oddities:
-- The game lasted almost four hours.
-- Nine of 10 starters scored at least 15 points. The only player under that mark was Knicks center Joakim Noah, who had just six points in 41 minutes.
-- Two Knicks (Brandon Jennings and Courtney Lee) and four Hawks (Millsap, Kent Bazemore, Tim Hardaway Jr. and Dennis Schroder) played at least 50 minutes.
-- No one had a triple-double, but Millsap came the closest. He had 19 rebounds and seven assists to go with his 37 points.
-- Four of the five players who fouled out were Knicks, and New York had two more players -- Jennings and Lee -- with five fouls, so things likely would have gotten ugly for the Knicks with another overtime.