Hawks already looking toward new season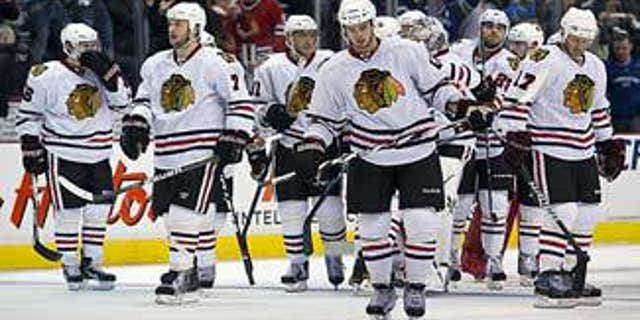 CHICAGO -- Patrick Kane was sporting a shiner over his right eye that spoke volumes for the way this season went for both he and his Chicago Blackhawks teammates
There were tough times and good times for the defending Stanley Cup champions in 2011, but in the end they were left bloodied, bruised and ready to lick their wounds this summer in preparation for next season.
Even Kane, who's normally all about fun, looked and sounded businesslike on Thursday at the United Center as the team went through the process of officially capping this season. The "Playoff Mullet" he's become famous for, after winning the Stanley Cup last season with it, was completely shaved off. Only the business part was left, up front, which is exactly how it is for the Hawks as a team after being eliminated from the playoffs in a gut-wrenching Game 7 overtime loss on Tuesday in Vancouver.
"I think overall, next year, I just want to take the next step in my game and maybe become one of the top players in the League," Kane said, matter-of-factly. "To be honest with you, it was a really up-and-down season for the team's sake, for my sake and even in the playoffs, too. We kind of put ourselves in a hole and almost got ourselves out of it, but that's a tough one to dig back from."
Now they'll have about five months to get themselves ready for next season -- with a longer summer rest period than any of them were hoping to get. Each of the Hawks who spoke with the media on Thursday agreed that getting some extra rest will be good physically, and that it should also help them regain their desire to get back on top.
"I think we'll be able to say next year that the rest is definitely going to help us," captain Jonathan Toews said. "It does so much for you physically, but most of all just being away from the game a little bit really helps you get hungry to play well and to win again. The rest we're going to get this summer--obviously we'd rather be playing right now--we'll take advantage of it. For the players returning next year, we'll definitely use that and come in flying next year."
It will be a stark contrast to last season, when the Hawks played into the middle of June before capping off the season with a parade down the streets of Chicago that drew an estimated 2 million people.
It wasn't long after that the team started to break up because of salary-cap issues, and of course there were also Stanley Cup party plans to make for each of them. In the end, it left the Hawks without much time to prepare for this season -- which started off with a taxing schedule that didn't allow for many nights off between games at the start.
All combined, it contributed to a slow start that put the Hawks into a hole they needed to climb out of just to get into the playoff picture down the stretch -- which turned out to be a common theme all the way up until their last game of the season against the Canucks.
Throw in some key injuries to stars like Kane, Marian Hossa and Patrick Sharp along the way and the hurdles this team had to get over were significant.
"I'm very proud of this group," Hawks General Manager Stan Bowman said. "I think the way they battled all year long and had a lot of obstacles, it was a challenge. In some ways, half of our team was a new team. It takes time to see that group come together. I think to be able to pull off that meshing as quickly as we did was remarkable. That's why I'm looking forward to next year in terms of having some good continuity. We're going to have some new faces, but we're going to have a number of guys that are very familiar with the group and familiar with their roles. I think there's a lot to look forward to."
Especially now that it will be a rested group that won't have to deal with the dreaded "Stanley Cup hangover" so many Cup champions cite as an obstacle the year after they win a championship.
Now the Hawks -- who are still young when compared to the rest of the League -- have that same feeling back of trying to prove something, to themselves, to the city they play in and to the rest of the hockey world.
Will Chicago be hungry enough next fall to get off to a better start? Starving might be a better description.
"I'm from Vancouver, so I'm going to hear about it all summer for sure," defenseman Brent Seabrook said. "The way this season ended, it definitely left a bitter taste in our mouth and we don't want to be having these long summers again. We've got to use it as definitely motivation and be prepared and have a good off-season, have everybody come in and be ready to go right from the first game next year."
Hawks coach Joel Quenneville echoed those sentiments and hopes his team collectively learned an important lesson from the way this season went. Despite finishing with 97 points and being the eighth seed in the Western Conference -- needing help on the final day just to get into the playoffs -- the Hawks didn't capitalize on a large number of points in games that were nip-and-tuck in the third period and overtime.
Even a couple more points would've bumped them up the West standings and into a better position than having to face the President's Trophy winning team in the first round.
"I expect the excitement level to be there right from the beginning of the season," Quenneville said. "The starts of the year are critical with how the whole year is going be, the outcome of your whole season. There's got to be an appetite, when we begin the season, that has to be in place -- knowing it's a very important part of your year, being ready to start. It sets you up for what happens in the playoffs."
And the expectations for what happens in the playoffs has changed around the Windy City. Just making into the field is no longer good enough -- not after advancing to the conference final two years ago and winning the Cup last season.
Now, it's about getting back to the mountaintop for the Hawks. Now, it's about playing with the same pride that helped them claw back from that 3-0 deficit against Vancouver to force Game 7 and the overtime in it that nearly got them into the next round once again.
It's about that bitter taste they've got going off into their respective vacation spots to recharge their batteries and come back with a vengeance in the fall.
"This wasn't fun, even for myself, just coming back for four games and being beaten out in the seventh game," said center Dave Bolland, who returned from a concussion in Game 4 after a six-week absence. "It (stinks) losing. It's never fun. There's going to be a higher bar and if we're not going to do it this year, then for next season ... we're going deeper. That's the one thing that we know. When we come back in next year, it's going to be a higher bar."