Harvick survives wreck-filled race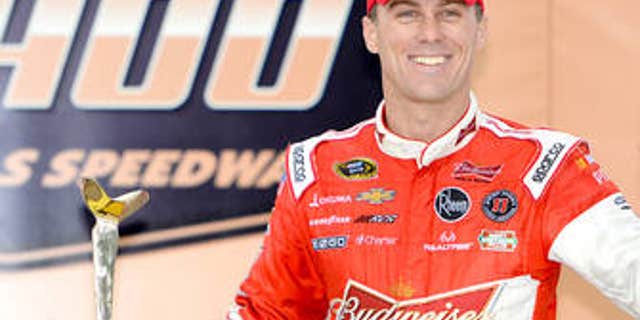 KANSAS CITY, KAN. – Kevin Harvick conquered Kansas Speedway on Sunday.
Harvick, who started from the pole, led 138 laps while battling through a wreck-filled raced slowed by a record 15 cautions (for 71 laps), including one for a brush fire on the grass outside of Turn 1.
"What was on fire, mulch? Duct tape and mulch were our friends today," Harvick said.
Given the instability of the cars on the new pavement, with new tires and cooler temperatures, Harvick understood he had to be out front to win. Harvick led 79 of the first 83 laps before his green-flag pit stop. Four laps later, NASCAR called the first debris caution for the duct tape, and Harvick was far from amused as he was forced to restart 24th on Lap 92.
After his first career Kansas win, Harvick described his effort as driving two different race cars -- one from the point and one while mired in traffic. But the challenge also turned into a valuable lesson for Harvick over the remaining laps.
"We had one that was really fast out front and we had one that was really sometimes tight, sometimes really loose in traffic," Harvick said. "The first time we got in heavy traffic we adjusted on the car, and as we got out front the car was freer, and then the second lane started to open up, and that really when I was behind the 2 (Brad Keselowski), I had to try something different.
"That really allowed us to find another groove that we really didn't have to use anymore. But that second groove for us was really fast and really good, but in the middle of the pack it was, yeah, it was everything. Mostly tight, but depending on how close you would get to the car in front of you and where you were at in the corner. So you had to try to manipulate the car to make it through the corner, and they did a good job of freeing the car up and still being able to drive it when it was out front."
After losing the lead for the "smoke" caution on Lap 156, Harvick returned to the front three additional times and held the lead for the final 36 laps.
"I didn't even really know what to say on the second (caution)," Harvick said. "I knew Gil (crew chief Martin) was in full meltdown over the smoke because the first caution was for a piece of tape and we had just started the green-flag pit cycles.
"Then they throw the caution to pick up debris and not really change the outcome of the race, but today it was a caution. For us, it fortunately worked out."
Harvick's third victory of the season elevated the No. 29 Richard Childress Racing team to third in the points standings. With points leader Matt Kenseth's 11th-place finish on Sunday, Harvick narrowed his points deficit to 25 behind the No. 20 team. Jimmie Johnson, who finished sixth after developing a late-race vibration, is only three points behind Kenseth.
Despite Harvick's lame-duck status at RCR, he said "there's no way you can ever consider yourself out of" the Chase for the Sprint Cup with six races remaining in the season. Particularly since the tour returns next weekend to Charlotte Motor Speedway, where Harvick won in May.
"The first race of the year at Daytona I think we came out of there 43rd, and in 10 weeks we were back up to around 10th or 11th, so we made up a lot of ground, not only just by running well," said Harvick, who will drive for Stewart-Haas Racing next year. "Other guys had problems, too, and with six races to go, I mean, there's so many things that can happen.
"You've still got Talladega and Martinsville that everybody considers to be tracks that shake everything up, but today we were at what everybody considers to be a non-eventful mile-and-a-half, and you saw what happened today.
"So there's a lot of things that can happen in the next few races, and we're just going to have to capitalize on them. But by no means do I think we're out of it."
Soldiering on
No driver complained about his car more than Kenseth did at Kansas Speedway, which is completely uncharacteristic of the former champion.
Kenseth rolled off seventh, but was by no means a top-10 car on Sunday. Kenseth was busted for a speeding penalty in the pits on Lap 127 and dropped to 30th in the field. The team used the opportunity to make adjustments to the car. Still, while calm on the radio, Kenseth's constant reports of not being able to find a comfort level with the new tire weighed heavy on the team throughout the afternoon.
"That's the worst conditions I've raced in I don't know how long -- probably since they paved Charlotte and had that hard tire," Kenseth said. "This right-side tire was obviously not the answer. I'm sure Kevin's (Harvick) happy, but other than that I think everybody kind of struggled with it."
But through patience and perseverance, the driver of the No. 20 Toyota salvaged an 11th-place finish and maintains a three-point lead over Johnson.
"I feel lucky for not being wrecked," Kenseth said. "And I feel really fortunate to still be leading the points. It was not the day we wanted -- both the last two weeks. We struggled a little bit and still salvaged -- it could have been worse -- we could have been backed into the fence.
"Proud of this team -- they didn't give up on me today. They worked really hard on it. We'll go racing next week."
Numbers game
8: Intermediate track races this season have been won by either Joe Gibbs Racing (6) or Richard Childress Racing (2).
22: Career Sprint Cup victories for Harvick in 460 starts after Sunday's win.
104: Career Sprint Cup wins for Richard Childress Racing.
Say what?
When fifth-place finisher Carl Edwards was asked what the restarts were like Sunday, he replied, "They were insane. Look up insane, and that is the definition right there."