Hard to say goodbye: After final college game, departing Buckeye stars shed tears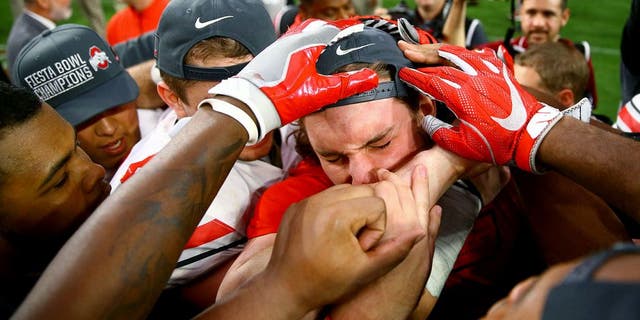 NEWYou can now listen to Fox News articles!
Making the NFL and becoming a star in the pros may be the dream of every little boy when he's tossing the football around, but leaving college behind for big-league dreams can turn budding young men into sobbing softies.
Case in point: Several stars of the Ohio State Buckeyes, fresh off beating Notre Dame in the Fiesta Bowl Friday, showed just how emotional it can be to say goodbye to the college years once and for all.
Senior wide receiver (and former starting quarterback) Braxton Miller broke down on camera after the game while talking lovingly about his time at Ohio State.
Junior Cardale Jones, the QB who replaced injured starter J.T. Barrett for the last few games of last season's national-title run (and who was subsequently benched this season over poor production), is giving up his senior season for the NFL Draft along with fellow juniors running back Ezekiel Elliott and defensive end Joey Bosa. Jones admitted on Twitter that he couldn't quite hide his emotions in the locker room after the game.
Elliott had a huge game against the Fighting Irish, scoring four touchdowns in the win. Afterward, he tweeted his fond thoughts about his university.
But Elliott also seemed choked up on camera.
Bosa -- who had the most bittersweet ending to his college career of his fellow Buckeye stars, thanks to being ejected for targeting in the second quarter -- was also apparently caught up in the moment after returning to the field at University of Phoenix Stadium with his teammates afterward.
Bosa summed it up best with his own Instagram post, full of machismo love: