Happy Hour results for Sprint Cup at Talladega Superspeedway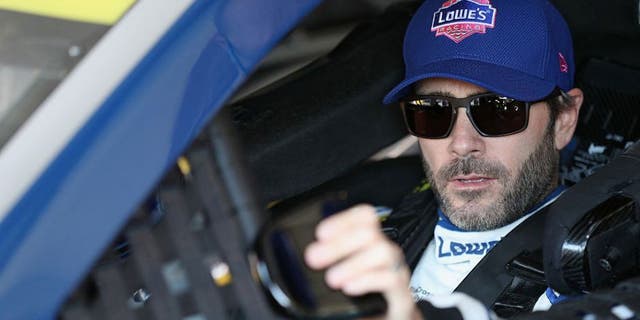 Happy Hour at Talladega Superspeedway was a quiet affair, as drivers were especially careful not to tear up their cars ahead of Sunday's Hellman's 500 NASCAR Sprint Cup Series race.
Just 25 of the 41 cars entered practiced, and when the session ended, six-time Sprint Cup champion Jimmie Johnson was fastest at 196.386 miles per hour in his No. 48 Hendrick Motorsports Chevrolet.
Still, that doesn't make Johnson the favorite.
Practice speeds at Talladega and Daytona, the two restrictor-plate tracks on the NASCAR circuit, aren't indicative of real performance, so don't put too much stock in the numbers.
Behind Johnson came Matt Kenseth in the first of the Joe Gibbs Racing Toyotas, followed by Johnson's rookie teammate, Chase Elliott.
Carl Edwards struggled with a vibration in his JGR Toyota but managed fourth overall ahead of Alex Bowman and Kasey Kahne in the other two Hendrick Chevys.
This round of practice was the second and final on the day. Qualifying will take place Saturday at 4 p.m. ET.
The Hellman's 500 is the final race in the Chase Round of 12, with the field of championship hopefuls set to be trimmed from 12 to eight on Sunday.
Jimmie Johnson and Kevin Harvick won the first two races of this round so they are locked into the Round of 8, leaving 10 drivers to battle for the final six spots,
The four drivers outside the Chase cutoff are Austin Dillon, Denny Hamlin, Brad Keselowski and Chase Elliott, but any of the 10 not locked in already could easily be eliminated on Sunday if they have a bad finish.
See the full results from Happy Hour practice below.